ARC Review: 'P.S. You're the Worst' by Jane Anthony
May 11, 2023
I received a complimentary copy of the book from the author in exchange for an honest review. This does not affect my opinion of the book or the content of my review.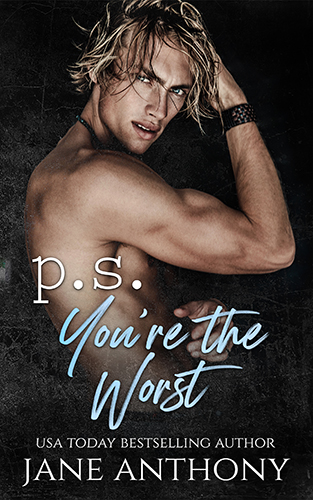 P.S. You're the Worst
by
Jane Anthony
Published by
Blue Rebel Publishing
on May 11, 2023
Genres:
New Adult and College Romance
Format:
eArc
Source:
the author
Goodreads
Purchase at
Amazon
|
Apple
|
Barnes & Noble
|
Google Play
|
Kobo

USA Today Bestselling Author, Jane Anthony , delivers a provocative tale of lust, love, and all-out war. Opposites attract when Dylan Masters — a golden boy from a wealthy political family — meets Darla Burke—smart-mouthed waitress with a big attitude—on their angst-fueled road from hate to love.
Rich. Spoiled. Cocky. Playboy
Dylan Masters is the worst. Our only date ended with me doing the walk of shame with his taste still lingering on my tongue. I never expected to see him again . . . nor did I want to.
But when he walks into my restaurant the next morning, I have no choice but to serve him lunch with a smile. Turns out, Dylan isn't just a date gone wrong—he's the governor's son. He's as callous as he is gorgeous. A golden boy set up for a charmed life, and I'm nothing more than "the help".
Yet it doesn't stop his ravenous pursuit to get my attention. He expects me to worship him like everyone else, but he could choke on his silver spoon for all I care. Hate and love are two sides of the same coin. If he wants my heart, he'll have to work harder.
In a world where cash is king, Dylan Masters finally found the one thing he wants that money can't buy: me.
💥 Enemies to lovers💥 Class Warfare💥 Forbidden Trysts💥 Strong Heroine💥 Small Town 💥 Redemption ARC 💥 Steam Steam Steam 💥 Total Standalone
---
I'm getting to the age when I read New Adult Romance stories; I feel very old due to how young the characters are in the books. I feel I can't relate to the characters because of my age, especially since I'm turning forty this year, but then I remember I used to be the age of the characters in the book. It also depends on if the story will grip me into it and if I'll like the characters and how they are written. In the case of Jane Anthony's P.S. You're the Worst, I had a hard time putting down my Kindle when reading Darla and Dylan's romance story. 
Storyline/My Thoughts: The first chapter alone had my attention with how the main characters met, and boy, did Darla have every right to be upset with what Dylan did to her at that bar. Dylan, you messed with the wrong gal when it came to Darla and was all about her acting out her revenge with you. Darla and Dylan are two characters who would have never met if it wasn't for a dating app since they both come from opposite sides of the track. Dylan and his golden blonde hair, who happens to be the Governor's son and thinks he's god's gift to women, and Darla, who comes from a small town that everyone wants nothing to do with, especially herself, since she's trying everything to get out of it, but can't due to her mother and other reasons. The day she meets Dylan, her life flips upside down. The same goes for Dylan since he can't seem to get her out of his head and can't seem to stay away from him, even though he knows it's forbidden to be with her. They come from different worlds, but tell that to his beating heart after he gets to know Darla one-on-one and will do anything for the girl, even if she tries to push him away.
I love stories with Opposite Sides of the Track and two characters who hate each other but secretly adore each other. The best part is getting both POVs and reading their struggle with if they should hate or love one another. Jane Anthony did an amazing job keeping up with the banter between the two characters in the beginning and throughout the story, especially with Darla's southern charm/accent. Yes, I tended to read her parts with a Southern accent because of how Jane Anthony wrote her character. Dylan had no idea how to handle Darla when her sassiness came out, and I loved reading about his struggles with her. She didn't make it easy for him. The best part was when he discovered something about her and how he was taken aback by it. He never expected it. I didn't expect it either, but it made the story more interesting. Prepare to have spicy moments between Dylan and Darla that involve other things, such as praise, which Dylan is really good at in the story.
Darla and Dylan may have been complete opposites of each other, but these two were meant to be together. They helped each other when they needed someone who understood where they were coming from, and that is exactly what I got from these two when I read their love story.
The only thing that bugged me was a certain scene and how Darla reacted. She could have handled it better or communicated her concerns with Dylan. I understood why she reacted the way she did, and it's all due to Dylan's father and what he expected of his son. No, I'm not a fan of Dylan's father, and I'm happy with how Dylan handled his jerk of a father. Communication is the key, and she puts herself in several predicaments that cost her in the long run. These two characters do get a HEA that is very well-deserved in the long run, and I loved reading the epilogue(s).
Overall, I really enjoyed Darla and Dylan's story and gave it 4.5 stars. I can't wait to read Jane Anthony's next book.
Standalone or Part of Series: Standalone.
Steam/Spice: 🌶 🌶 🌶
Genre/SubGenre(s)/Trope(s)/Element(s): Romance | New Adult & Contemporary Romance | Enemies to Lovers | Hate to Love | Small Town Romance | Opposite's Attract | Opposite Sides of the Track | Class Warfare | Forbidden Trysts/Love | A-hole MMC | Strong and Feisty FMC | Redemption Arc | Praise
Would I recommend this book? Yes. If you enjoy New Adult Romance with two characters that grow up on opposite sides of the track and hate each other until they eventually can't get enough of each other. =)
Favorite Quote(s): I'll give her what she wants, but it won't come easy. I'll tame this brat one taste at a time.
"Don't you for one second think I don't know that my dick will make you feel like you've touched heaven. And the moment I fuck you, I'll be the only man who can fill you, stretch you, and make you come."

---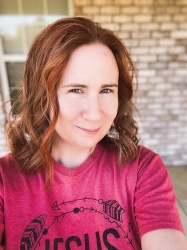 Latest posts by FranJessca
(see all)