ARC Review: 'Reckless Road' by Christine Feehan
March 5, 2021
I received a complimentary copy of the book from the publisher in exchange for an honest review. This does not affect my opinion of the book or the content of my review.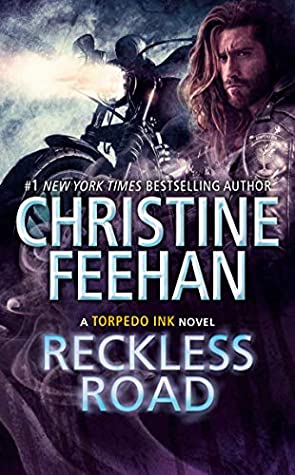 Reckless Road
by
Christine Feehan
Series:
Torpedo Ink #5
Published by
Berkley Books
on February 9, 2021
Genres:
Paranormal Romance
Format:
Paperback
Goodreads
Purchase at
Amazon
|
Barnes & Noble
|
Kobo

Refuel your passion with a new installment of the Torpedo Ink series by #1 New York Times bestselling author Christine Feehan.
While Gedeon "Player" Lazaroff is one of Torpedo Ink motorcycle club's roughest members, he's also one of the calmest. Little rattles Player, except for the times his gift gets the better of him. When that happens, he has to just lie down in the dark and hope for the best. But on a night when he's on the verge of losing it, he meets a woman who manages to soothe his fractured mind.
Zyah is a striking, ethereal beauty who seduces him with every word and move. Their night together is one of pure, exquisite bliss. But when Player gets confused and thinks their intimate encounter was nothing more than a dream, his careless dismissal leaves her humiliated and angry.
Now, Player will have to devote his every breath to convincing Zyah to give him a second chance. Because she might be the only one who can save him from himself....
---
Reckless Road is the fifth novel to Christine Feehan's Torpedo Ink series. If you've read the previous books, you know this book will take you for an emotional ride. Christine Feehan has become an auto-buy author now since I've read several of her books and fell for her storylines and characters.
Female Protagonist: Zyah is a beautiful Middle Eastern dancer (Belly Dancer). She works at the local grocery store after giving up her international job. She nows lives with her grandmother since she was attacked when her house was burglarized. Zyah is very compassionate toward others, not only her grandmother but Player, too, especially after she first meets him.
Male Protagonist: Gedeon "Player" Lazaroff is a member of the Torpedo Ink Motorcycle Club. He has illusion/psychic powers that can cause him to be sick with migraines if used often. He's like his other Torpedo Ink members that have been abused in his past and trained to be an assassin or, in the case of Player, to build bombs. He's unique in his own way, though, because he would rather stay away from Zyah instead of ruining her, but he can't because he has fallen for her. I really liked his character and getting to know him in his book.
My Thoughts: I actually enjoyed Player and Zyah's story more than the previous books. I think it's due to the connection these two characters had with each other. Zyah and Player hit it off immediately, but not as instant love. Player screws up really badly with Zyah, but he is determined to make everything right with her. I love knowing he had to win her back, and she didn't make it easy for him. Player does get her hurt in this book, which readers will find out that not only Torpedo Ink members have special powers over them. I loved getting to know some of the other characters in this book that actually received their book(s) from earlier series that Christine Feehan wrote. I really need to read the Drake Sisters series to find out how these characters met their true loves. I loved how some of the Torpedo Ink members are scared of these characters. 🙂
In Reckless Road, though, there is another storyline happening where aggressive burglars are targeting the elderly. Torpedo Ink gets involved after finding out Zyah's grandmother got attacked. They are on a mission to protect her and protect the other elderly in the area. This part of the book had me wondering who was behind the elderly until a certain character showed up to Zyah, and I knew something was up with that person. I was able to figure out what was going on right away. It didn't stop me from reading the book, though, because I needed to find out if Torpedo Ink would do their damage to those horrible people.
Overall, I gave this book 4-stars. I loved Zyah and Player in this book. I wouldn't say I liked having to read Player's past, though. I know it's important to tell what he went through, but it made me want to go through the book and get revenge for him and the other Torpedo Ink members. Each time it gets worst and worst finding out what these members went through and how they survived. Player was very vulnerable in this book after telling everyone what happens to him after his illusions. Zyah was there for him along the way, which helped him. I loved her character.
I found the ending interesting in this book because it involved something magical and dangerous. I won't give it away to readers who haven't read this book.
Standalone or Part of Series: It's part of the Torpedo Ink series. Readers could read them out of order, but you will miss out on the previous characters that received their HEA.
Steaminess: Steamy ⭐️ ⭐️ ⭐️ ⭐️ This book was much different with the steaminess than the other books in the series. Player was not like his other Torpedo Ink members.
Trope: Fated Mates; Motorcycle Club Romance; One Night Stand
Triggers: Flashbacks of what happened to Player when he was younger include child abuse (sexually and physically). There is also violence against the elderly in this book.
HEA: Yes
Would I recommend this book? Yes. I would recommend this book to Paranormal Romance readers and Romantic Suspense readers. I've tried every time to keep my reviews short, but it's impossible. I'm looking forward to the next book in the series because I hope either Preacher or Maestro get their books. I also want Alena and Lana to get their books too. There are so many more members that deserve HEA after what they had gone through when they were younger.
Christine Feehan left me wanting more after this book. She's starting to grow on me now, and I'm glad I found her books. Now, I need to read everything she's written, which is a lot.

This post contains affiliate links you can use to purchase the book. If you buy the book using that link, I will receive a small commission from the sale. It will help sponsor future giveaways but costs you nothing extra. You can read the full disclosure underneath the Privacy Policy.
---
---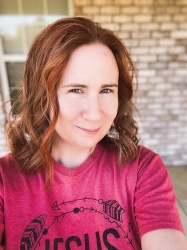 Latest posts by FranJessca
(see all)