ARC Review: 'Rising Assets' by Rebecca Zanetti
I received a complimentary copy of the book from the publisher in exchange for an honest review. This does not affect my opinion of the book or the content of my review.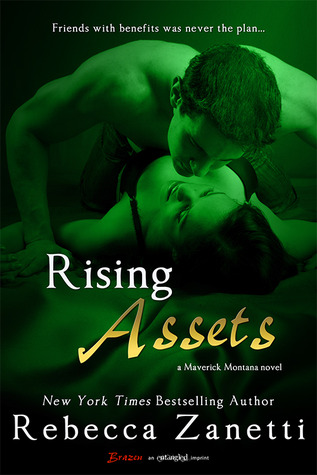 Rising Assets
by
Rebecca Zanetti
Series:
Maverick Montana #3
Published by
Entangled: Brazen
on March 31, 2014
Genres:
Contemporary Romance
Pages:
250
Format:
eArc
Amazon Kindle
Goodreads

A sexy category romance from Entangled's Brazen imprint...
Friends with benefits was never the plan…
Melanie Jacobs is in trouble. With three jobs—including running her ranch—and dwindling funds, she's exhausted. Not to mention desperately trying to hide a secret. Unfortunately, her best friend Colton Freeze knows all too well that's something is going on, and he won't give up until he knows exactly what he needs to fix.
Then Colton learns the truth—that Melanie's future happiness rests in the fickle hands of fate, and her chances for having a family are shrinking with every passing day. Her only comfort is Colton, but when a heated argument between them turns into an even hotter kiss, the boundaries of their friendship are erased, leaving only a scorching-hot hunger for more.
Every kiss—every touch—is a stolen pleasure. But will their new friends-with-sexy-benefits arrangement bring them closer together, or destroy everything they once shared?
My Review
Rising Assets is the third book to Rebecca Zanetti's Montana Maverick's series, and after reading it, I want to move to Montana.  Well…not literally because my husband has already said no to the idea. (He knows I wouldn't be able to handle the cold weather anyways during the winter months…LOL…One reason why we moved out of the state of Virginia.)
Maybe I want to move to Montana because of the characters Colton and Melanie, and how Rebecca described certain scenes in Montana.  Rising Assets is Colton and Melanie's story, and it was full of romance, lots of humor, some sad moments, and a little bit of drama. Here is a couple that had been friends since they were little.  Oh and because of this friendship, everyone in town had a bet when these two would eventually get together. Unfortunately, though, Colton and Melanie are in denial over becoming more than friends.  At least Melanie was.
Melanie is one character who is stubborn, but she had reasons to be.  She's your strong-willed female who is proving to everyone she can handle whatever life throws at her.  I adored everything about her because of her personality. But what can I say about sexy Colton…hmmm…he's just as stubborn as Melanie, but in a different kind of way?  Oh…and did I mention the part he's sexy and supposedly looks excellent in both a suit and casual wear?  I have no idea how Melanie was able to resist him for so long.  I couldn't resist after the first chapter. He's your sexy business guy running the family business and your sexy cowboy all packaged in one.  He's intimidating though in a successful kind of way, and poor Melanie wants to live her life without his help.
You could tell from the beginning how they felt for each other before they even knew.  If there is one thing I love about this story is the best friends becoming more than friends storyline. (One of the reasons is because my hubs and I were friends before we were more.  Makes me re-live days on how I gave him such a hard time)  =)
Rebecca has the previous characters in this book too, one, in particular, I'm very interested to find out more about is Hawk. He went through something in this book that left me in shock and wanting more.  Hawk is very close to Melanie and Colton, and he plays a part in the story that you may find interesting.
I give this book 5 full moons and highly recommend it to contemporary romance readers out there.  I'm going to admit and say I didn't read the first two books in the series, but I didn't have a hard time following Rising Assets when reading it.  Rebecca does a great job of bringing in the previous characters and giving details on how they met in their books.  Now I need to make time to read the first two books.  I enjoyed being in Montana (fictionally) with Colton and know I will enjoy being there with his other brothers.  =)


I guess I should type a bio here. I'm FranJessca or Fran for short. I'm the owner of Book Lovin' Mamas and main Reviewer. I've been reviewing books since I got out of the Navy in 2011. Now 8 years later, I'm still reviewing, but this time with my youngest sidekick.
When I'm not reading and reviewing, you can find me at my day job during the week and on the weekend taking care of our little farm.

Latest posts by FranJessca (see all)