ARC Review: 'Risk of a Lifetime' by Claudia Shelton
April 13, 2014
I received a complimentary copy of the book from the publisher in exchange for an honest review. This does not affect my opinion of the book or the content of my review.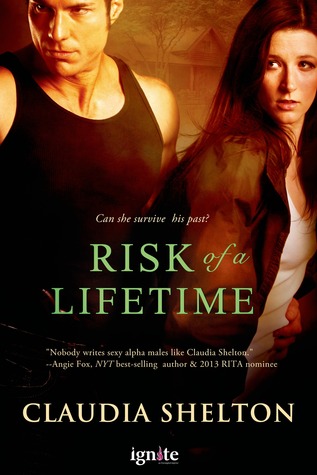 Risk of a Lifetime
by
Claudia Shelton
Published by
Entangled: Ignite
on April 14, 2014
Genres:
Romantic Suspense
Format:
eArc
Source:
the publisher
Goodreads
Purchase at
Amazon

Three years ago, Marcy Bradley let the man she loved go so he could follow his career dream of being an FBI agent. She sent divorce papers. He signed. She never filed them.
Injured during his last assignment, FBI Special Agent Jean Bernard—JB—Bradley questions the integrity of his fellow agents. A few days recuperation back in his hometown will give him the perspective he needs. The added bonus is it'll give him time to convince his ex-wife to come back to him, despite his life of risk. But when Marcy experiences a slew of unexplained accidents, JB realizes he brought the danger to her doorstep.
With a killer after them, Marcy and JB run for their lives, escaping to a lakeside cabin. Their love is rekindled, and JB realizes they're still married, but will there be time for their passion amidst the explosions and gunshots?
---
Risk of a Lifetime is a romantic suspense story that gives two characters a second chance at love together. From the minute you open the first page, Claudia takes you for a ride putting the characters through some close death encounters.
Jean-Bernard Bradley (aka JB) is in town after recuperating from being injured on his last FBI assignment and wants to rekindle his love for his ex-wife. At least that is one reason why he's there, but he does not want to tell anyone the truth. Although it's going to be kind of tough since the first minute he sees her, she's got herself in a dilemma, and JB has to help save her. JB is the alpha male type with his persistence to find out who is trying to hurt his ex-wife in the story, and his courage to step up at any turn to defend his ex-wife. Even when his ex-wife kicked him out of their house three years ago, he still is very protective of her. He wants to find out why someone targeted her at the bank and several other incidents that occur in the story to her. He thinks it's due to her job being a marriage counselor, but things are going to start appearing making him think otherwise.
JB is stubborn at times, but being an alpha male, it comes with nature. He's trying everything to solve what is going on, but his ex-wife is not making it easy for him. Marcy is what you would consider stubborn too. I did not like her at times due to finding out the reasoning why she kicked her husband out three years ago. Maybe it's just me, but every wife out there should encourage their husband to follow their heart and JB wanted to work for the FBI, but Marcy had her reasons not to like the idea. Didn't mean I agreed with her 100% on what she did to him, but she had her reasoning on why she didn't want her husband in harm's way. No wonder why JB reacted the way he did. It also irked me on how she kept something hidden from him. It felt like a childish thing to do to him, and I can see why JB was angry with the situation even further. Let's say Marcy was not my favorite character in the story, but she grew on me when she started speaking the truth.
The storyline behind Risk of a Lifetime has a lot of twists and turns. Claudia made me believe it was one person behind everything when it was another person. I was not expecting that at all. I love when authors can have me guessing the whole time, and I still get it wrong. There are no hints at all on who is behind everything until close to the end when the characters figure it out.
Claudia builds up and details each scene in the book to give you a suspenseful ending that will leave you on the edge of your seat. There is no cliffhanger in the story, but I would love to know if Marcy's sister gets her happily ever after, especially what happened to her. I'm hoping it's who I think it is that she met unexpectedly in this book.
I'm so glad I got a chance to read Risk of a Lifetime and enjoyed my first book from Claudia Shelton. I look forward to reading many more books in the future from her. I give this book 4 full moons and highly recommend it to romantic suspense readers out there.

This post contains affiliate links you can use to purchase the book. If you buy the book using that link, I will receive a small commission from the sale. It will help sponsor future giveaways but costs you nothing extra. You can read the full disclosure underneath the Privacy Policy.
---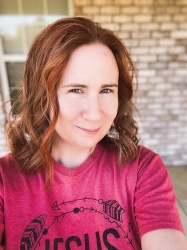 Latest posts by FranJessca
(see all)