ARC Review: 'Scandalize Me' by Caitlin Crews
June 20, 2014
I received a complimentary copy of the book from the blog tour host in exchange for an honest review. This does not affect my opinion of the book or the content of my review.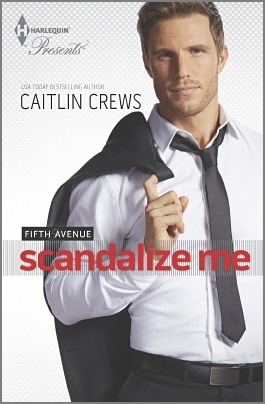 Scandalize Me
by
Caitlin Crews
Series:
Fifth Avenue Trilogy #2
Published by
Harlequin
on June 24, 2014
Genres:
Contemporary Romance
Format:
ARC
Goodreads
Purchase at
Amazon
|
Apple

I'm not going to stop. I'm going to drown in you, and then I'm going to do it again. And again. Until I've had my fill.
Zoe Brook has been sent to clean up a bad boy's reputation. And that's just fine - she knows all about hiding the sins of the past. But Hunter Grant, sports hero and renowned womaniser is so much...more than she ever expected.
Money, passion and power come as naturally to this man as the women who flock to his bed. But Zoe's determined not to be another notch on his bedpost. So when Hunter turns his considerable focus and energy to seducing her, she draws on every sharp put-down in her arsenal. But with no sassy comebacks left, the final words on Zoe's lips are...Yes. Oh, yes.
My Review
Scandalize Me is the second book to the Fifth Avenue Trilogy, so if you haven't read Avenge Me, I highly recommend you do. You definitely don't want to miss out on an opportunity with Austin. *sigh*
I had never read Caitlin Crews books before, so was anxious to see what she came up with for Hunter's story in the trilogy. When the book started I realized the Hunter is the bad boy out of all of them. He was a foot player at one time, but he ruined his reputation with his hot-headed temper he had. All of his teammates turned against him and he just wanted to continue to live his life, while the tabloids continue to shame him. Hunter didn't care what people thought of him, until he is approached by a PR agent, Zoe Brook. She doesn't give him an choice about fixing his reputation because she throws in his face about what happened to Sarah, and she knew Sarah very well. Zoe Brooke has her own motives on using Hunter, she wants to take down Jason Treffen for what he put her through ten years ago. She wants to avenge what happened to Sarah just like Hunter and his friends do. Hunter is intrigued by Zoe because of how in control she is of herself, and he is more than willingly ready to take down the one man who took his best friend / ex-girlfriend away from him.
I enjoyed the 2nd installment to the Fifth Avenue trilogy and learning all about the sexy Hunter and what made him tick. He has to be the most difficult character of them all due to his personality. He also is very straightforward and flirty when it comes to Zoe. He doesn't hold back with her. The one scene when he drops to his knees…yup…totally got me swooning over him. Zoe was difficult to like in Scandalize Me due to her motives of using Hunter. She rubbed me the wrong way because she still lived in her past, per se. She had an image of herself due to what she had to do in her past, and she wouldn't let it go. This is the main reason why she hasn't had a serious relationship and Hunter confused her at times.
I liked how Caitlin Crews carried out the other part to Jason Treffen's downfall. That man is going DOWN! I despised him in the first book, but I despised him even more in this book. For being only a 264 page book (that I read), Caitlin did a superb job on having two unlikely characters help each other on seeking over revenge, without the story being too fast paced.
I give this book 4 full moons and highly recommend it to fans that have read Caitlin's books before. I also recommend this whole trilogy due to readers out there that enjoy the show Revenge. Believe me, so far this trilogy has quenched my thirst of revenge stories.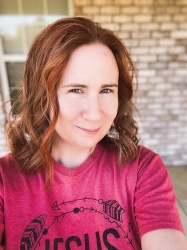 Latest posts by FranJessca
(see all)