ARC Review: 'The Rakess' by Scarlett Peckham
April 23, 2020
I received a complimentary copy of the book from the publisher in exchange for an honest review. This does not affect my opinion of the book or the content of my review.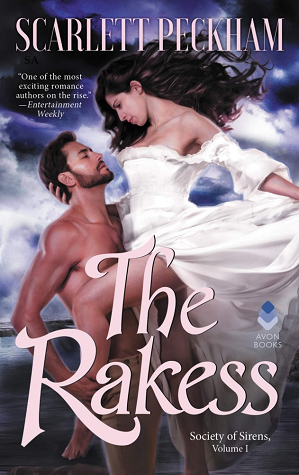 The Rakess
by
Scarlett Peckham
Series:
Society of Sirens #1
Published by
Avon
on April 28, 2020
Genres:
Historical Romance
Format:
eArc
Goodreads
Purchase at
Amazon
|
Barnes & Noble


Meet the SOCIETY OF SIRENS—three radical, libertine ladies determined to weaponize their scandalous reputations to fight for justice and the love they deserve…
She's a Rakess on a quest for women's rights…

Seraphina Arden's passions include equality, amorous affairs, and wild, wine-soaked nights. To raise funds for her cause, she's set to publish explosive memoirs exposing the powerful man who ruined her. Her ideals are her purpose, her friends are her family, and her paramours are forbidden to linger in the morning.

He's not looking for a summer lover…

Adam Anderson is a wholesome, handsome, widowed Scottish architect, with two young children, a business to protect, and an aversion to scandal. He could never, ever afford to fall for Seraphina. But her indecent proposal—one month, no strings, no future—proves too tempting for a man who strains to keep his passions buried with the losses of his past.

But one night changes everything...

What began as a fling soon forces them to confront painful secrets—and yearnings they thought they'd never have again. But when Seraphina discovers Adam's future depends on the man she's about to destroy, she must decide what to protect…her desire for justice, or her heart.
---
I'm reading more Historical Romance, which was one of my goals for myself this year. I'm proud of myself for reading more of this genre. I came across the first book to Scarlett Peckham's new series Society of Sirens from the publisher, and the synopsis sounded intriguing. It's about three ladies that are about living their life the way they want as radical, libertine ladies. The society around them, especially men, do not like these ladies. The first book in Scarlett Peckham's new series follows Seraphina Arden, who is one of the Society of Sirens in the story.
Female Protagonist: Seraphina Arden was one heroine I was not used to reading in a historical romance. She's a Rakess, which like a Rake. She's on a quest to change women's rights. She's also trying to raise funds for her cause, and the memoirs she is working on at home will eventually be published. Those memoirs are going to tell her side of how a powerful and rich man ruined her. The townspeople that hate her so much will realize that she lives her life the way she does due to how she was treated. The person who ruined her needs to be dealt with in the story, and believe me, it finally happens when the truth is revealed. She shouldn't be hated on like they keep doing to her. I felt for her what she went through in the past and what continues to be done to her.
Male Protagonist: Adam Anderson was the character I enjoyed most in the story since he was a sweet, nice guy. He's not a Rake, which is what I've come across in Historical Romance books. He's a widower who has two children that he is trying to raise with the help of his sister. He's not out trying to find women. He's making a living as an architect. He ends up coming across Seraphina Arden in the story, and that is when he's world turns upside down. He's not used to women like Seraphina. I felt for Adam in the story when it came to dealing with Seraphina. He still loves his wife that passed away and loves his children.
Storyline: The storyline is introducing the Society of Sirens, in which Scarlett Peckham did a remarkable job on the introduction part. Readers will be introduced to the other Society of Sirens in the story since they play a role in helping Seraphina deal with some troubles that she encounters. Most of those troubles don't come until about 60% into the story. The beginning of the story focuses on Seraphina and Adam's fling with each other during the summer. It was not as intriguing to read their constant back and forth about their fling. There was the drama that Seraphina was dealing with the story, especially when it came to certain men in the town trying to drive her away. Adam was determined to find out who was behind hurting Seraphina. I don't want to go into much detail of the storyline. Be prepared to not only deal with Seraphina and Adam's drama. There is another person that Seraphina cares deeply for in the story that has her troubles. I will say this I enjoyed the ending of the book when everything came together finally.
Steaminess: The story was steamy when Seraphina and Adam did hook up.
Cliffhanger: There is somewhat of a cliffhanger at the end. Although, the next book dives into another Society of Siren's story. I wonder if the author will touch base on what happened to a specific character at the ending.
Standalone or Series: Series. I would recommend reading in order. This book has other drama in it, dealing with another female character and her family drama.
Do I recommend this book? I would recommend it to other Historical Romance readers and fans of Scarlett Peckham. The book only gets three stars from me, but that's due to the story, not grabbing my attention until almost towards the end. There was also the issue of the main characters having communication issues. That's one of my biggest concerns in stories. I don't like it when characters can't communicate with each other. One of the most significant issues came toward the end of the book where Seraphina wanted to keep something from Adam, instead of telling him. It drove me bonkers. Just tell him, Seraphina!!!!

This post contains affiliate links you can use to purchase the book. If you buy the book using that link, I will receive a small commission from the sale. It will help sponsor future giveaways but costs you nothing extra. You can read the full disclosure underneath the Privacy Policy.
---
---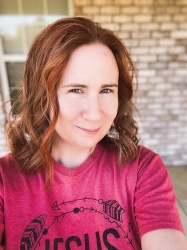 Latest posts by FranJessca
(see all)