ARC Review: 'The Trouble with Christmas' by Amy Andrews
I received a complimentary copy of the book from the publisher in exchange for an honest review. This does not affect my opinion of the book or the content of my review.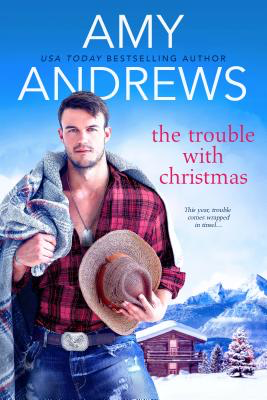 The Trouble with Christmas
by
Amy Andrews
Series:
Credence Colorado #2
Published by
Entangled: Amara
on September 24, 2019
Genres:
Contemporary Romance
Pages:
400
Format:
eArc
Source:
publisher
Amazon Kindle
|
Amazon Paperback
|
Barnes & Noble
|
Kobo
Goodreads

"[W]ill generate holiday spirit in even the most Scrooge-like reader." Kirkus Review, Starred Review
All Suzanne St. Michelle wants is an over-the-top, eggnog-induced holiday with her best friend in Credence, Colorado. But when her hoity-toity parents insist she come home for Christmas in New York, she blurts out that her sexy landlord is actually her boyfriend and she can't leave him—Joshy loves Christmas. The more twinkle lights the better.
Rancher Joshua Grady does not love Christmas. Or company, or chatty women. Unfortunately for him, the chattiest woman ever has rented the cottage on his ranch, invited her rich, art-scene parents, and now insists he play "fake rancher boyfriend" in a production of the Hokiest Christmas Ever. And somehow…she gets him to agree.
Apparently, he'll do anything to get his quiet life back. At least there's mistletoe every two feet—and kissing Suzy is surprisingly easy. But in the midst of acres of tinsel, far too many tacky Christmas sweaters, and a tree that can be seen from space, he's starting to want what he lost when he was a kid—a family. Too bad it's with a woman heading back to New York before the ball drops…
Each book in the Credence, Colorado series is STANDALONE:* Nothing But Trouble* The Trouble with Christmas
It's September, and I couldn't wait to read my first Christmas book. I'm one of those people that loves watching the Hallmark/Lifetime Christmas movies. I can't get enough of them, and The Trouble with Christmasdefinitely got me in the Christmas spirit, even if the male protagonist was being broody and mean to the female protagonist most of the time. This was the first book I read by Amy Andrews, and now I need to read other books from her.
I enjoyed this book and had a hard time putting it down to the banter between Joshua Grady (aka Grady) and Suzanne St. Michelle. Grady didn't sign up to have someone stay in the cottage next to him, but now he's forced to have a New York artist in his mince, and he's very grumpy about it. Suzanne has come to Credence, Colorado to get her muse back for her art. She usually replicates famous paintings and gets paid for it. Now she wants to create her own original art pieces and hoping the beautiful scenery in the small town of Credence will help her. Instead, her muse has other plans to get her creative juice flowing. It is the rancher Grady that doesn't want anything to do with her. Things are about to get even more hectic between these characters when Suzanne tells her parents that want her to come back to New York for Christmas that she can't since she's with her boyfriend, Grady for Christmas. Before she knows it, her parents are coming to the small town, and now she has to tell the grumpy rancher that he has to pretend to be her boyfriend. Let's say the man is not very happy at all with her but will do it for her at a price. 
These two characters have their moments of hatred between each other. It more leans towards Grady though to Suzanne since he doesn't want a relationship. He doesn't like Christmas either, due to what happened several years ago. The whole town wants him happy, though, but he won't let anyone in. The minute Suzanne waltz into his life is when things turn upside down for them. There is so much tension between the two that it gets out of hand at times. I loved it, though. I love the back and forth of two characters that are complete opposites of each other. 
Grady is grumpy, broody, but sexy too. He did get on my nerves with his broodiness at times towards Suzanne. Suzanne knew how to handle Grady though with her crazy smart remarks and also with her quirkiness. My favorite scene between the two was when Suzanne was making cookies, and those cookies were not regular Christmas cookies. They were naughty cookies. There was also the scene when Suzanne was painting Grady. 
If you are looking for a book to put you in the Christmas, spirit that is funny, sexy, and hot than check out this book. I loved how Amy Andrews close out the book at the end. There is a perfect HEA for these two characters that deserve it. 
---
Story Rating: 4 stars
Steaminess Rating: 3.5 stars
Standalone or part of series: Book can be read as a standalone.
Do I recommend this book? Yes.
Will I read other books from the author? Yes.
Tropes/Elements: Fake/Pretend Relationship; Enemies to Lovers; Opposites Attract; Small Town Romance
Hero: Rancher; Grumpy; Heartbroken; Broody; Pain in the Butt
Heroine: Artist; Creative; Upbeat; Independent; Smart-Mouth


I guess I should type a bio here. I'm FranJessca or Fran for short. I'm the owner of Book Lovin' Mamas and main Reviewer. I've been reviewing books since I got out of the Navy in 2011. Now 8 years later, I'm still reviewing, but this time with my youngest sidekick.
When I'm not reading and reviewing, you can find me at my day job during the week and on the weekend taking care of our little farm.

Latest posts by FranJessca (see all)