ARC Review: 'The Werewolf Meets His Match' by Kristen Painter
June 28, 2015
I received a complimentary copy of the book from the author in exchange for an honest review. This does not affect my opinion of the book or the content of my review.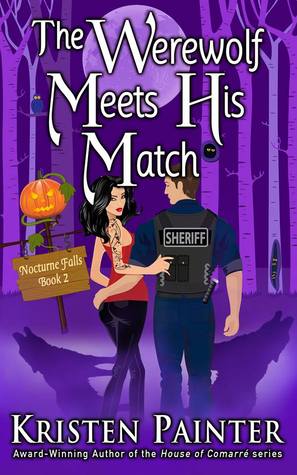 The Werewolf Meets His Match
by
Kristen Painter
Series:
Nocturne Falls #2
Published by
Sugar Skull Books
on July 1st 2015
Genres:
Paranormal Romance
Goodreads
Purchase at
Amazon
|
Apple

Welcome to Nocturne Falls, the town where Halloween is celebrated 365 days a year. The tourists think it's all a show: the vampires, the werewolves, the witches, the occasional gargoyle flying through the sky. But the supernaturals populating the town know better. Living in Nocturne Falls means being yourself. Fangs and all.
Getting arrested wasn't on werewolf Ivy Kincaid's agenda when she arrived in Nocturne Falls, but her life rarely goes according to plan. The upside of spending the night in the local lock-up is finding a hotel room is no longer a worry...but the downside is the man she's come to marry will get his first impression of her behind bars. Not exactly the way Ivy was hoping to meet her pack's sworn enemy...aka her fiancé.
Sheriff (and werewolf) Hank Merrow is the alpha's heir. Everything he's ever done, from becoming an Army Ranger to serving in law enforcement, has been in preparation for the day he'll take over. Getting married to cement a shaky truce is no different. Hank will do his duty, even if it means shackling himself to a woman he has no intention of liking, let alone loving.
But Ivy is nothing like Hank expected. As feisty as she is beautiful, she's as determined as he is to make a go of marriage for the sake of peace between their packs. The trouble is, Ivy has secrets that could destroy everything Hank holds dear...including his newfound love for her.
My Review:
Welcome back to Nocturne Falls, where everyday is Halloween.
I definitely would not mind living in this town thanks to Kristen Painter, especially after reading the second book in the Nocturne Falls series, The Werewolf Meets His Match.
I was intrigued by not only the storyline, but the characters that were in the story. It was not only the main characters that stood out to me, but the secondary characters that helped the main characters along.
Kristen did an amazing job from beginning to end with this book. She had two wolf shifter characters being forced to marry each other, so there could be a truce with each others packs. Unfortunately, they've never met and they're going to meet each other unexpectedly. (I loved how these two met.) =) Drama is going to be brewing though, before there can be a wedding with these two. Some pack members are not liking the idea of the true and some family drama may end up causing more havoc than good.
Ivy Kincaid is the main female character and she's very strong-willed and determined. She's also a fighter. She's dealt with a lot in her pack and I was happy that she was going to finally get her HEA. (She definitely is one of my favorite female characters so far in this series.)
Hank Merrow is the main male character and he's the Sheriff of Nocturne Falls. He's strong-willed and determined just like Ivy is, but he's also caring, protective, and sexy. Yup…sexy. He's never really been romantic, but he's definitely learning.  (Oh…he's definitely learning.)
The story definitely flowed well and with the help of some secondary characters, this book will be hard to put down. I seriously adored Birdie, even when she was being the annoying Aunt at times. She's a riot though, and I loved how she handled certain situations and even people.
Kristen Painter definitely has created an addicting world of characters that makes me want to learn more about them. I really wish they had a town just like Nocturne Falls, but I know I will just have to accept it's only fictional.  *sigh*
I give this book 5 stars and highly recommend this series to other PNR readers out there. Personally, you don't need to read in order, but I highly recommend you do. You'll get to find out what the first couple is up to from the first book, which I loved. You'll also get a introduced to other characters in the books, which will have you begging for their books too.
Be prepared to fall in love with Nocturne Falls and the residents that live there.  =)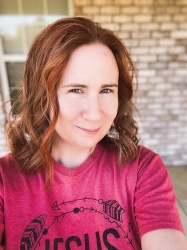 Latest posts by FranJessca
(see all)