ARC Review: 'They Will Fall' by Rachel Leigh
August 18, 2023
I received a complimentary copy of the book from Grey's Promotions in exchange for an honest review. This does not affect my opinion of the book or the content of my review.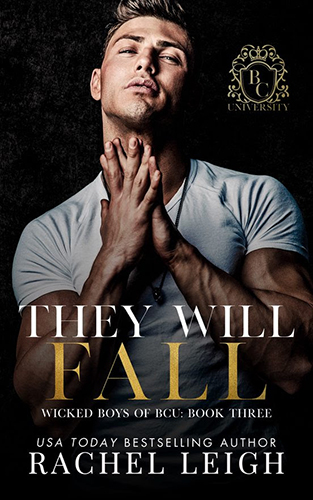 They Will Fall
by
Rachel Leigh
Series:
Wicked Boys of BCU #3
Published by
Self-Published
on July 14, 2023
Genres:
New Adult Romance
Format:
eArc
Source:
Grey's Promotions
Goodreads
Purchase at
Amazon

After a rocky start to my freshman year at BCU, I was confident the threat was gone.

The murders ended, and my name was cleared. All the while, three unsuspecting men took me by surprise…

Ridge, my stalker turned lover.

Maddox, prince charming who swept me off my feet.

And Lev, my villain who climbed out of the black hole he'd been living in, showing me a version of himself no one thought they'd ever see again.

Then everything changed.

Campus Alert: Shelter in place. Homicide suspect at large.

That suspect…it's me.

I'm not innocent by any means, but I didn't commit the crimes I'm being accused of. Someone is out to get me, and it's apparent they'll go to depths unimaginable to ensure my demise.

But I was born a survivor, and I'll rise from the ashes, even if it means I have to burn first.
---
They Will Fall is the third and final installment to Rachel Leigh's Wicked Boys of BCU trilogy. This book is a whirlwind of craziness regarding twists and turns and why Riley was being set up, since book one with different murders that were on campus.
I felt for the FMC in this book because here it is, Riley is on the run from the Elders of the Secret Society that everyone is a part of, who believe she is behind the murders on campus at BCU. The Elders want her to be brought in and punished for the crimes, even though she had nothing to do with them. She has two of her boyfriends who are all about protecting her and trying to clear her name, while the third boyfriend has something to do with the Elders wanting Riley captured due to what he orchestrated on campus. This was unveiled in the last book on what this boyfriend did to Riley, and little more was revealed in this book. The only thing Riley committed happened in the last book in the Bastards of Boulder Cove series, which involved her best friend, Scarlett. (I recommend reading The Bastards of Boulder Cove before diving into this trilogy.)
Here's what I liked about this book; it mainly had to do with Riley finally getting her name cleared because she didn't deserve what was happening to her. I also enjoyed how the book focused on the Secret Society and how it's too powerful, and I agreed with the boys, Ridge, Maddox, and Lev, that the Elders need to be dealt with since they can't seem to do their jobs right, which is why the boys have handled things their way. The best part is when Lev gets closure and revenge on what happened to his family because the truth comes out in this book about who was behind his family's murders. I felt terrible for one of the guys finding out that the one person he trusted in his life was behind everything and even tried to harm Riley.
The book lost me when it became rushed, especially at the end when everything came to light. Maybe, there were too many twists and turns to keep up with because I had to reread things to ensure I read the scenes right. Plus, I didn't feel the connection between Riley and her BFs, and it was supposed to be an RH/Why Choose trilogy. The boys were supposed to be friends, but they often questioned each other's motives, especially regarding Riley. There's one of them that I think Riley should have made grovel to win her back after what he did to her, but she's more worried about him than what he put her through. This is my honest opinion, but this book also felt like it lacked the spice and connection between the characters. I didn't believe this book was truly a Reverse Harem since the boys were mostly jealous when one got to spend time with Riley and the other(s) didn't.
Ugh, I hate that I didn't enjoy this book like I wanted, but that doesn't mean someone else won't enjoy it more if they read it. I gave this book 3.5 stars, which is still good, but it won't be a favorite. I will blame my lack of enjoyment because my mind wasn't in the right mindset when reading this book. I was in the middle of moving my oldest daughter into her college dorm and leaving her behind was the hardest thing to do. Because for eighteen years, I've been taking care of my oldest daughter, and now she has to take care of herself for the first time. I'm not okay with it and feel life went by too fast. I miss her. (I may try to reread it later when my emotions aren't so haywire.)
---
Story Rating: ⭐️ ⭐️ ⭐️ .5
Steam/Spice: 🌶 🌶 .5
Would I recommend this book? Yes. I may have only given this book 3.5 stars, but others may enjoy this book more, especially if you read the previous two books in the trilogy. It's a Dark New Adult/College Romance that involves a secret society and boys that like to bully, stalk, and unalive people for the girl they all secretly love together.
Genre/SubGenre: Romance | New Adult & College Romance | Reverse Harem
Trope(s)/Element(s): Secret Society | Forced Proximity | Bully Romance | Why Choose | Heroine in Danger | AntiHeroes | Psychotic MMCs

---
---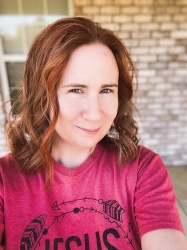 Latest posts by FranJessca
(see all)