ARC Review: 'Thrash' by J. C. Emery
January 15, 2014
I received a complimentary copy of the book from the blog tour host in exchange for an honest review. This does not affect my opinion of the book or the content of my review.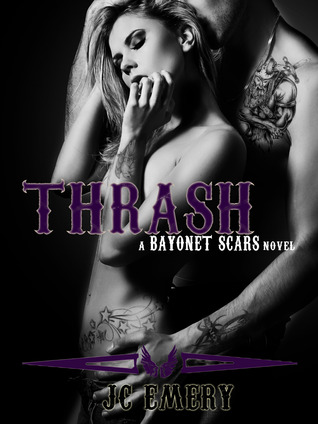 Thrash
by
J.C. Emery
Series:
Bayonet Scars #2
Published by
Left Break Press
on January 6, 2014
Format:
eArc
Goodreads
Purchase at
Amazon

Loneliness suffocates the heart. Acceptance breaks down walls.
As a Lost Girl to the Forsaken Motorcycle Club, Nicole Whelan knows how to party. She's not cut-out for relationships and her life is way too complicated for anything more than casual encounters. But one night when she falls into Duke's bed at the clubhouse, he sees something in her that he can't let go of—no matter how many times she tries to run.
Having been left to raise her teenage brother, Jeremy, she's already got her hands full and isn't looking for anymore complications. But Duke's just watched his best friend fall for the only girl he couldn't have, and then almost lose her so shortly after, shaking him to his core. Faced with his own loneliness, he's more determined than ever to break down Nic's walls and show her that he can be good for her; but he's got a bad track record and she's got a bad temper. Changing his ways isn't easy when he's not sure what he's even changing for.
The violence and turmoil are at an all-time high, and Forsaken is in a vulnerable place when a twist of fate breathes new life into the club. It's a much-needed beacon of hope for the embattled biker family, even if everyone's not exactly on board. With Duke and Nic's relationship already on shaky ground, and something even more important at stake, the Forsaken Motorcycle Club will fight like hell to keep their family together and whole.
Love is never more precious than when it's new.
My Review
I have been waiting on pins and needles here to read Duke's book. I did not have have a much of a connection with Ryan (aka Trigger) in Ride, but that because he was a jerk. But Duke, he caught my interest the minute he was introduced, and I have been waiting to find out who he would end up within the book. Who would tame the other bad boy of the Forsaken Motorcycle Club?
I was a little confused in the book because I did not realize that JC Emery has some of the story from the previous book in Thrash but in a different side of it. You have the secondary characters viewing what is happening from Ride in Thrash. Once I knew what she did, I actually was fascinated by how she was able to tell the same story…but not tell it repeatedly. She made sure to include just a bit of what was happening into Ride and then picks up with Duke's dilemmas and his Old Lady's dilemmas.
The best part of the book was the beginning. Let's say JC Emery started off the book with a significant hot smoldering scene between the two main characters, Duke and Nicole. Be prepared for lots more to come throughout the book. (I am giving you a warning ahead of time) =)
Then JC Emery makes the characters not see each other for a while…but if you have read Ride, you will understand why those months were apart. Nicole is the main female character of the story, and you will get a chance to read everything she is going through within the story. The poor girl is trying to make ends meet taking care of her brother, while her father (stepfather) is in jail due to a being caught doing something. She has tried to forget what she did with Duke, but how can she when the man has a way of getting into a girl's head and staying there. She had every right to go through moments of denial and trying to avoid the Club that she has been a part of for a while, but the Club is not something you run from because it owns her.
I loved Nicole's character due to her determination of trying to stay strong even with certain situations that I feel she should have kicked some chick's butt and kicked Duke's butt. She proved time and time again though, she can survive, but it took her a while to know that she could.
Duke, on the other hand, is a stubborn, crazy fool, who is just trying to figure out Nicole. He wants her more than just being a plaything for the Club; he wants her permanently as his. Of course, he messes up, but he's trying to prove he can change. He's very alpha and domineering, but he knows how to win over a girl, especially in the bedroom. Oh boy…does he knows how to win over a girl. =)
I could go on and on about this book, but don't want to give something away. I give this book 4 full moons and recommend it to readers out there that love hot tattooed bikers.
If you are a fan of the Sons of Anarchy well, let's say this book and the first book is for you. You have the Forsaken Motorcycle Club that takes care of business and makes sure also to take care of their Old Ladies. Their Old Ladies even know how to handle business. Be prepared for moments of tension, romance, and suspense all in one book. =) Lots and lots of steamy romance!!!
I look forward to reading more from JC Emery and hopefully even more from the Bayonet Scars series in the very near future.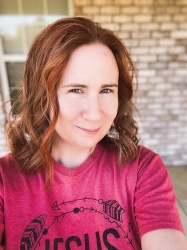 Latest posts by FranJessca
(see all)