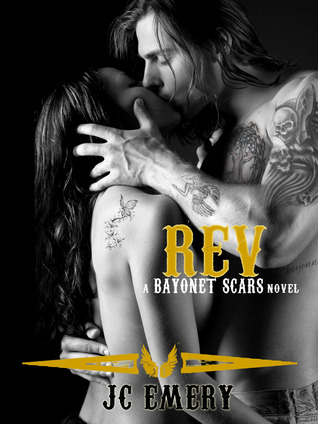 Rev
by
J.C. Emery
Series:
Bayonet Scars #3
Published by
Left Break Press
on May 19, 2014
Genres:
Contemporary Romance
Format:
eArc
Goodreads
Purchase at
Amazon

Everyone belongs somewhere. Even the misfits.
With the looming threat from the Mancuso Crime Family, the Forsaken Motorcycle Club is preparing for a war that could destroy them. Grady, the club's Sergeant-at-Arms, knows that love makes you weak, and he has zero interest in adding to his liabilities– especially now. He's already got his teenage daughter who keeps him on his toes and a beef within the club that could fracture his relationship with a fellow brother for good.
For Holly Mercer, her life is finally getting on track and the last thing she wants is trouble from her hometown's resident outlaws. Keeping her nose clean is easier said than done, when suddenly she finds herself embroiled in club business. Holly might like the idea of being with a real-life bad boy, but even being in the same room with tough-as-nails Grady flusters her.
When Holly inadvertently finds herself on Mancuso's radar, she has two choices: trust that Grady will protect her, or continue to refuse the club's help. Both roads are dangerous, but only one has the chance to damage her beyond repair.
Love is never more dangerous than when it can destroy you.
My Review