ARC Review: 'Ride' by J.C. Emery
November 3, 2013
I received a complimentary copy of the book from the blog tour host in exchange for an honest review. This does not affect my opinion of the book or the content of my review.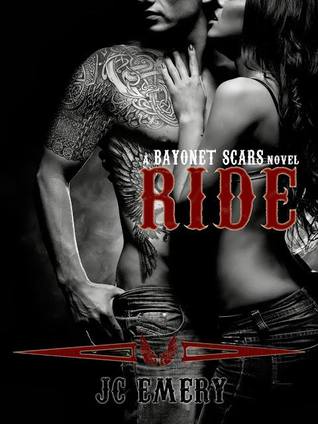 Ride
by
J.C. Emery
Series:
Bayonet Scars #1
Published by
Left Break Press
on October 25, 2013
Format:
eArc
Goodreads
Purchase at
Amazon

Death comes in Armani. Salvation comes in leather.
Principessa to the Mancuso crime family, Alexandra knows a thing or two about living outside the bounds of the law. Suffocated by the future her father has laid out for her, she makes a choice she can't take back, changing the entire trajectory of her life.
Thrust into the dark and dangerous world of the Forsaken Motorcycle Club for her own protection, Alex finds herself faced with the last thing she needs right now: the man of her dreams. He's sex in leather, the devil incarnate, and one hell of a kisser. But he's also off-limits. Ryan Stone can be her friend, but he's forbidden to be her lover.
Third-generation Forsaken, Ryan knows nothing other than life on two wheels, and he wouldn't have it any other way. He enjoys the many privileges that come with the patch, and the only laws he recognizes are the ones set-forth by his club. That is, until who he wants more than anything isn't allowed on the back of his bike —or in his bed. Balancing his desire for her body, and need to keep her safe, Ryan tries to keep Alex at a distance. Finally having made a choice for herself, she's done hearing the word "no" and will push boundaries even Ryan himself doesn't dare cross.
Love is never more tempting than when it's forbidden.
My Review
Ride is my first book by JC Emery, and I'm glad I was introduced to Ride from the blog tour. I love books that involve motorcycles and hot tattooed guys, and this book is definitely about those two things…but it also includes an Italian Mafia.
The first chapter alone in Ride had me intrigued due to what the poor character, Alexandra has to deal with in the story. She has lived a sheltered life being the Principessa, thanks to her father being the big hunch-o in the Italian Mafia. She has to be obedient and not be mouthing off, and she must accept the fact that her father is going to arrange her to be married to the guy of his choosing. Women in the Mafia are just meant to be good housewives and do what they are told, but Alex's life is about to turn upside down. She just went to the funeral of someone, who used to be in her Dad's Mafia, but the minute he became a rat, he ended up being Dad. You do not ever talk to be outside of the family; if you do, you are no longer going to live. Unfortunately, one night Alex does the unthinkable, but she thinks she is doing good, but in the end, she finds herself in danger. Her Aunt Gloria has to call for help to get Alex away from the Mafia, so she doesn't get killed.
Alex is thrown into a world of motorcycles and men that are nothing like her Dad's men. She even finds secrets that were kept hidden from her the day before she is thrown into the world of the men with vests saying "Forsaken" on them. She has no clue what is going on, but she is about to find out even further truths about her life, and it may break her farther or make her stronger.
There is also the issue of Alex falling for one of the men named Ryan. She has been told not to, but it's hard. He is a sexy tattooed guy, who has something that makes her want him. Unfortunately, he is the biggest jerk of them all. Oh boy, did he get on my nerves? I think he may be the first character in a while that I want to hurt. I have no love for Ryan at all because of what he put Alex through. There were times I even hated Alex and her ways of just letting him get away with things. She did though have a mouth on her and spoke back at times, which made me like her again.
Ryan though just pissed me off in Ride. He cannot accept the fact he has feelings for Alex the minute she steps into his life, and he runs off to do things to hurt her. I could not like him.
I did like some of the secondary characters in the story and wanted to find out more about Duke and several others in the gang.
I loved the plot of the story and how Alex finds out the truth on what happened. I also liked getting not only Alex's POV but Ryan's too. Unfortunately, I still did not want him even after his POV. He just irked me for so many reasons.
I did find the ending a little rushed though, but I want to know what happens next…dang, it. There was a little cliffhanger, and I know it cannot end that way. No way I need to find out what is going to happen to Alex's father.
I give this book 3.5 moons, and I will be reading the next book because it's Duke's book and he's one I need to read more of in the series. If only Ryan will be less of a jerk in the next book if I do have to deal with him. LOL Grr…yup…can you tell, I cannot stand him?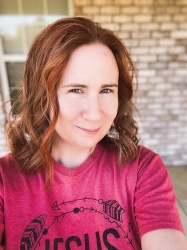 Latest posts by FranJessca
(see all)