Review: 'Rev' by J.C. Emery
May 27, 2014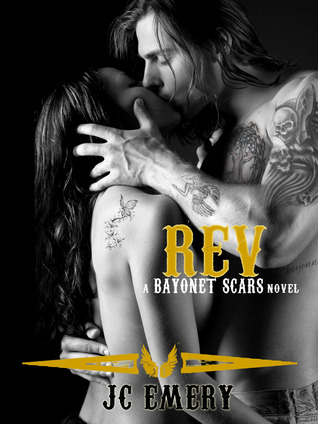 Rev
by
J.C. Emery
Series:
Bayonet Scars #3
Published by
Left Break Press
on May 19, 2014
Genres:
Contemporary Romance
Format:
eArc
Goodreads
Purchase at
Amazon

Everyone belongs somewhere. Even the misfits.
With the looming threat from the Mancuso Crime Family, the Forsaken Motorcycle Club is preparing for a war that could destroy them. Grady, the club's Sergeant-at-Arms, knows that love makes you weak, and he has zero interest in adding to his liabilities– especially now. He's already got his teenage daughter who keeps him on his toes and a beef within the club that could fracture his relationship with a fellow brother for good.
For Holly Mercer, her life is finally getting on track and the last thing she wants is trouble from her hometown's resident outlaws. Keeping her nose clean is easier said than done, when suddenly she finds herself embroiled in club business. Holly might like the idea of being with a real-life bad boy, but even being in the same room with tough-as-nails Grady flusters her.
When Holly inadvertently finds herself on Mancuso's radar, she has two choices: trust that Grady will protect her, or continue to refuse the club's help. Both roads are dangerous, but only one has the chance to damage her beyond repair.
Love is never more dangerous than when it can destroy you.
My Review
Rev is the third book to JC Emery's Bayonet Scars series and in this particular book we have Holly Mercer and Sterling Grady (but don't call him Sterling…he hates that being called that). These two characters were complete opposite of each other. (Oh boy…were they complete opposite)
Holly is trying to straighten her life out and work at the school she used to attend, and she ends up coming into the Forsaken Motorcycle Club world by mistake. Grady is your very alpha like character who you will hate or love…but in my case, I wanted to slap him around a bit. He was coldhearted at first, but in the end he started coming around (just a little bit though). Holly on the other hand was the tough chick who handled anything thrown at her. The girl handled everything and I mean everything that was thrown at her…especially at the end. I think I was more scared of Holly than Grady after I finished reading Rev.
I won't go into details about Rev because I don't want to spoil for anyone that hasn't read the first two books. JC Emery has each book following what is still going on from the first book, but with two different characters. We have the Italian Mafia still causing trouble and this time they hit close to home with Grady. We even have a separate drama unfolding at the end of the story that is mentioned and this one definitely caught me off guard. I had to skip over some parts at the end of the book due to the graphic content that was involved. Let's just say JC Emery's writing is very detailed and made me feel like I was there in the room with the characters. I felt exactly what Holly was feeling and I definitely would have done the same thing she did at the end. Holy crap…I may end up having nightmare over it. JC Emery has a very descriptive unique way of writing though, that makes the reader feel everything and see everything like they are there. (doesn't matter what kind of scene it is…it could be a sex scene or a very disturbing scene like the one in the end…JC Emery knows how to make a readers' emotions go haywire with her writing)
Although, this book definitely did not grab me like the second book did because I didn't connect well with the characters at times, mostly Grady. Although, he did eventually win me over at time when he didn't like a jerk. He was mostly a jerk though. Even to previous characters in the other books…he tended to be a jerk to them though. Although, I got a kick out of him when Papa bear came out and he was protecting his daughter from a certain prospect. LOL I also was expecting a little more with the mafia to be involved, and wanted to know what happened between a certain character and the President of the club. Something went down and I'm left hanging to find out what happened.
I give this book 3.5 moons and recommend it to readers out there that enjoy MC romance books out there. I do recommend you read the first books otherwise you will miss out on what the Forsaken MC is dealing with.
I will be reading the next book in the series because JC Emery did leave me wondering what is going to happened with the Italian Mafia now and another story that unfolded at the end. I'm curious on certain other characters that may be getting close together. A little too close for Grady's comfort. LOL
Warning: This book does get graphic and it may have some readers feeling uncomfortable. In one particular scene, it does get very disturbing and for readers who do not like scenes that involve rape, they may just want to skip over this part.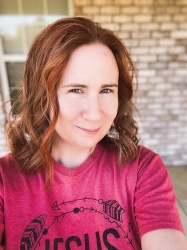 Latest posts by FranJessca
(see all)