Review: 'Spellbound in Sleepy Hollow' by Rosalie Lario, Patricia Eimer, & Boone Brux
I received a complimentary copy of the book from the publisher in exchange for an honest review. This does not affect my opinion of the book or the content of my review.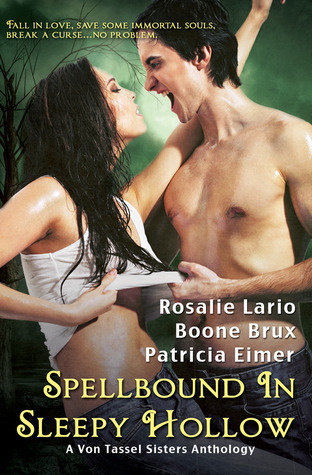 Spellbound in Sleepy Hollow
by
Patricia Eimer
,
Rosalie Lario
,
Boone Brux
Published by
Entangled: Select Otherworld
on May 27, 2014
Genres:
Paranormal Romance
Pages:
250
Format:
eArc
Source:
publisher
Goodreads

The Von Tassel sisters are in deep. With a new inn opening up to non-magic guests, these three witches have enough to worry about, but after a deal with the Headless Horseman, all three Von Tassel sisters must find their true loves by All Hallow's Eve or forever be trapped as ghosts in Sleepy Hollow like their ill-fated aunties.
Will Stephanie be able to forgive her playboy ex? Will Bri be able to win back her childhood cruch-turned-ghost hunter? Will Lexi be able to sway her supernatural employee? And will they all be able to fall in love by the week's end?
My Review
Three stories in one book that weaves into each other telling a unique twist to the Sleepy Hollow story.  Here we have three witches, the Von Tassel witches that are taking care of a inn together.  They are trying to make it where non-magical guests can stay there, but it's kind of hard when they have 3 Aunts strolling the grounds with her true loves tied to them.  Yup…the Aunts are ghosts.  They were killed many years ago and  they have a curse on them thanks to a certain favorite Sleepy Holly character that everyone should know.
Rosalie Lario, Boone Brux, and Patricia Eimer each write a story of the each of the Von Tassel witches that are running the inn in present day. Each one will have to find their one true love, or else deal with the same fates as their Aunts are currently dealing with.
Each one of the Von Tassel witches stories were entertaining and kept me turning the pages.  The first story in the Anthology was written by Patricia Eimer, and it was my first book I've read from her and I loved how she wrote Stephanie's story.  I still think Stephanie had it hardest out of all the sisters to find her true love since she had to deal with getting over what the ex did, and then dealing with a certain character who made it difficult for her.  Rosalie and Boone are already favorite authors of mine and I loved how they continued the other sisters' stories from Patricia's.  The Anthology was easy to follow and the different points of view made the story even more interesting.  I loved getting to know each of the characters and even the Aunts who were ghosts.  (Sorry no spoilers…let's just say I'm a big fan of Sleepy Hollow and was so glad that these three authors put a new twist on this tale)
I give this Anthology 5 full moons and highly recommend it to paranormal romance readers out there.  If you are a fan of Sleepy Hollow, you will enjoy a new twist on the town that involve some very determined witches.  =)


I guess I should type a bio here. I'm FranJessca or Fran for short. I'm the owner of Book Lovin' Mamas and main Reviewer. I've been reviewing books since I got out of the Navy in 2011. Now 8 years later, I'm still reviewing, but this time with my youngest sidekick.
When I'm not reading and reviewing, you can find me at my day job during the week and on the weekend taking care of our little farm.

Latest posts by FranJessca (see all)