ARC Review: 'Unchained' by J. Lynn
October 4, 2013
I received a complimentary copy of the book from the publisher in exchange for an honest review. This does not affect my opinion of the book or the content of my review.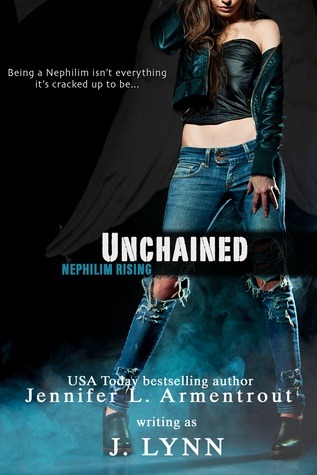 Unchained
by
J. Lynn
,
Jennifer L. Armentrout
Series:
Nephilim Rising #1
Published by
Entangled: Edge
on September 17, 2013
Genres:
Paranormal Romance
Format:
eArc
Source:
the publisher
Goodreads
Purchase at
Amazon

Between the pissed off creatures that want demon-hunter Lily Marks dead and the fallen angel who just...wants her, Lily is about ready to trade in forever for a comfy job in a cubicle farm.
The fact that she and Julian are civil to one another is enough to have her thrown out of the Sanctuary, but she can't shake her not-so-angelic stalker or how he brings her dangerously close to ecstasy.
Her forbidden relationship with Julian provides the perfect fuel for suspicion when a traitor is discovered to be working within the Sanctuary. Lily quickly finds herself hunted by well, everyone.
Her only hope is to discover the real traitor before she loses everything--and she'll need Julian's help. That is, if Julian is really there to help her...and not destroy her.
Yeah, being a Nephilim isn't everything it's cracked up to be.
My Review
This is not my first book from J. Lynn (aka Jennifer L. Armentrout) and it definitely will not be my last. I had a hard time putting down this book while reading it. I'm still recovering from reading it, so bear with me.
I loved everything about this book and how it took me back to my passion for reading one of my favorite types of paranormal creatures: Fallen Angels and Nephilim. Every book that involves fallen angels, angels, and half-angels…I will definitely pick up to read and when I read the synopsis of Unchained, I knew I was going to have to read it. Of course, J. Lynn knows how to keep me reading and neglecting my duties around my house, but I could not help it. I fell for the Fallen Angel, Julian, in this story and felt sympathetic towards Lily. The storyline alone had already captured me in, and there was no stopping me from reading this book.
Lily is a Nephilim, who works with other Nephilims in the Sanctuary to rid the world of the Fallen Angels and their minions and deadheads. She has been trained to kill no matter what when she comes across any Fallen Angel because they are nothing but evil. Her world is going to change the minute she decides to go against everything she has ever learned and trained for when she lets one Fallen Angel into her life. Julian is anything, but evil. In fact, he has saved Lily three times already and he is always there to protect her. ( He definitely won me over…especially with the heated sexy scenes )
The other Nephilim are starting to suspect, she's going to end up just like Anna, who fell for a Fallen Angel and got herself killed. Lily is different though, but she is starting to second guess everything she has been taught. Not every Fallen Angel can be evil and maybe everything she has learned has been a lie.
When someone in the Sanctuary is telling the Fallen Angels where the Nephilim is that the hunters are supposed to protect and find, all heck is about to break loose. Lily is going to have to face the big bosses and be accused of something she is not doing.
The minute the truth comes out on who it is and what is really going o,n that is when the readers are left in shock. At least I know I was because I was not expecting the epic conclusion to Unchained. I am still in shock over it. I did not expect the one person to be the traitor.
I loved every bit of the characters in this story and how everything is introduced and what Lily and her kind are doing. I did definitely fall for Julian in the story. How can you not…he is one sexy, protective, lovable Fallen Angel, who even makes me question their kind.
J. Lynn did an amazing job building the first story up and making me want more. I cannot believe she wrote this book in 2008 and is just now getting published. I'm definitely addicted to this series already and cannot wait until the next one comes out.
I give this book 5 full moons and highly recommend it to paranormal romance and urban fantasy readers out there.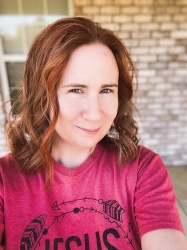 Latest posts by FranJessca
(see all)