ARC Review: 'Written in the Stars' by Alexandria Bellefleur
November 10, 2020
I received a complimentary copy of the book from in exchange for an honest review. This does not affect my opinion of the book or the content of my review.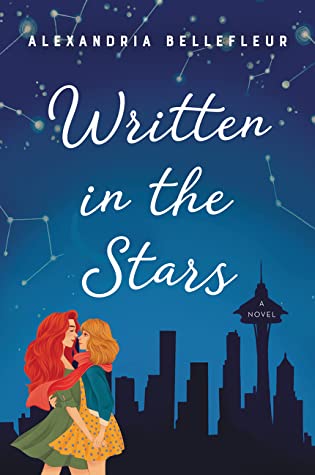 Written in the Stars
by
Alexandria Bellefleur
Published by
Avon
on November 10, 2020
Genres:
Contemporary Romance
,
FF Romance
,
Sapphic Romance
Format:
eArc
Goodreads
Purchase at
Amazon
|
Apple
|
Google Play
|
Kobo

With nods to Bridget Jones and Pride and Prejudice, a charming #ownvoices queer rom-com debut about a free-spirited social media astrologer who agrees to fake a relationship with an uptight actuary until New Year's Eve—with results not even the stars could predict!
After a disastrous blind date, Darcy Lowell is desperate to stop her well-meaning brother from playing matchmaker ever again. Love—and the inevitable heartbreak—is the last thing she wants. So she fibs and says her latest set up was a success. Darcy doesn't expect her lie to bite her in the ass.
Elle Jones, one of the astrologers behind the popular Twitter account, Oh My Stars, dreams of finding her soul mate. But she knows it is most assuredly not Darcy... a no-nonsense stick-in-the-mud, who is way too analytical, punctual, and skeptical for someone as free-spirited as Elle. When Darcy's brother—and Elle's new business partner—expresses how happy he is that they hit it off, Elle is baffled. Was Darcy on the same date? Because... awkward.
When Darcy begs Elle to play along, she agrees to pretend they're dating to save face. But with a few conditions: Darcy must help Elle navigate her own overbearing family over the holidays and their arrangement expires on New Year's Eve. The last thing they expect is to develop real feelings during a fake relationship.
But maybe opposites can attract when true love is written in the stars?
---
Written in the Stars is the first book I've read by Alexandria Bellefleur, and I can't wait to read more from her. This book is an F/F (LGBT) Romance. I've wanted to read more of this genre, and it was one of my goals for this year (2020). If you are a fan of Pride and Prejudice and Bridget Jones, you will enjoy this book. I know I did.
Female Protagonist (1): Elle Jones is an Astrologer who runs the popular Twitter account called Oh My Stars! She's one character that I would love to be friends with because her personality is lively, and she's always on cloud nine. She's a romantic and loves life. Unfortunately, her family wants her to be more serious, especially with her job. They don't consider her successful. I felt for her character and how she was treated. She deserved happiness and love.
Female Protagonist (2): Darcy Lowell reminds me of 'Darcy' from Pride and Prejudice perfectly. She is not looking for love, but unfortunately, her little brother is persistent for her to find someone. She's all about her job and getting over her past of having her heartbroken. She's the complete opposite of Elle, and Darcy has difficulty accepting Elle at first until she gets to know her.
Storyline: Elle Jones is looking for a soulmate and her new business partner Brendon sets her up with his sister, Darcy. The date is a complete disaster until Elle hears differently from Brendon. Darcy wants to get her little brother off her back and sets up a fake relationship with Elle. They both set a deadline for their phony relationship and also setup conditions. It's not going to be easy faking a relationship with both families.
My Thoughts: Written in the Stars is an excellent story about two characters that fall in love that are complete opposites of each other. I loved Elle's character and how successful she and her friend Margot is with Oh My Stars! Elle is someone I could consider being a friend with immediately, but Darcy would take a while due to how she treats people. I could understand why she was the way she was due to what happened in her past. Both Elle and Darcy have difficulties in life (past and present). It took me a bit to get used to these characters being together because of how they met in the beginning. It was not the best date. I didn't think it was a good idea to have a fake relationship because I thought it would lead to disaster. I will say this the scenes between Elle and Darcy were steamy. Very steamy! There was also one particular scene where Elle shares her love of thrift store items to Darcy with a Christmas tree, etc. It was sweet. Elle was a sweetheart in the book, while it took me a bit to like Darcy. It didn't stop me from reading the book, though. I did feel the ending was rushed, but other than that, this book was satisfying.
Standalone or Part of Series: Standalone.
Steaminess: Steamy.
HEA: Yes.
Trope: Fake/Pretend Relationship and Opposite's Attract.
Would I recommend this book? Yes. I would recommend this to readers who enjoy the F/F (LBGT) Contemporary Romance genre. Readers that love a re-telling of Pride and Prejudice and also love characters that are opposites of each other will enjoy this book too. I know I love these kinds of books. I can't wait to read more from Alexandria Bellefleur.
I'm looking forward to Brendon's story next because he deserves a HEA too.

This post contains affiliate links you can use to purchase the book. If you buy the book using that link, I will receive a small commission from the sale. It will help sponsor future giveaways but costs you nothing extra. You can read the full disclosure underneath the Privacy Policy.
---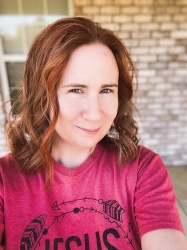 Latest posts by FranJessca
(see all)