Blog Tour: 'Promise of Darkness' by Bec McMaster (Review + #Giveaway) #Romanceopoly
I received a complimentary copy of the book from the Blog Tour Host in exchange for an honest review. This does not affect my opinion of the book or the content of my review.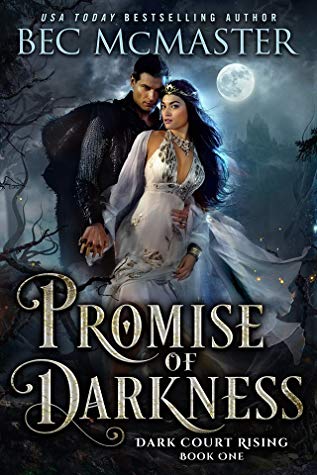 Promise of Darkness
by
Bec McMaster
Series:
Dark Court Rising #1
Published by
Lochaber Press
on September 17, 2019
Genres:
Paranormal Fantasy
,
Fantasy Romance
Pages:
436
Format:
eArc
Source:
Blog Tour Host
Amazon Kindle
|
Apple iBooks
|
Barnes & Noble
|
Kobo
Goodreads

Princess. Tribute. Sacrifice. Is she the one prophesied to unite two warring Fae courts? Or the one bound to destroy them?
In a realm ruled by magic, the ruthless Queen of Thorns is determined to destroy her nemesis, the cursed Prince of Evernight.
With war brewing between the bitter enemies, the prince forces Queen Adaia to uphold an ancient treaty: she will send one of her daughters to his court as a political hostage for three months.
The queen insists it's the perfect opportunity for Princess Iskvien to end the war before it begins. But one look into Thiago's smoldering eyes and Vi knows she's no assassin.
The more secrets she uncovers about the prince and his court, the more she begins to question her mother's motives.
Who is the true enemy? The dark prince who threatens her heart? Or the ruthless queen who will stop at nothing to destroy him?
And when the curse threatens to shatter both courts, is her heart strong enough to break it?
A fairytale twist inspired by the Hades and Persephone myth.
I'm so glad I read Promise of Darkness by Bec McMaster because I had a hard time putting down this book. First off, this book had me from the beginning to the end due to the storyline and characters. I loved how Bec McMaster wrote a fairy twist based on Hades and Persephone's myth. 
Princess Iskvien aka 'Vi' is one female protagonist who wants her mother's love, but never receives it. She's forced for three months to spend time with Prince of Evernight due to the treaty they have in place. Her mother Queen Adaia wants Vi to assassinate the Prince when she's with him, but Vi won't do it, even if she is to gain her mother's love and trust. Vi knows that there are secrets and will fight to learn them in this story. She's not one to run and hide. She's there to learn the truth and knows the Prince of Evernight aka Thiago has his secret agenda with her when she's with him. He's very protective and generous with her and doesn't make a move on her unless she consents to it. He's a gentleman, but he has another side to him. Every other kingdom fears him because of his other side. Vi sees him in action when they come across one of the Unseelie Queens doing the unthinkable, and they get caught in the crossfires of some ruthless Banes (wolf-like creatures). She's not scared of him though. She should be because she has been fed lies about him from her mother. The truth is unveiled towards the middle of the story, and it was a big shock.
I knew it was coming from how Bec McMaster wrote the story. I loved how she wrote the story in first person and Vi's Point of View only. I felt like I was feeling her pain and love in this story. Here is a female character who only wants to be loved, and when she finds love, it's taken away from her. There's also the story of the Old Ones that the Seelie and Unseelie courts put away in the Underworld and they should stay there. Unfortunately, others believe the Old Ones should be resurrected. Vi is going to find out some of the Old Ones and if they indeed are evil. She will also find out a lot more in this story that I don't want to give away. 
I kept swiping my Kindle's screen when reading this book because I had a hard time putting it down. I was intrigued by the storyline and how Bec McMaster kept me wanting more. Now I have to wait for the second book in the series, especially after what Vi had done in this book. She did the unthinkable, but she chose the unthinkable to have what she most wanted in her life. Her mother is a ruthless villain in this story, but be warned other villains in the story will make her seem very weak. I loved this story and anxiously wait for the next book. I've read Bec McMaster's Steampunk Romance books, but this series may become a favorite of hers. I can't gush enough, and I can't wait to see where she has all the characters go next in the second book. 
---
Story Rating: 5 stars
Steaminess Rating: 3.5 stars
Standalone or part of series: Part of the Dark Court Rising series and highly recommend reading in order.
Do I recommend this book?  Yes, most definitely.
Will I read other books from the author? Yes.
Tropes/Elements: Paranormal Fantasy; Fae (Seelie/UnSeelie); Enemies-to-Lovers; Fairy Retelling of Hades and Persephone

---


a Rafflecopter giveaway

I guess I should type a bio here. I'm FranJessca or Fran for short. I'm the owner of Book Lovin' Mamas and main Reviewer. I've been reviewing books since I got out of the Navy in 2011. Now 8 years later, I'm still reviewing, but this time with my youngest sidekick.
When I'm not reading and reviewing, you can find me at my day job during the week and on the weekend taking care of our little farm.

Latest posts by FranJessca (see all)