Library Book Review: 'Empire of Sand' by Tasha Suri
October 17, 2021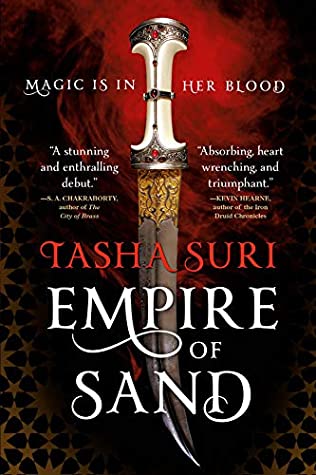 Empire of Sand
by
Tasha Suri
Series:
The Books of Ambha #1
Published by
Orbit
on November 13, 2018
Genres:
High Fantasy Romance
,
Fantasy Romance
Format:
Paperback
Source:
Library
Goodreads
Purchase at
Amazon
|
Barnes & Noble
|
Kobo

A nobleman's daughter with magic in her blood. An empire built on the dreams of enslaved gods. Empire of Sand is Tasha Suri's captivating, Mughal India-inspired debut fantasy.
The Amrithi are outcasts; nomads descended of desert spirits, they are coveted and persecuted throughout the Empire for the power in their blood. Mehr is the illegitimate daughter of an imperial governor and an exiled Amrithi mother she can barely remember, but whose face and magic she has inherited.
When Mehr's power comes to the attention of the Emperor's most feared mystics, she must use every ounce of will, subtlety, and power she possesses to resist their cruel agenda.
Should she fail, the gods themselves may awaken seeking vengeance…
Empire of Sand is a lush, dazzling fantasy novel perfect for readers of City of Brass and The Wrath & the Dawn.
---
Thanks to my local library, I was able to find and borrow Empire of Sand by Tasha Suri. This is the first book that I've read by Tasha Suri, and it was a much different Fantasy that I've read so far, and I enjoyed it.
Storyline/My Thoughts: I'm so glad I found something different to read because I was having difficulty finding something to read lately. I didn't want to end up in a reading slump again as I did over the summer. Tasha Suri's Empire of Sand helped me not getting into a slump. The minute I started reading, I knew I would have a hard time putting down the book.
The story is mainly in Mehr's POV, with a few others getting a small POV, too. She's a nobleman's daughter that has magic abilities due to her Amrithi mother. Her father exiled Mehr's mother a long time ago due to her being Amrithi. The Amrithi have been known to the Empire to be outcasts, and they have been persecuted for a while in the Empire for their magical power in their blood. This means Mehr has to learn her Amrithi abilities from someone else because she has magic in her blood. One night Mehr's magical abilities are made known by the Emperor's mystics, and they have come for her. Her father doesn't want her to go with them, especially since his daughter is being forced to marry someone they have chosen for her. Mehr doesn't want anything happening to her father, stepmother, and little sister, so she goes with the Mystics to marry the man they have chosen. Her soon-to-be-husband is going to protect Mehr from the person who has controlled him for years by doing something that will put them both in danger if it's found out. The Mehr meets the person who wants to control her, the Maha, and she realizes he has his own cruel plan, and she doesn't want anything to with it.
I don't want to give anything away, so I will stop by detailing anything else. Here are some things I enjoyed about Tasha Suri's debut novel:
I loved reading a South Asian Fantasy inspired by the Mughal Empire, as per the author. At the end of this book, readers will find out with the FAQ on how and why Tasha Suri wrote the Books of Ambha. I always love finding out how authors came up with their stories.
The writing style was unique compared to other authors I've read, and I enjoyed it. It's very detailed, and Tasha Suri did a fabulous job with the world-building.
I loved Mehr's character because she's different from other female protagonists. She knows she's in danger with the Maha and the mystics, but she's not going to give up, especially when she has her husband, Amun, who is there with her.
There's some romance in the book, but it's not the main focus in the story, which I enjoyed. I read many romance books, but sometimes I want books that focus more on the story and how the characters grow.
I didn't think I would like Amun, who Mehr was married to, but he's a tortured soul. I love a male protagonist who has been through a lot and will fight back. He protects Mehr from the beginning, and in the end, he's there for her, too. He becomes the one person that Mehr can trust.
I loved the ending of this book because Mehr realizes what the Maha is doing. Nope, not spoiling it for anyone.
I could go on and on, but I don't want to end up spoiling anything. The only thing that bothered me when reading this book was that it was a slow start for me. The action didn't come until the middle and end of the book. It didn't prevent me from getting through the book, though. I was intrigued the minute I started finding out more about Mehr and her abilities. I needed to know what was going to happen. Overall, this book receives four stars from me. I'm anxious, though, to dive into the next book, which has Mehr's little sister as the main protagonist, and she's grown up. I'm thankful to my local library for having this book and the next book.
Standalone or Part of Series: It's part of the Books of Ambha series.
Trope: Marriage of Convenience; Arranged Marriage; Slow Burn
Triggers: Physical Abuse from Antagonist to Protagonist; Murder/Death
Would I recommend this book? Yes. If you are a fan of an Adult Fantasy book/series that involves magic, mythology, and gods, then you'll enjoy this book/series by Tasha Suri. If you are looking for a South Asian-inspired fantasy story, you need to check out this book.

This post contains affiliate links you can use to purchase the book. If you buy the book using that link, I will receive a small commission from the sale. It will help sponsor future giveaways but costs you nothing extra. You can read the full disclosure underneath the Privacy Policy.
---
---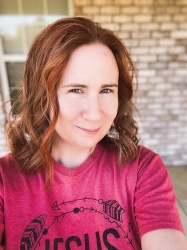 Latest posts by FranJessca
(see all)