Review: 'A Wicked Awakening' by Calinda B.
I received this book for free from Blog Tour Host in exchange for an honest review. This does not affect my opinion of the book or the content of my review.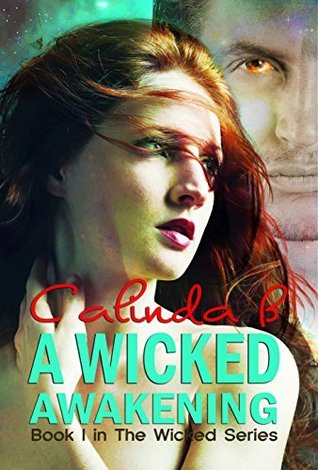 A Wicked Awakening
by Calinda B.
Series: Wicked #1
on August 1, 2011
Genres: Paranormal Romance
Pages: 384
Format: eBook
Source: Blog Tour Host
Amazon
Goodreads


Since a child, Cherie has felt something deeply buried in her psyche longing to break free. When a beautiful man-like creature comes to her, the life she knew is no more. He draws out her latent memories of a past existence, releases suppressed desires and leads her to the ultimate sexual experience, without even touching her. Longing to release the secrets to life and ecstatic, erotic love humans dreams of, invoked by his presence, will she manage to thwart the dark evil, threatening to consume her?
My Review
"A Wicked Awakening" is about Cherie, who has everything she ever wanted, but she is not able to stick up for herself at her job between her boss and two women who seriously think they can walk all over Cherie.
Cherie is forced to a take a job due to those two women who said they had other plans and now she has to tell her boyfriend, Cam, that they can not make their romantic getaway until later on.
He is not very happy about it of course and wishes Cherie would just give the girls and her boss a piece of her mind.  Not only is she dealing with stuff at her job, but she's dealing with a crazy old woman who keeps talking nonsense to her wherever she goes and she keeps having dreams of a sexy mysterious guy that she came across at a dance floor when she was with her best friend.
She is starting to doubt her life and if she is meant to be with her boyfriend…because she should not be having feelings for the mysterious guy.
She has to find out the truth and what the old woman keeps telling her.
She even has her two cats that she understands telling her she's special.
"A Wicked Awakening" is a very steamy paranormal romance book that introduces you into Cherie's life very well.  You will become attached to her and what is happening to her.  The Author even throws in the boyfriend, Cam's, POV.  We get to feel what he is feeling about Cherie and what he thinks about her situation.
There is so much that Cherie needs to learn about herself and she is starting to realize that maybe there is something different about her from others.
This is a great start to the Wicked Series and I definitely felt connected to both Cam and Cherie, but I want to learn more about the mystery guy.  If you read the short story before this book, you'll know why I'm curious about the sexy, mysterious guy.  He's way of talking and the way he is period…definitely has me knowing who is supposed to be.
Calinda B. throws in not only Cherie's dilemma  with the job she has to do for her boss, but she throws in something that has been bothering the character since she was younger.  It takes one incident to show demons again in Cherie's life that she never knew about until now.
I definitely want to read the 2nd book in the series when I have some free time.  I want to learn more about these Galaxy Dancers and their stories on Earth.
I recommend this book to anyone who loves paranormal romance and are fans of Calinda B.
I received a complimentary copy of "A Wicked Awakening" by Calinda B. for the virtual book tour in exchange for an honest review.


I guess I should type a bio here. I'm FranJessca or Fran for short. I'm the owner of Book Lovin' Mamas and main Reviewer. I've been reviewing books since I got out of the Navy in 2011. Now 7 years later, I'm still reviewing, but this time with my oldest daughter aka Lil' Sidekick.
When I'm not reading and reviewing, you can find me at my day job during the week and on the weekend taking care of our little farm.

Latest posts by FranJessca (see all)