Review: 'Angel Kin' by Tricia Skinner
April 24, 2014
I received a complimentary copy of the book from the publisher in exchange for an honest review. This does not affect my opinion of the book or the content of my review.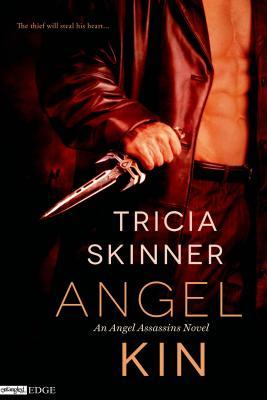 Angel Kin
by
Tricia Skinner
Series:
Angel Assassins #1
Published by
Entangled
on May 5, 2014
Genres:
Urban Fantasy
Format:
eArc
Goodreads
Purchase at
Amazon

While channeling Robin Hood's "steal from the rich and give to the poor" attitude at a local politician's house, ex-con Katie Logan witnesses a forced suicide. Dirty or not, supernatural or not, he didn't deserve to die, especially not by his own hand. But with her record, stepping forward as a witness isn't an option. On the run from the police and the murderer, she turns to The Bound Ones for help.
When a beautiful woman comes to The Bound Ones, half-angel assassin Cain is immediately drawn to her. But when she fingers him as the killer, he can come to only one conclusion. The twin he thought was dead is very much alive...and trying to send him a message. Unfortunately, that message is: "You're next."
It's a race against time as Cain fights to save the woman he's falling in love with before his brother Abel destroys them both.
My Review
I read the prequel Angel Bait last year during a blog tour, and was instantly enthralled in the world that Tricia Skinner created her characters in.  As soon as I found out about Angel Kin, I made sure to jump at the chance to read it since I have been patiently waiting for Cain's story.  He intrigued me in Angel Bait, so I definitely was already a fan of his.
In Angel Kin, we have the female character, Katie Logan who is trying to stay out of trouble, but her friends need her.  She ends up going back to her old ways and stealing from a snake shifting politician.  In the process of stealing from him, she happens to be at the wrong place at the wrong time.  She ends up witnessing something she shouldn't have and now her life is in danger.  She goes on the run and her brother suggests The Bound Ones could help her.  The Bound Ones are are half-angels that are assassins that keep the supernatural in line.  Unfortunately, the minute she meets the Bound Ones she accuses one of them of being the murderer.   It's their duty though to protect her from what is to come from their enemies, The Renegades.
What did I think about Cain's story?  I loved every minute of finding out more about my favorite character from Angel Bait.  His alpha-like qualities and eagerness to find the people behind what was happening in Angel Kin, definitely was everything I expected from him.  I did find out something in this story that he had a brother named Abel that actually plays a major role in Angel Kin.  I liked how Tricia had the Cain and Abel story, but gave her own twist about the two brothers.  These two definitely were complete opposite of each other, but Abel got the short end of the stick for what he had to go through.  (You will have to read the book to find out…no spoilers from this gal)  I would love to know what happens to him after what happened at the end of Angel Kin.
What I loved most about this book though was the world-building, and how Tricia explained The Bound Ones and The Renegades.  I also enjoyed that the romance in the story didn't take precedence, and Tricia was able to give us some heated moments, but not too much to take away from the plot of the story.  Don't get me wrong, I enjoy heated scenes, but every once in a while I want a book that keeps me engaged to what the characters are having to fight through.
One of the reasons why I'm not giving this book 4.5 or 5 moons is because of the character Katie and how fast-paced everything went towards the end.  I knew Tricia was wrapping everything up at the end, but it tended to veer off course a bit on what needed to be tied up.  There is also the case of Katie being too scared of certain situations (such as meeting the half-angels).  Seemed she had trust issues and the case of stealing for her friends.  I would have loved to have her friends take debut to in the story.  Otherwise, I'm definitely waiting for the next book in the series because this definitely was a very enjoyable, action-packed book.
I give this book 4 full moons and look forward to the next novel in the Angel Assassins series.  I recommend this book to urban fantasy readers and fans of angels.  There is a prequel to this series, Angel Bait that definitely recommend reading first, otherwise you will miss out on Jarrid's story.
I will say it over and over again, angels are my favorite supernaturals in the paranormal genre. I did veer off course for a bit on reading them due to other genres taking over my life, but glad that Tricia has managed to get me back to my favorite supernatural creatures and I have to say I want more.  =)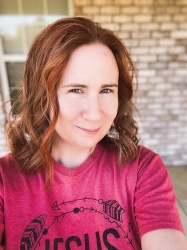 Latest posts by FranJessca
(see all)