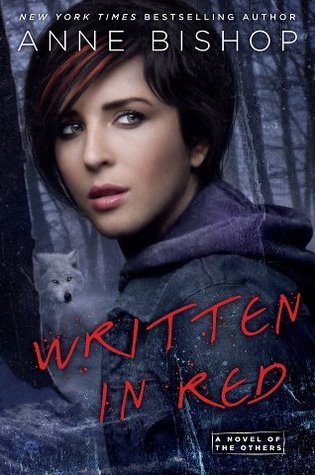 Written in Red
by Anne Bishop
Series: The Others #1
Published by Roc on March 5, 2013
Genres: Urban Fantasy
Pages: 433
Format: Hardcover
Amazon | B&N
Goodreads


As a cassandra sangue, or blood prophet, Meg Corbyn can see the future when her skin is cut—a gift that feels more like a curse. Meg's Controller keeps her enslaved so he can have full access to her visions. But when she escapes, the only safe place Meg can hide is at the Lakeside Courtyard—a business district operated by the Others.
Shape-shifter Simon Wolfgard is reluctant to hire the stranger who inquires about the Human Liaison job. First, he senses she's keeping a secret, and second, she doesn't smell like human prey. Yet a stronger instinct propels him to give Meg the job. And when he learns the truth about Meg and that she's wanted by the government, he'll have to decide if she's worth the fight between humans and the Others that will surely follow.
My Review Continue reading →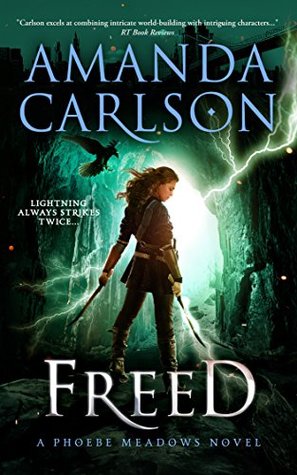 Freed
by Amanda Carlson
Series: Phoebe Meadows #2
Published by Self-Published on September 18, 2016
Genres: Urban Fantasy
Format: eArc
Amazon
Goodreads


Phoebe Meadows has one thing on her mind: Free her mother.
For the last month, Phoebe has been training in the Valkyrie stronghold readying for battle. But when she stumbles into a secluded valley after a day of grueling practice, she's given a dire prediction. Phoebe must leave the stronghold immediately with the aid of the giant, Junnal, to rescue her mother from the dark elves. If Phoebe fails, Leela will be transported to a place that can no longer be reached.
Leaving Fen behind threatens to undo her, but Phoebe stays true to the mission. Along the way, she allies with the god Baldur and an old white elf mage. Together, they storm the realm, and with the help of an angry wolf and her Valkyrie sisters, they just might stand a chance to free the valiant shieldmaiden.
But Phoebe soon learns that rescuing her mother comes with a price, and she's about to lose something too precious to sacrifice…
My Review Continue reading →
I received this book for free from Netgalley in exchange for an honest review. This does not affect my opinion of the book or the content of my review.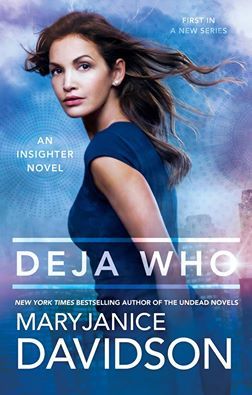 Deja Who
by MaryJanice Davidson
Series: Insighter #1
Published by Berkley on September 6th 2016
Genres: Urban Fantasy
Pages: 304
Format: eArc
Source: Netgalley
Amazon | B&N
Goodreads


Leah Nazir is an Insighter. Reincarnation is her business. But while her clients' pasts are a mess, Leah's is nothing short of tragedy. She's been murdered. A lot. If left to that bitch, destiny, it'll happen again. Leah wants to know who's been following her through time, and who's been stalking her in the present...
P.I. Archer Drake has been hired by Leah's mother to keep an eye on her. But the more time he spends watching, the more he finds himself infatuated. Before long, he even finds himself agreeing to help find the person who wants her dead. Over and over again.
Now going full-on "rewind," Leah hopes it can stave off the inevitable. After all, she's grown fond of this life - and even fonder of nerdy Archer. But changing her pattern means finding out who her killer is today. And as Leah fears, that could be anyone she has come to know and trust. Anyone.
My Review Continue reading →
I received this book for free from the Author in exchange for an honest review. This does not affect my opinion of the book or the content of my review.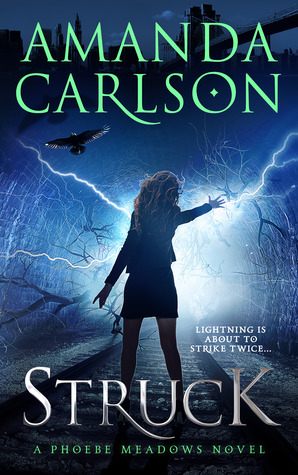 Struck (Phoebe Meadows, #1)
by Amanda Carlson
Series: Phoebe Meadows #1
Published by Self-Published on May 24th 2016
Genres: Urban Fantasy
Pages: 328
Format: eArc
Amazon | B&N
Goodreads


When Phoebe Meadows gets struck by a strange light in the stockroom of Macy's, life as she knows it flies out the window. As if being hit by lightning isn't bad enough, she's accosted in the subway by a man with a missing hand, arrives home to find a raven on her kitchen counter, and her neighbor, Ingrid, shows up dressed like a gladiator hell-bent on protecting her.
Before Ingrid can shuttle her to safety, Phoebe is kidnapped and tossed into one of the Nine Worlds where she's quickly forced to come to terms with what she is: A valkyrie. The only problem is, she has no idea what that means.
After a narrow escape, she finds an unlikely ally in Loki's son, Fenrir. Together the valkyrie and the wolf must battle their way back to New York City and reach the valkyrie stronghold where Ingrid is waiting for her. But with danger and obstacles at every turn, she might not live long enough to learn the full truth about who and what she really is…
My Review Continue reading →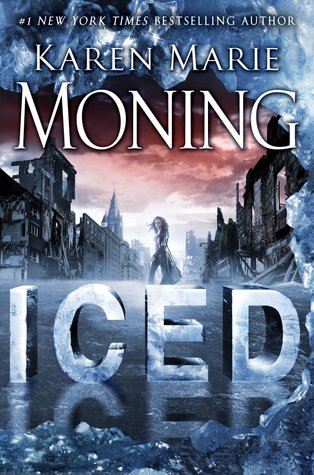 Iced
by Karen Marie Moning
Series: Fever #6
Published by Delacorte Press on October 30th 2012
Genres: Urban Fantasy
Pages: 512
Format: AudioBook
Source: Purchased
Amazon | B&N
Goodreads


From #1 New York Times bestselling author Karen Marie Moning comes the first book in her hotly anticipated new urban paranormal trilogy, set in the world of her blockbuster Fever series.
The year is 1 AWC—After the Wall Crash. The Fae are free and hunting us. It's a war zone out there, and no two days are alike. I'm Dani O'Malley, the chaos-filled streets of Dublin are my home, and there's no place I'd rather be.
Dani "Mega" O'Malley plays by her own set of rules—and in a world overrun by Dark Fae, her biggest rule is: Do what it takes to survive. Possessing rare talents and the all-powerful Sword of Light, Dani is more than equipped for the task. In fact, she's one of the rare humans who can defend themselves against the Unseelie. But now, amid the pandemonium, her greatest gifts have turned into serious liabilities.
Dani's ex–best friend, MacKayla Lane, wants her dead, the terrifying Unseelie princes have put a price on her head, and Inspector Jayne, the head of the police force, is after her sword and will stop at nothing to get it. What's more, people are being mysteriously frozen to death all over the city, encased on the spot in sub-zero, icy tableaux.
When Dublin's most seductive nightclub gets blanketed in hoarfrost, Dani finds herself at the mercy of Ryodan, the club's ruthless, immortal owner. He needs her quick wit and exceptional skill to figure out what's freezing Fae and humans dead in their tracks—and Ryodan will do anything to ensure her compliance.
Dodging bullets, fangs, and fists, Dani must strike treacherous bargains and make desperate alliances to save her beloved Dublin—before everything and everyone in it gets iced.
My Review Continue reading →
I received this book for free from the Author in exchange for an honest review. This does not affect my opinion of the book or the content of my review.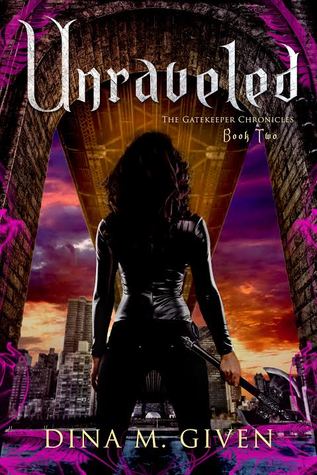 Unraveled
by Dina Given
Series: The Gatekeeper Chronicles #2
Published by LLC on January 1st 1970
Genres: Urban Fantasy
Amazon
Goodreads


Emma Hayes, a mercenary turned monster hunter, finds herself the secret savior of Earth as she attempts to battle creatures and keep unsuspecting humans safe.
Emma already has blood on her hands, and the tide of creatures keeps coming. She quickly learns that not all battles can be won with a gun. She must decide whether to take up Sharur, the magical battle axe, which may trigger a latent and terrifying magical ability with her.
Emma's monster hunting skills also catch the attention of a government operative who enlists her to help discover the identity of another creature-killer. This investigation leads Emma deep into the heart of a supernatural organized crime Syndicate. All of Emma's notions about the evil nature of these creatures are called into question when she meets Duncan, The Syndicate's leader.
Emma's world continues to unravel as she is pulled deeper into the realm of magic and monsters.
My Review Continue reading →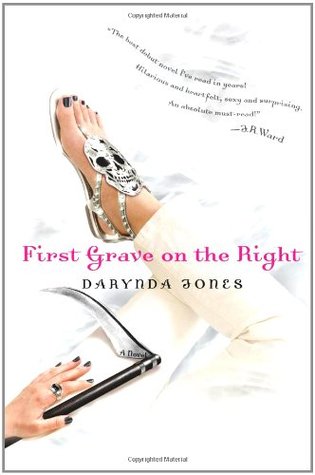 First Grave on the Right
by Darynda Jones
Series: Charley Davidson, #1
Published by St. Martin's Press on February 1st 2011
Genres: Urban Fantasy
Pages: 310
Source: Library
Amazon | B&N
Goodreads


This whole grim reaper thing should have come with a manual.Or a diagram of some kind.A flow chart would have been nice.
Charley Davidson is a part-time private investigator and full-time grim reaper. Meaning, she sees dead people. Really. And it's her job to convince them to "go into the light." But when these very dead people have died under less than ideal circumstances (like murder), sometimes they want Charley to bring the bad guys to justice. Complicating matters are the intensely hot dreams she's been having about an entity who has been following her all her life...and it turns out he might not be dead after all. In fact, he might be something else entirely. But what does he want with Charley? And why can't she seem to resist him? And what does she have to lose by giving in?
With scorching-hot tension and high-octane humor, First Grave on the Right is your signpost to paranormal suspense of the highest order.
My Review: Continue reading →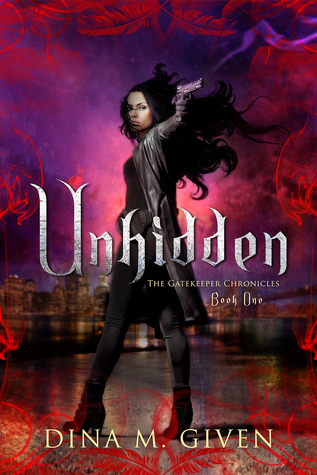 Unhidden (The Gatekeeper Chronicles, Book 1)
by Dina Given
Series: The Gatekeeper Chronicles #1
Published by LLC on December 29th 2014
Genres: Urban Fantasy
Source: Purchased
Amazon
Goodreads


It's not always easy to differentiate between the good guys and the bad guys, especially when your heroine is a trained killer and she may be falling in love with her evil hunter…
Emma Hayes, a former military Special Forces Operative turned mercenary-for-hire, finds her tightly controlled world turned upside down when she is attacked by horrible monsters.
Emma must use every skill in her arsenal to stay alive as she tries to solve the mystery of why she has been targeted. Her list of enemies keeps growing - from Zane Shayde, an evil Mage, to a secret branch of the US government - and she doesn't know if there is anyone left she can trust.
To complicate matters further, Emma is inexplicably drawn to Zane in a way she doesn't quite understand, even knowing her life is forfeit if captured. Who is he and why does he have this affect on her? How can she fight a being that calls to her, body and soul?
Emma is left haunted by questions, doubts and fears as to why she has been targeted, when they will come for her next, and how she will possibly be able to survive against an enemy she doesn't understand.
My Review: Continue reading →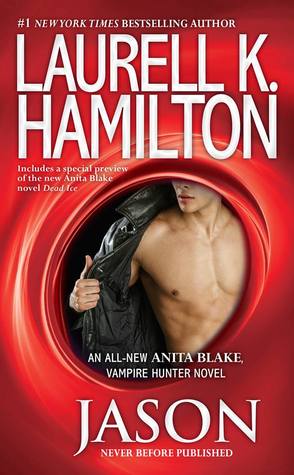 Jason
by Laurell K. Hamilton
Series: Anita Blake Vampire Hunter #23
Published by Jove on December 2nd 2014
Genres: Urban Fantasy
Pages: 255
Amazon | B&N
Goodreads


"Enjoying pain with your pleasure is something you either get, or you don't. If you get it, then you don't really need it explained, because you know how good it feels, and if you don't get it then no amount of talking is going to convince you it makes sense."
But sometimes you have to explain the unexplainable, especially if the love of your life needs to understand, or she'll leave you. Jason Schuyler is one of Anita Blake's best friends and favorite werewolves, with benefits. J.J. is his lady love, an old flame from childhood who dances at one of the top ballet companies in New York. She's accomplished, beautiful, and she's crazy about him, too. Neither of them wants to be monogamous, so what could go wrong?
J.J. is enthusiastically bisexual, with an emphasis on the female side of things. She plans to keep sleeping with women, because Jason can't meet that need, just like she can't meet Jason's need for rough sex and bondage. J.J. doesn't understand why Jason isn't content to go elsewhere for a need she can't fulfil, so Jason asks Anita to help him explain.
Anita is having her own relationship growing pains with her only female lover ever, Jade. Jason suggests that J.J. might be able to help Anita with her girl problem, while she helps him with his kinky explanations. With some encouragement from a few other lovers in Anita's life she reluctantly agrees, and J. J. makes plans to fly into town for an experience that none of them will ever forget.
My Review: Continue reading →
I received this book for free from the publisher in exchange for an honest review. This does not affect my opinion of the book or the content of my review.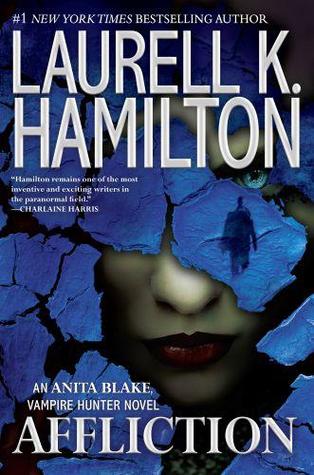 Affliction
by Laurell K. Hamilton
Series: Anita Blake Vampire Hunter #22
Published by Berkley on July 2nd 2013
Genres: Urban Fantasy
Pages: 570
Amazon | B&N
Goodreads


Some zombies are raised. Others must be put down. Just ask Anita Blake.
Before now, she would have considered them merely off-putting, never dangerous. Before now, she had never heard of any of them causing human beings to perish in agony. But that's all changed.
Micah's estranged father lies dying, rotting away inside from some strange ailment that has his doctors whispering about "zombie disease."
Anita makes her living off of zombies—but these aren't the kind she knows so well. These creatures hunt in daylight, and are as fast and strong as vampires. If they bite you, you become just like them. And round and round it goes…
Where will it stop?Even Anita Blake doesn't know.
My Review: Continue reading →