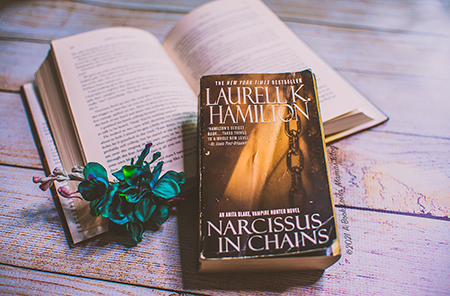 This book may be unsuitable for people under 17 years of age due to its use of sexual content, drug and alcohol use, and/or violence.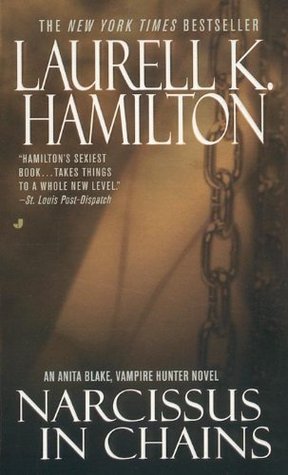 Narcissus in Chains
by
Laurell K. Hamilton
Series:
,
Published by
Jove
on September 24, 2002
Genres:
Urban Fantasy
Format:
Paperback
,
AudioBook
Source:
Purchased
Goodreads
Amazon
|
Barnes & Noble
|
Kobo

Hamilton's vampire-hunting Anita Blake faces a plethora of foes in her tenth outing.
Just returned to St. Louis after six months away, Anita is still no closer to choosing between her lovers—Jean-Claude, a vampire, and Richard, a werewolf. But she has to rely on both for help after two of the wereleopards that she has been watching are abducted at a seedy club called Narcissus in Chains.
Anita and her boyfriends rescue the wereleopards from the sinister people holding them, but Anita is wounded in the fight and put at risk of becoming a wereleopard herself. Richard angrily captures the wereleopard he believes is responsible and threatens to execute him.
Anita must now rescue that wereleopard from Richard and the werewolves he leads, even as she mourns the apparent end of her relationship with him. Then she realizes that those who kidnapped the first two wereleopards are targeting other lycanthropes. Maybe she will be next.
With plenty of steamy sex and graphic violence, this is engaging reading for vampire cultists.