Review: 'Bone Crossed' by Patricia Briggs
September 4, 2023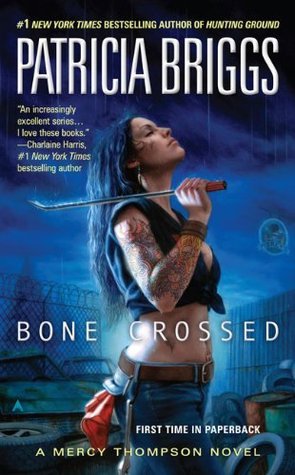 Bone Crossed
by
Patricia Briggs
Series:
Mercy Thompson #4
Published by
Ace
on January 26, 2010
Genres:
Urban Fantasy
Format:
AudioBook
,
Paperback
Source:
Purchased
Goodreads
Purchase at
Amazon
|
Barnes & Noble
|
Kobo

By day, Mercy is a car mechanic in the sprawling Tri-Cities of Eastern Washington. By night, she explores her preternatural side. As a shapeshifter with some unique talents, Mercy has often found herself having to maintain a tenuous harmony between the human and the not so human. This time she may get more than she bargained for.
Marsilia, the local Vampire Queen, has learned that Mercy crossed her by slaying a member of her clan—and she's out for blood. But since Mercy is protected from direct reprisal by the werewolf pack (and her close relationship with its sexy Alpha), it won't be Mercy's blood Marsilia is after.
It'll be her friends'.
---
Bone Crossed is the fourth novel in Patricia Briggs Mercy Thompson series. If you want an Urban Fantasy series with vampires, fae, werewolves, shapeshifters, and magic, add this to your Goodreads/Storygraph TBR. I'm working through the series and love the world and the characters that Patricia Briggs wrote for this series.
Now, if you expect romance in this series, I'll be completely honest with readers and mention it's there, but it's a slow burn, and you won't get steamy scenes as you do with paranormal romance books. This is a fantasy series, so the main focus is magical elements, supernatural beings, and world-building.
One thing I enjoy in fantasy books/series is when the author writes a kick-butt heroine who can handle herself and has special abilities, such as Mercy Thompson. Mercy is a car mechanic during the day, but she's also a coyote shifter/walker who can shift at will and has other special abilities. She's currently under the protection of the local werewolf pack and may or may not be seeing the alpha leader within that pack, especially when he's announced his feelings to her and has even told his pack she's his.
Bone Crossed picks up where Iron Kissed left readers, and poor Mercy is recovering from what happened to her. But Mercy can't catch a break, even if she's still healing, and ends up having not only the Vampire Queen, Marsilia, after her for what she did to one of her clan members but she's having to investigate a potential ghost issue for someone else. The Vampire Queen wants revenge; the best way to do that is to target Mercy's friends, which she does in Bone Crossed while Mercy handles the ghost concern.
Every book puts Mercy through tests, not just with her abilities as a walker but with whom she can and cannot trust. She has that feeling with Stefan in this book regarding the Vampire Queen after her and finding out if he's loyal to Mercy or his Vampire Queen. He does help her with the ghost issue, but after they find out who is really behind everything happening to a little boy and his family. One thing that came out of the vampire issue in this book was why the vampires are so scared of walkers like Mercy. I definitely can't wait to see where Patricia Briggs takes us next when it comes to Mercy and her abilities after finding out what walkers are capable of. I've been saying it since book once, but don't underestimate Mercy Thompson.
Another thing I loved about this book was the relationship between Mercy and Adam. I've been rooting for Mercy and Adam since book one and didn't like the love triangle I initially thought would happen. I did like Samuel until I learned his plans for Mercy when she first loved him when she was younger. I felt more connected with Adam when it came to Adam ending up with Mercy, and I am glad to know Mercy is leaning more toward him. Adam may be the alpha, but when it comes to Mercy, he is very caring and patient with her, especially after what she went through. I can't wait for more of their relationship to develop.
I did feel some parts of the book were repeating storylines from the previous books I've already read in this series, which is why it's only getting four stars and not five stars. I tend not to binge-read fantasy series due to the risks of the storylines and drama being the same for the characters. I know it's probably weird, but I need to read other books in between a series like Mercy Thompson; that way, I don't feel it's repetition. I've done it with the Anita Blake series, which I still need to catch up on, but I am enjoying this series by Patricia Briggs. I want to know what happens next, but I'm taking a break from it and will pick it up later.
Audiobook Review: I enjoy listening to this series because Lorelei King is the narrator. I was first introduced to Lorelei King when I listened to the Charley Davidson series by Darynda Jones, and she's one narrator who will always be an auto-buy for me. She's the perfect narrator to bring kick-butt heroines to life in your ears, such as Mercy Thompson and Charley Davidson. If you haven't already, I recommend checking out the audiobooks for both of these UF series. 
---
Story Rating: ⭐️ ⭐️ ⭐️ ⭐️
Standalone or Part of Series: It's part of the Mercy Thompson series and I recommend reading in order.
Would I recommend this book/series? Yes. I recommend this series to Urfan Fantasy readers.
Genre/SubGenre(s): Fiction | Fantasy | Urban Fantasy
Trope(s)/Element(s): Shapeshifters (Walker/Coyote Shifter) | Werewolves | Vampires | Fae

This post contains affiliate links you can use to purchase the book. If you buy the book using that link, I will receive a small commission from the sale. It will help sponsor future giveaways but costs you nothing extra. You can read the full disclosure underneath the Privacy Policy.
---
---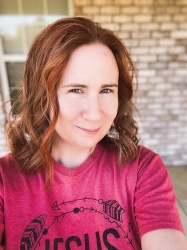 Latest posts by FranJessca
(see all)