Review: 'Skin Trade' by Laurell K. Hamilton
September 23, 2022
This book may be unsuitable for people under 18 years of age due to its use of sexual content, drug and alcohol use, and/or violence.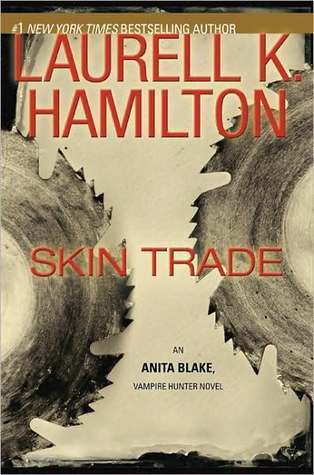 Skin Trade
by
Laurell K. Hamilton
Series:
Anita Blake Vampire Hunter #17
Published by
Berkley Books
on June 2, 2009
Genres:
Urban Fantasy
Format:
AudioBook
,
Hardcover
Source:
Purchased
Goodreads
Purchase at
Amazon
|
Barnes & Noble
|
Kobo

Once you tell someone certain things, like, say, you got mailed a human head in a box, they tend to think you're crazy.
Anita Blake's reputation has taken some hits. Not on the work front, where she has the highest kill count of all the legal vampire executioners in the country, but on the personal front. No one seems to trust a woman who sleeps with the monsters. Still, when a vampire serial killer sends her a head from Las Vegas, Anita has to warn Sin City's local authorities what they're dealing with. Only it's worse than she thought. Several officers and one executioner have been slain - paranormal style...
Anita heads to Las Vegas, where she's joined by three other federal marshals, including the ruthless Edward hiding behind his mild-mannered persona. It's a good thing Edward always has her back, because, when she gets close to the bodies, Anita senses "tiger" too strongly to ignore it. The were-tigers are very powerful in Las Vegas, which means the odds of her rubbing someone important the wrong way just got a lot higher...
---
Skin Trade is the seventeenth novel in Laurell K. Hamilton's Anita Blake Vampire Hunter series. This is my second time listening to/reading this book. It feels like I'm reading it for the first time since it's been a long time since I first read this book twelve years ago. I love reading Anita's past books and being introduced from the beginning to how she met certain people in her life. If there is one thing that Laurell K. Hamilton is excellent at, it is how she keeps up with every character in the series, even the secondary ones.
Storyline/My Thoughts: Poor Anita. I felt for her in this book because she's sent a severed head through the mail from a killer in Las Vegas while she is at work. Anita knows she must contact the local authorities in Las Vegas and warn them of a potential killer. The Las Vegas police are already aware since other cases are piling up from the killer. They need her assistance to figure out who or what is on a killing spree. The only thing is not many people in the police force trust Anita because she's in love with the monsters that everyone fears.
Before Anita can even pack to get down to Las Vegas on a plane trip, Edward, aka Ted Forrester, contacts her. She shouldn't be surprised that Edward would find out what is happening, and she is all onboard for his assistance on the case. The issue is that he's bringing along Bernando and Olaf. Anita doesn't want to be anywhere near Olaf because of what happened the last time they were together, and now Olaf is obsessed with Anita.
Anita will have to deal with Max, the Master Vampire of Sin City, when she's down there, especially when she s to call on his tigers when she was with Jason in his hometown (in the previous book). It wasn't her that did it, but the Mother of all Darkness who is still harassing Anita. In this book, though, the Mother of all Darkness will need Anita's assistance to help save her. Anita wants to be left alone by her and focus on the killer at hand in Las Vegas. Now, what does Anita do wrong in this book? She forgets to tell her sweeties she's in Las Vegas and Jean Claude becomes upset with her for not taking people to feed her ardeur. Anita has the tigers that she met in previous books to help her with the ardeur, but Jean Claude decides she will need additional people, such as Wicked and Truth. He even sends Requiem, who has been in love with Anita, but she's not in love with him.
Anita is always getting in trouble, it seems lately. She is supposed to be Jean Claude's human servant, but she is not acting like it, and her going off to Sin City without telling him will cause issues with how other Masters see Jean Claude and her relationship. I can understand Jean Claude's dilemma with Anita, and I wish Anita would understand how much she is putting their power circle in trouble whenever she decides to go off on her own. She's even putting herself at risk when she defies not embracing her human servant duties.
I did enjoy this book, especially listening to it instead of only reading it this time. I did question Anita, though, several times on her decisions in this book. I mentioned this in the previous paragraph, but I am bothered by how she has been putting herself at risk lately. It's frustrating for the men in her life that love her. It's even frustrating Edward and how he doesn't like her putting herself at risk. I liked seeing Edward differently in this book. You can tell that the woman in his life has changed him, and he's even turned down jobs because he doesn't want something happening to him.
Olaf scared me a little more in this book and how he is becoming more with Anita. I feel for Anita when it comes to staying away from Olaf. He is obsessed, and others are noticing now.
The storyline of Anita trying to find the killer in Sin City did take precedence in this book, but readers will still get moments of Anita with her ardeur. I know some readers are bothered by how many spicy scenes LKH writes in these books and how many men Anita is accumulating. Anita is bothered by it too, but she knows she can't help it since she has Jean Claude's ardeur. I feel for Anita because she even mentions how she misses the day of being alone and not having to deal with the drama of all the lovers she has gained. There is some jealousy brewing in the men that Anita has added to her harem and some that she hasn't even added. I feel for her when the jealousy rears their ugly head in some of the men she's been with. Ahem Requiem! Anita can't catch a break either with people in law enforcement giving her crap about loving vampires, shifters, etc. I'm not too fond of those kinds of people that give her grief. I'm glad she is sticking up for herself, and others for her too.
I was surprised by the motive of the killer at the end of this book, which is one of many reasons why LKH is a fave author. She knows how to keep me guessing. Here's hoping Anita's trouble with Mother of Darkness is coming to an end after this book. I won't spoil it for anyone who hasn't read the book.
Overall, this book gets four stars from me, and I'm immediately diving into my re-read of the eighteenth book in the series after finishing this one. I'm trying to complete a re-read before the next book in the series releases in 2023. I'm determined to complete my re-read before then.
Standalone or Part of Series: It's part of the Anita Blake Vampire Hunter series, and I recommend reading in order.
Steam/Spice: ⭐️ ⭐️ ⭐️ ⭐️
Would I recommend this book? Yes. I will always recommend the Anita Blake series to Urban Fantasy readers. If you are a dedicated Anita Blake fan like me, you don't mind reading everything that LKH writes in this series. Yes, it may have a lot of spice and Anita has accumulated too many different variety of paranormal men in her life, but you still get Anita and her necromancy and marshall duties. Anita has grown since the first book and I love that the men in her life, aka Jean Claude is learning to deal with her even if she is frustrating at times.

This post contains affiliate links you can use to purchase the book. If you buy the book using that link, I will receive a small commission from the sale. It will help sponsor future giveaways but costs you nothing extra. You can read the full disclosure underneath the Privacy Policy.
---
---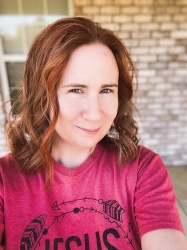 Latest posts by FranJessca
(see all)