Review: 'Iron Kissed' by Patricia Briggs
July 22, 2023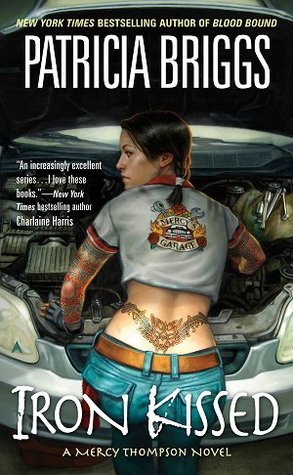 Iron Kissed
by
Patricia Briggs
Series:
Mercy Thompson #3
Published by
Ace
on January 2, 2008
Genres:
Urban Fantasy
Format:
AudioBook
,
Paperback
Source:
Purchased
Goodreads
Purchase at
Amazon
|
Barnes & Noble
|
Kobo

I could smell her fear, and it satisfied something deep inside me that had been writhing under her cool, superior gaze. I curled my upper lip so she could get a good look at my sharp teeth. I might only weigh thirty or so pounds in my coyote shape, but I was a predator...
Mechanic Mercy Thompson can shift her shape - but not her loyalty. When her former boss and mentor is arrested for murder and left to rot behind bars by his own kind, it's up to Mercy to clear his name, whether he wants her to or not.
Mercy's loyalty is under pressure from other directions, too. Werewolves are not known for their patience, and if Mercy can't decide between the two she cares for, Sam and Adam may make the choice for her...
---
I'm planning on finally reading ALL of the Mercy Thompson series. It's way overdue, and so far, I've finished the third book Iron Kissed, and it's also getting a 5-star rating from me, like the previous two books. Mercy "Mercedes" Thompson is downright one of my favorite heroines. She's right up there with Anita Blake from Laurell K. Hamilton's Anita Blake Vampire Hunter series. I'm always a fan of kick-butt heroines, and both Anita and Mercy are those types.
I love this world that Patricia Briggs has created that involves ALL supernatural beings and how they interact with one another. Some are out with the humans, while others live their lives amongst the humans without them knowing. Mercy lives amongst the humans as a VW automobile mechanic, but they don't know what she is, and she wants to keep it that way. The only ones that know what she is are supernatural friends like her.
Mercy seems never to catch a break and always gets herself in trouble, and it usually doesn't even involve her. It involves someone she knows, like in Iron Kissed. This time it's her old boss and friend who used to own the mechanic shop she now owns and runs. He is being accused of murdering a Fae. Unfortunately, that can't be right since he's Fae, too. Several murders are happening, and each of them is Fae. It's up to Mercy to find out who is behind the murders and help her friend out. In the meantime, though, she has trouble in her love life that involve two separate werewolves, Adam and Samuel. Both want her attention and want to be with her. Yes, there is a love triangle in this book, and, usually, I'm not too fond of this trope in books, but Patrica Briggs doesn't make it unbearable. I'm rooting for Mercy to be with Adam, though, the local alpha wolf with a daughter. He has let even his pack know that she is his equal in the pack.
This book has many action-packed and suspenseful scenes, with Mercy trying to determine who is behind the Fae murders while she puts herself at risk to do it. Mercy still thinks that she's not as strong as other supernatural beings. She may not seem strong compared to the Fae, werewolves, and vampires, but she proves them all wrong each time I read a book in this series. Mercy is one FMC that no one should mess with, especially regarding the friends she protects. This is why I've deemed her one of my favorite kick-butt heroines in a Fantasy series with Anita Blake. I can't wait to continue my read-a-long for this series and catch up on it. Patricia Briggs has become an instant-buy author because of this series, and I find myself wanting the comic book versions of this series too.
I did listen to this book on audiobook, and I highly recommend it if you love listening to your books. Lorelei King is one of my favorite narrators, and I love how she brought this book to life in my ears.
You know why I picked up this series in the first place; it was all due to the book covers. I saw them on Goodreads from another fantasy reader and was intrigued by the covers. I love the artwork on each of the books in this series. If you are unfamiliar with the artist Dan Dos Santos, I highly recommend checking his other artwork.
---
Story Rating: ⭐️ ⭐️ ⭐️ ⭐️ ⭐️
Would I recommend this book/series? Yes. I recommend this to Fantasy/Urban Fantasy readers.
Genre/SubGenre(s): Fiction | Fantasy | Urban Fantasy
Trope(s)/Element(s): Walker/Coyote Shifter FMC | Kickbutt FMC | Werewolves | Fae | Vampires

This post contains affiliate links you can use to purchase the book. If you buy the book using that link, I will receive a small commission from the sale. It will help sponsor future giveaways but costs you nothing extra. You can read the full disclosure underneath the Privacy Policy.
---
---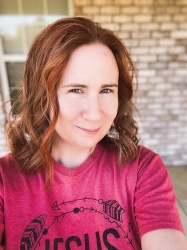 Latest posts by FranJessca
(see all)