Review: 'Are's Temptation' by Aubrie Dionne
February 18, 2021
I received a complimentary copy of the book from Netgalley in exchange for an honest review. This does not affect my opinion of the book or the content of my review.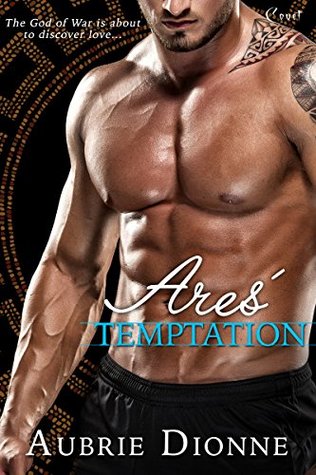 Ares' Temptation
by
Aubrie Dionne
on March 24, 2015
Genres:
Paranormal Romance
Format:
eArc
Source:
Netgalley
Goodreads
Purchase at
Amazon
|
Barnes & Noble
|
Kobo

At the wedding of two Greek gods, Kaye Underhill is the only mortal in a sea of scantily clad nymphs and fickle satyrs. And worse — she's dateless. The only bright side is the hot, muscled hunkiness of the God of War, who's seated next to her. But there's no way Kaye could ever grab a god's attention... Is there?
Ares is in big trouble. A vengeful witch curses him, and the first person he touches will steal his strengths, while he receives their weaknesses. When Kaye trips, Ares catches her and poof! His powers disappear, and Kaye suddenly has the strength and coordination of a Greek god. To break the curse and regain his powers, Ares must get Kaye to fall in love with him.
But for the god who makes war, making love presents a whole new set of problems...
---
I usually read romance books with Hades or Hercules. It was great to read a book with Ares the God of War in it. Ares' Temptation is the first book I've read from Aubrie Dionne, too. I couldn't wait to dive into this book.
Female Protagonist: Kaye Underhill is a mortal living in a world of Gods/Goddesses. I enjoyed her character because she is living a normal life at a florist shop. She's clumsy and deals with a family that is disappointed with her, but she lives her life no matter what. I also liked how she handled herself when she had Ares' powers.
Male Protagonist: Ares, the God of War, is a sexy hothead who is all about killing his enemies. They don't call him God of War for anything. I liked his character in the story, especially after losing his powers and learning all about the mortal world. He was clueless.
Storyline/My Thoughts: Ares' Temptation had a great story to it. Ares loses his powers due to a Hekate cursing him for what he did to her brother. Ares has to get his powers back from Kaye, who has them, and she has no idea she has them. Ares is a God who doesn't think highly of the mortal world until he learns all about it. Both Kaye and Ares are complete opposites of each other. Kaye doesn't understand why Ares is always fighting in wars. Ares can't understand why the mortal is among the Gods/Goddesses anyway when they meet at a wedding. 
The story was promising at first because of how the characters met and what happened to both of them. Unfortunately, I felt lost at times due to other characters introduced at the beginning of the book. I found out there was another book that introduced those characters. Although, the books don't seem to be a part of a series, which is why I consider it a standalone. Some readers may want to read Pan's Conquest to find out how Pan met his life's love, which he marries in this book. 
If you are looking for a very steamy romance, you will not get it in this book—this book I would consider it sweet and mild in the steaminess. The characters don't get together until the epilogue.
The one thing I did like about this book was getting to read about Ares acting like a mortal and learning about the human world. He didn't even know what Volleyball was or what an aquarium was since he never experienced it. Kaye had him experience many things when he didn't have his powers. Be prepared for some humorous moments between the characters. Kaye's family is also in this book, and they were in shock when Kaye brought Ares (although he went by another name) to her Grammy's birthday/reunion celebration.
Standalone or Part of Series: Standalone
Steaminess: Sweet/Mild
HEA: Yes.
Trope: Opposite's Attract
Would I recommend this book? Yes. Overall this book received 3.5 stars from me, and I would recommend it to readers that love mythology in books.

This post contains affiliate links you can use to purchase the book. If you buy the book using that link, I will receive a small commission from the sale. It will help sponsor future giveaways but costs you nothing extra. You can read the full disclosure underneath the Privacy Policy.
---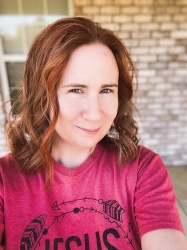 Latest posts by FranJessca
(see all)