Review: 'Atonement' by Winter Austin
October 4, 2015
I received a complimentary copy of the book from the author in exchange for an honest review. This does not affect my opinion of the book or the content of my review.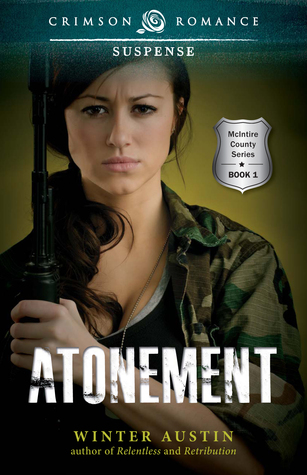 Atonement
by
Winter Austin
Published by
Crimson Romance
on May 18th 2015
Genres:
Romantic Suspense
Goodreads
Purchase at
Amazon
|
Apple

Atone for your sins…A rash of unexplained suicides in the sleepy town of Eider, Iowa, draws McIntire County deputy Nicolette Rivers into a devious killer's twisted plot. A former marine sniper suffering from PTSD, Nic hides her own deadly secrets, and The Priest will do anything to expose it and her.
For redemption is at hand…Eider police detective Con O'Hanlon is assigned to help Nic uncover the truth behind the suicides. She rebuffs his help at every turn, but the stubborn Irishman holds on. When tragedy strikes, Con helps cover up the fallout, but is he too late to prevent Nic's dark, downward spiral? Or is Con the one man stronger than her demons?
My Review
I've enjoyed every book written by Winter Austin, and I was excited to dive into Winter's book, Atonement.
Atonement has an suspenseful storyline that will keep you on the edge of your seat until the very last page. Be prepared for a whirlwind of moments in the story, especially with the main character Nicolette Rivers. Nicolette Rivers has been through so much in her past that she's dealing with what happened in her past in the present. She's tried to avoid some of her past, but now she's faced with something she hasn't had to do since she was in the Marines. She's determined more than ever to find out what is happening in the town Eider in Iowa. Why they're so many suicides happening and why the word Atonement keeps getting brought up? Her past is about to creep up even more and she's going to need the help of Con O'Hanlon to help her through it all. It doesn't help, when the one person she doesn't want to see ends up showing up and making it even worst for poor Nic.
Con O'Hanlon is the character who's determined to find out about Nic's past and I have to say I was glad he did. He uncovered a lot of things about Nic that she needed help with. Nic needed that one person to keep fighting for her and Con was that person.
These two helped uncovered what was happening in Eider and believe me it's going to leave you in shock at the ending.  Winter did a superb job on keeping everything flowing with the storyline and building up the scenes to keep you wanting to uncover the truth.  I was anxious to find out if Con and Nic would ever win against the true enemy in Eider, Iowa.
Winter Austin's Atonement brings up a very big issue that I've witnessed first hand with a family member. It's something that not many understand or some do not take seriously. I wish the individuals that were diagnosed with it got the treatment they desperately need. It's hard being a veteran and getting the treatment that you truly need though, especially in today's medical centers. There's issues with not getting seen in time due to long waits to see a doctor and some don't even realize they have it until it's too late.
I highly recommend this book to romantic suspense readers out there. Be warned though, once you start reading Winter's books you'll have to read her other books as well.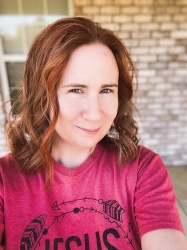 Latest posts by FranJessca
(see all)