Review: 'Because of You' by Jessica Scott
August 3, 2012
I received a complimentary copy of the book from the author in exchange for an honest review. This does not affect my opinion of the book or the content of my review.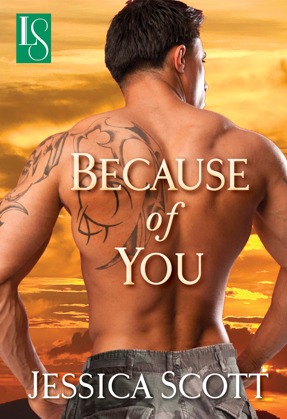 Because of You
by
Jessica Scott
Series:
Coming Home #1
Published by
Random House Publishing Group
on November 14th 2011
Genres:
Contemporary Romance
Format:
eArc
Source:
the author
Goodreads
Purchase at
Amazon
|
Apple


A Love Story You'll Never Forget:
From the war-torn streets of Baghdad to the bittersweet comforts of the home front, two wounded hearts navigate the battlefield of coming home from war in this explosive eBook original from newcomer Jessica Scott.
Keeping his men alive is all that matters to Sergeant First Class Shane Garrison. But meeting Jen St. James the night before his latest deployment makes Shane wonder if there's more to life than war. He leaves for Iraq remembering a single kiss with a woman he'll never see again - until a near fatal attack lands him back at home and in her care.
Jen has survived her own brush with death and endured its scars. And yet there's a fire in Shane that makes Jen forget all about her past. He may be her patient, but when this warrior looks her in the eyes, she feels, for the first time in a long time, like a woman. Shane is too proud to ask for help, but for Jen, caring for him is more than a duty - it's a need. And as Jen guides Shane through the fires of healing, she finds something she never expected - her deepest desire...
Loveswept brings you the very best of classic romance - from treasured favourites to exciting new talent, these are love stories you'll never forget. Find out about other titles in the series and choose your next Loveswept hero at www.lovesweptbooks.co.uk
My Review
I was contacted by Jessica Scott last month to read and review "Because of You" for an honest review.
May I say…I have found yet another author who can make my emotions go haywire. There were times I was smiling, laughing (where I almost fell out of my chair), and of course, crying (because this book was a tearjerker at times) when reading this on my Kindle. I fell in love with both of the characters, Shane and Jen because both characters had been scarred in some way and of course they're trying to deal with their problems in their way. Shane is a sergeant first class in the army, and all he wants to do is go back to the sandbox with his boys and make sure they all come back alive. Jen is the nurse he meets one night at a bar with his friends. The minute he meets her he knows she's something special.
Shane has dealt with a lot in his past. He's trying to forget about his divorce with his wife and move on but to move on; he considers deploying a lot with his fellow soldiers, the best way to heal. Instead, he ended up injured and sent home. That is when Jen comes into his life, and he helps him deal with what happened to him in the sandbox. Unfortunately, Shane does not have it. He wants to heal and get back with his men because, in the bottom of his gut, he knows something is happening in his platoon, and someone is not doing their job right and is blaming some of the casualties on Shane and his unit. Then there's Jen..and how she has her problems; she's trying to deal with in her life. (Her story touched my heart once I found out what happened to her) I don't think I've cried so hard in my life. Between and her Shane's inner and outer demons I had to have tissues nearby. Jessica Scott does a great job of telling the parts about the military and of course the problems that come with the military at times. She also includes other characters in the book, that touch your heart too. What I want to know is what happened to Trent? That was one serious cliff-hanger.
Trent is one of Shane's best friends, and he's also an Officer in the Army. He has his issues to the book and his wife, oh, boy…no won't go there because I will spoil the book. I do not want to spoil this book for anyone who is wanting to read it or now is thinking about reading it. I'm looking forward to the 2nd book now that comes out in October. Jessica Scott has a fan for life. And by the way, I love the fact that she is serving in the Army while she is writing. =) Thank you for serving, Jessica. I recommend this book to readers out there that love military contemporary romances, love to read about scarred heroes/heroines (because they always touch your heart), and readers who want a book that takes you through an emotional roller coaster. (Just a warning ahead of time, be prepared with tissues)
Jessica Scott's "Because of You" touched my heart in so many ways because she happened to address some issues that are happening in our military nowadays…one being a significant concern, which is suicide and another one being divorce. Being a veteran, myself, who served in the Navy for ten years, I witnessed so much in the military that civilians do not know about in the media or books. The one thing that always concerned me was the suicide rate in the military branches, especially during and after a deployment. =( I wish they provided more help to the soldiers, marines, sailors, and airmen that come back from a combat zone…especially when it involves family. There are programs out there, but they need to address it more.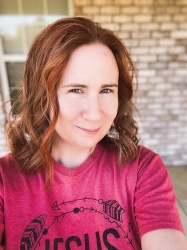 Latest posts by FranJessca
(see all)