Review: 'Caged' by Amber Lynn Natusch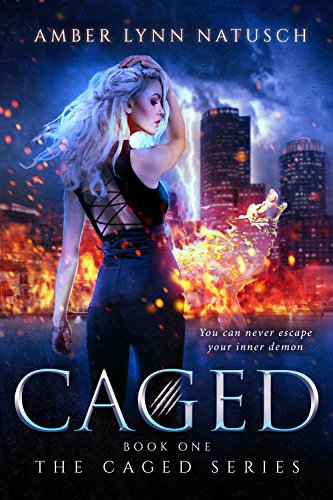 Caged
by Amber Lynn Natusch
Series: Caged #1
Published by Amber Lynn Natusch on December 15th 2011
Genres: Urban Fantasy
Pages: 260
Format: eBook
Source: Blog Tour Host
Amazon
Goodreads


"I stood in the middle of the room, unmoving – I barely breathed. My life had just become surreal, impossible, and one enormous lie. I needed to go, to run somewhere, anywhere to beat back the reality that was rapidly closing in around me. The image of him was burned into my retina, flashing over and over again like a warning. He was trapped somewhere between human and decidedly not, and I realized that was my new reality. I was too."
After the death of her parents, Ruby awakens from a lifetime of shadows and finds herself alone, thrust into a world of lies, deceit, betrayal and the supernatural.
As her quest for truth continues to come up short, she realizes that maybe some questions really are best left unanswered.
When her true identity is finally unveiled, she is forced to choose between two of the mysterious men who continually seem to crop up in her life.
She chooses poorly.
Now abandoned, Ruby must learn to call on the darkness within to survive, or spend a hellish eternity imprisoned because of it.
(Content Advisory: language, mild violence)
My Review:
I received an complimentary copy of Caged for the Blog Tour with Pure Textuality in exchanged for an honest review. "Caged" is the first book in the Caged series by Amber Lynn Natusch, and it definitely helped introduce the main character and her dilemma very well. Ruby has been through a lot.  After losing her parents one horrible night, she's trying to adapt well on her own.  That horrible night also helped her gain her eye sight.  She was blind for so many years, that she never even knew what her parents looked like.  She's been having moments where she blacks out when she panics or is stressed out after since that night her parents were killed…but she has no idea what happens during the time she blacks out. She ends up meeting up with Sean, who she thinks is stalking her because he is always there. She also meets, Erik, who she is fascinated with the minute she sees him. But…both guys have their own agendas on why they want Ruby. Ruby ends up choosing between the two and ends up choosing the wrong one….now she is stuck in a jam…but in the mean time, she finds out exactly what is happening during the black outs.  At first though, she does not believe it.  She has to see the aftermath of the black outs to really understand what she truly is and why certain kind of people want her.  She also has to witness something that someone does in front her to believe that it is really true. My thoughts on the first book to the Caged series was that it was a very enjoyable read.  I loved how the author introduced the characters in the beginning and what happened to Ruby in the beginning.  I was lost a little at first, but then I was able to follow the story more once I understood what happened to Ruby thoroughly later on in the book. This is definitely a good book for the first to the series and it explains what Ruby actually is very well. The only thing that bothered me was the main character sometimes.  I really did not click with her well. Maybe the way she always was getting frustrated and yelling at the other characters and maybe the way she talked period.  ( I did like the fact that the way for her to relieve stress was to dance and that is definitely a great stress reliever ) One of my favorite parts were when Ruby, Sean, and Ruby's friend Ronnie were at a store (which is actually the excerpt in the guest post/giveaway post above).  Ronnie played a short role, but she definitely put Ruby in her place. Sean was my favorite character in the story because of the way he was always there for Ruby.  Even when I found out what he really was, I still loved him because I knew in the end, he really loved being around Ruby. Be prepared if you do read it, to have a lot of bad guys in the story.  The ending was a doozy for me.  I did not like that one chick that was introduced.  I felt terrible for Ruby. (sorry won't give away..no spoilers here) I recommend this urban fantasy and paranormal romance readers out there who enjoys a book that keeps you guessing on what is going to happen next to the main character.  (The poor girl went through so much…I do not know how she handled it so well.  Although, she did have something that no other person had that helped her.) I plan on reading the 2nd book whenever I get the chance because I do want to find out if certain characters will hook up in the end.  =)


I guess I should type a bio here. I'm FranJessca or Fran for short. I'm the owner of Book Lovin' Mamas and main Reviewer. I've been reviewing books since I got out of the Navy in 2011. Now 7 years later, I'm still reviewing, but this time with my oldest daughter aka Lil' Sidekick.
When I'm not reading and reviewing, you can find me at my day job during the week and on the weekend taking care of our little farm.

Latest posts by FranJessca (see all)