Review: 'Coexist' by Julia Crane
July 3, 2012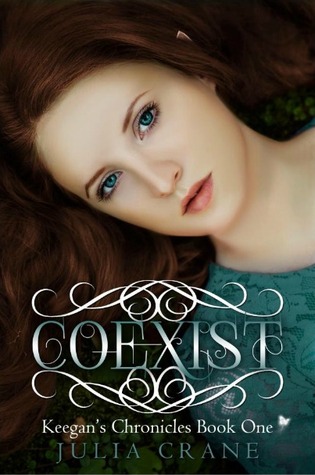 Coexist
by
Julia Crane
Series:
Keegan's Chronicles #1
Published by
Valknut Press
on June 19th 2011
Genres:
Young Adult Fantasy
Format:
eBook
Source:
the author
Goodreads
Purchase at
Amazon
|
Apple

Sixteen-year-old Keegan is struggling to keep her huge secret from her friends--she's an elf, descended from a long line of elves that live in secrecy alongside humans. In elfin society, mates are predetermined but not allowed to meet until they are eighteen. Against tradition, Keegan's brother Thaddeus told her Rourk's name because his visions warned him she'd need Rourk's protection, especially since Keegan will play a key role in the coming war between the dark and light elves.
Rourk finds himself drawn to Keegan's side every time she thinks his name. He wants to talk to her but remains in the shadows, silently guarding her every time she mentally beckons him. A twist of fate thrusts the two of them together when Rourk is forced to step up his protection and make his presence known. An ancient prophecy deeply entwines Keegan's family and the future of their society. Somehow they must find a way to thwart fate and win the battle...without losing Keegan. With war brewing, and dark forces aligning, will Keegan and Rourk ever have the life together that they both desire?
My Review

I've been meaning to read "Coexist" since I saw it a few months ago on another blogger's site. I wanted to give it a chance it sounded like a interesting YA read. I'm glad I got a chance to participate in Julia Crane's blog tour with Reading Addiction Book Tours. Keegan is a elf who is keeping her secret from friends at school. In elven tradition, Keegan has a chosen and her brother tells her the name of her chosen, which is against elven tradition. Keegan doesn't know that her chosen has actually been spying on her to keep her safe as per Keegan's father who is in charge of the army of light elves. Rourke is drawn to Keegan whenever she thinks about him. He finds her fascinating and he can't wait to be apart of her life. Things are changing around them and their destiny comes together sooner than expected when Keegan comes close to a dark elf. Rourke must step it up to protect Keegan even further and Keegan's parents think it's okay for them to meet sooner. A battle is brewing between the light elves and dark elves, and of course it happens on Keegan's birthday. Keegan's brother is a seer who sees the future and he's trying to change it because their family may deal with a serious lost in their family and he doesn't want that happening. My thoughts on "Coexist" was it was a very interesting book and I definitely understand now why the book was called "Coexist". Julia Crane has a very interesting writing style and I love the story she created. I was glad to read about other creatures other than the elves too in "Coexist". I really didn't connect with Keegan's character though, especially at the ending, it kind of made me mad on what happened to her. She also was kind of prissy when I was reading her character. She got everything she wanted. Rourke was such a sweetie. I fell in love with him immediately. He is very protective of Keegan even before he actually meets her. I also loved Keegan's Mom, Emerald who was one strong woman. She not only does her motherly duties, but can kick butt just like her husband. =) Thaddeus…was a very interesting character too (who was Keegan's brother). He played a very major role in the story. I loved what he did to make the battle stop between the light and dark elves. Very clever of him! I plan on reading the next book to see how what Julia does to Keegan next. I definitely wasn't expecting the ending to play out that way. It was a very short read. I would've finished the book in one day, but having college finals come out, it wasn't feasible. (don't professors know reading is more important) =) I recommend this book to Young adult readers out there.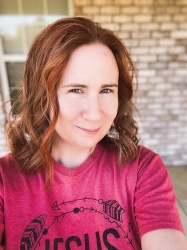 Latest posts by FranJessca
(see all)