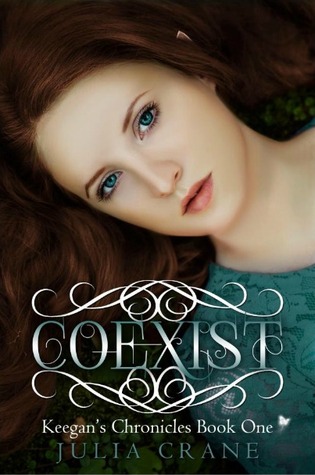 Coexist
by
Julia Crane
Series:
Keegan's Chronicles #1
Published by
Valknut Press
on June 19th 2011
Genres:
Young Adult Fantasy
Format:
eBook
Source:
the author
Goodreads
Purchase at
Amazon
|
Apple

Sixteen-year-old Keegan is struggling to keep her huge secret from her friends--she's an elf, descended from a long line of elves that live in secrecy alongside humans. In elfin society, mates are predetermined but not allowed to meet until they are eighteen. Against tradition, Keegan's brother Thaddeus told her Rourk's name because his visions warned him she'd need Rourk's protection, especially since Keegan will play a key role in the coming war between the dark and light elves.
Rourk finds himself drawn to Keegan's side every time she thinks his name. He wants to talk to her but remains in the shadows, silently guarding her every time she mentally beckons him. A twist of fate thrusts the two of them together when Rourk is forced to step up his protection and make his presence known. An ancient prophecy deeply entwines Keegan's family and the future of their society. Somehow they must find a way to thwart fate and win the battle...without losing Keegan. With war brewing, and dark forces aligning, will Keegan and Rourk ever have the life together that they both desire?
My Review