Review: 'Dare to Run' by Jen McLaughlin
September 8, 2021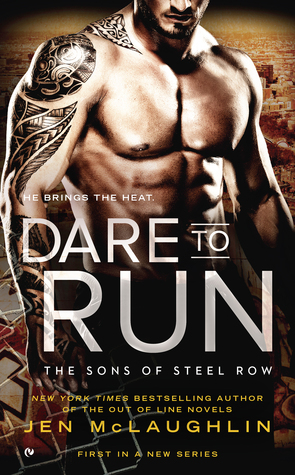 Dare to Run
by
Jen McLaughlin
Series:
The Sons of Steel Row #1
Published by
Signet
on February 2, 2016
Genres:
Contemporary Romance
Format:
Paperback
Goodreads
Purchase at
Amazon
|
Barnes & Noble
|
Kobo

The New York Times bestselling author of the Out of Line Novels takes readers to Boston, where one gang of criminals knows how being bad can be so good...
She knows what he's like on Boston's mean streets. Now she's going to find out if he's got some heart.
Lucas Donahue is not ashamed of his criminal past, but after a brief stint in prison, he's ready to go legit and live a normal life. The problem is, no one leaves the gang without permission—even if he is one of the boss's top men. Plus someone's placed a hit on him. And then there's that feisty little bartender who's going to cause him even more trouble.
Heidi Greene knows to keep her distance from a ladies' man like Lucas—even if she can't keep her eyes off him. When he rescues her from an attack in the alley outside her bar, she's forced to stay by his side for safety. But the longer she spends time with him, the greater her chances are for getting hurt in more ways than one.
---
My goal for the next few years is to tackle my TBR. It's gotten out of hand in the last several years, and it's time for me to tackle it somehow, finally.  Dare to Run by Jen McLaughlin is one of those books I meant to read back in 2016. The cover alone intrigued me to pick up this book, but then I read the synopsis and knew I had to make time for it finally. 
Storyline/My Thoughts: Dare to Run is not an MC Romance. It's a Bad Boy/Organized Crime Romance. It introduces Lucas Donahue and Heidi Greene. Lucas Donahue just got out of prison, and he wants to live a normal life. Unfortunately, he will never have a normal life due to being a part of the Sons of Steel Row. He can never leave the life, and now he has someone out there that wants him dead. He also has a cute bartender, Heidi Greene, who he saves one night from another gang. Now, he's in a fake relationship with her to protect her. He's going to realize he's met his match when it comes to Heidi Greene.  
Heidi has had a rough life, but now she's making something of herself. She loves her life as a bartender. She went through a lot as a kid in foster care and then being homeless. All it took was someone taking her in and taking care of her. She never expects she would be almost assaulted one night for sticking up for herself in her bar. Now, she's forced to be with Lucas, who is hot and cold with his feelings towards saving her.
My thoughts on the first book in the Sons of Steel Row are that I enjoyed the storyline. It had great pacing to it, and it kept me turning the pages. I also enjoyed the constant banter with Lucas and Heidi. They were supposed to be in a fake relationship, but the angst between these two was inevitable. The romance between these two when they do get together is very steamy.
I also enjoyed how both characters had similarities to each other. Heidi grew up in challenging situations and survived everything thrown at her. She was a fighter and survivor. I also loved how Lucas had his own life outside of the gang that he enjoyed doing, such as working on cars.
Some things did drive me crazy. Heidi always managed to put herself in danger. Unfortunately, she didn't listen and ended up putting herself or him in harm's way. There was also the issue of Lucas staying in this gang that supposedly looked out for each other. It didn't feel like it, especially after he finds out who wants him dead.
Overall, I enjoyed the book. It receives 3.5 stars from me. The ending is what left me wanting to read the next book. If Jen McLaughlin can write a twist like that one that shocked me, then I can definitely pick up the next book(s). Holy moly! I was not expecting that ending.
Trigger Warning(s): Violence and almost sexual assault attack on the female protagonist; gun violence; criminal gang activity (gun smuggling); and murder/death 
Standalone or Part of Series: It's part of the Sons of Steel Row series, but each can be read as a standalone.
HEA: Yes
Steaminess: ⭐️ ⭐️ ⭐️ ?
Trope/Elements: Fake/Pretend Relationship; Bad Boy Romance; Organized Crime
Would I recommend this book? Yes. If you enjoy Contemporary Romance with Bad Boy and Organized Crime elements in it, you'll enjoy this book/series.

This post contains affiliate links you can use to purchase the book. If you buy the book using that link, I will receive a small commission from the sale. It will help sponsor future giveaways but costs you nothing extra. You can read the full disclosure underneath the Privacy Policy.
---
---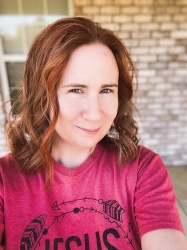 Latest posts by FranJessca
(see all)