Review: 'Dare to Stay' by Jen McLaughlin
October 12, 2021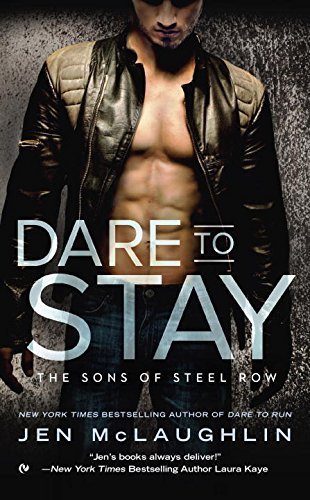 Dare to Stay
by
Jen McLaughlin
Series:
The Sons of Steel Row #2
Published by
Signet
on August 2, 2016
Genres:
Contemporary Romance
Format:
Paperback
Goodreads
Purchase at
Amazon
|
Barnes & Noble
|
Kobo

The sizzling second novel in the gritty contemporary Sons of Steel Row series from the author of Dare to Run.
Bruised and bloodied on Boston's mean streets, Chris O'Brien is reeling from the loss of his childhood best friend. But after barely escaping a hit placed on his head, Chris is desperate to live. A safe haven comes to mind—the home of the perfect girl from his childhood, Molly Lachlan. Before he has fully considered what it would mean to involve her in his mess, he finds himself on her doorstep. When Molly agrees to let Chris inside her home, she realizes she's also letting him into her life. Danger and desperation are coming off of him like steam, and yet she can't bring herself to turn him away. His bad boy charm always had a hold on her, but now there's a soulfulness and sorrow in him that she's never seen before. And despite the heart-stopping risk of helping him, she hopes against all reason that he'll stay...
---
Dare to Stay is the second book to Jen McLaughlin's The Sons of Steel Row series. I was a little leery on reading the second book in the series since it would be Chris O'Brien's book. If you read the first book, you would already know what Chris did to his close best friend in that book. I'm not going to give it away to readers who haven't this book/series yet. Let's say everything that happened in this book, Chris felt he deserved it for what he almost did to his best friend.  
Storyline/My Thoughts: If you read the previous book, you would already have a love/hate relationship with Chris O'Brien. In my case, I didn't like his character. What he did in the first book was unforgivable. This book starts with him being injured by a rival gang. His childhood crush, Molly Lachlan (a kindergarten teacher), finds him and offers him help. He will be stubborn about it, but that's due to him not wanting to get her involved with everything. He finally gives in, and he ends up at Molly's place for a while, hiding out. Molly knows Chris is in a gang and doesn't like that he's in a gang. In the meantime, these two have a history together of living close together. Molly is attracted to Chris, and Chris is attracted to her. There is going to be serious angst between these two characters. Chris will do anything not to have Molly falling for him. Unfortunately, Molly already has made her mind that she will do anything to win over Chris and try to convince him to quit his current life. Molly would end up in the crossfires of what Chris is dealing with when it comes to the rival gang wanting revenge on Chris.
It's a lot of back and forth between Chris and Molly, and it drove me crazy. I could understand Chris's issue with it, but he needed to stop dragging it out. These two characters will not be my favorite in the series. Their relationship was doomed to have issues. Molly is a sweet, innocent young woman who teaches children. Chris has grown up in the gang life and doesn't know anything else until Molly pushes him that he has another talent that he could use that will help him get out of his current life. Chris is stubborn, and Molly is determined to change Chris. I always have issues with a hero or heroine trying to change either character when they have been like that forever. It's going to take the other person to really transform themselves.
There was a more significant thing revealed in the first book that continued in this book. Chris's former best friend's brother, Scotty, has a proposition for Chris that can help them both. Molly doesn't want Chris involved with it because it makes him still work for the gang.
I did enjoy the storyline of this book. Chris is dealing with the repercussions of the first book, and things are revealed about his father. His father is a jerk, and his mother was no savior either, especially after discovering what Chris went through as a child. Thank goodness he now has people on his side, like Molly.
Overall, this book only receives three stars from me. I was hoping to like it, but unfortunately, the characters annoyed me at times. I didn't connect well with them. The storyline is what kept me reading the book. Now, I want to know what happens in Scotty's story since the next book is about him.
Standalone or Part of Series: It's part of the Sons of Steel Row but can be read as a standalone.
HEA: Yes, somewhat for the characters.
Steaminess: ⭐️ ⭐️ ⭐️ 💫
Trope: Bad Boy Romance; Childhood Crush
Triggers: Gang Activity; Violence
Would I recommend this book? Yes. If you enjoy Contemporary Romance that has Organized Crime activity in it, and if you are also a fan of Jen McLaughlin's books already. This book may not have gotten a high rating from me, but other readers may enjoy this book/series.

This post contains affiliate links you can use to purchase the book. If you buy the book using that link, I will receive a small commission from the sale. It will help sponsor future giveaways but costs you nothing extra. You can read the full disclosure underneath the Privacy Policy.
---
---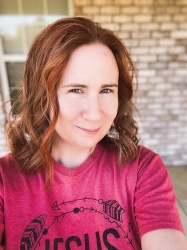 Latest posts by FranJessca
(see all)