Review: 'His Black Wings' by Astrid Yrigollen
I received this book for free from the Author in exchange for an honest review. This does not affect my opinion of the book or the content of my review.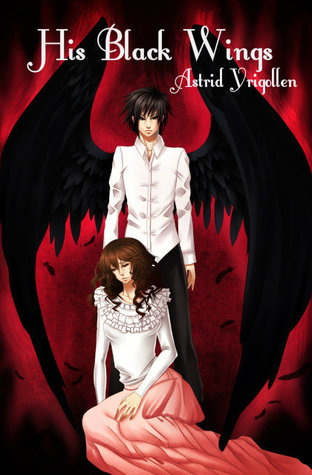 His Black Wings
by Astrid Yrigollen
Published by Self-Published on November 1, 2012
Pages: 342
Format: eArc
Source: the Author
Amazon
Goodreads


Claren Maidstone has been forced to flee her childhood home after the death of her parents and a vicious assault from a sadistic young man who intends to marry her. Claren changes her identity and finds employment as an assistant to the handsome Fredrick Lowood, a generous yet mysterious benefactor. However, she soon finds out his generosity comes at a price. Fredrick wishes for Claren to befriend his disfigured son who resides in seclusion at their estate, Westwind.
Fredrick Lowood knows what the history books do not teach, that the Grand Council built this new world of peace and beauty on hidden blood and greed. He has plotted for years to bring down the family that enslaved his own people. Suddenly, he has the last living heir in his grasp.
Etrigan Lowood rejects the world that forces him to hide. He is powerful, plagued with a terrible dark beauty: WINGS. It is these wings that carry him out only at night to watch the unwanted intruder in his home. A creature of refined instinct yet little social grace, he is strangely captivated by Claren but knows nothing of how her family's dark past is intertwined with his own . Through their blossoming friendship, Etrigan realizes he still retains his human heart and yearns for Claren's love.
Kurten Wandsworth is the only son of the Mayor of St.Marhen. Kurten lives his life fueled by cruelty and lust. Whatever he wants he takes and he wants Claren to be his wife even it if kills her. Scarred by Claren he hunts her down mercilessly until he can set a trap which she will never be able to escape from.
Review
This is not my usual genre in the last few months since I have been on a contemporary and suspense kick for awhile, but when I read the description of "His Black Wings" I thought it would be something I would enjoy.  I recommend to not really read the book's blurb though above because it will give the book away too much.  At least that's my opinion.
"His Black Wings" is about Claren Maidstone and how she has lost her parents to a boating accident and now is forced to flee and hide due to the man she was supposed to marry is out to get her because she harmed him and so did her dog.  Claren ends up answering ad from Frederick Lowood to become has assistant, but she really does not assist him.  Frederick has his own secret agenda of searching out Claren.  He actually has been keeping an eye on her for awhile and has had it out for her family since his father died.
Claren's family comes from a industry that ended up making Frederick's son the way he is.  If anyone was to find out about Frederick's son, they would either want to experiment on him or send him to the one place that Frederick has been trying to forget about.
Frederick ends up asking Claren to become his son's friend, but he's afraid that his son, Estrigan will be upset since he really hasn't been seen.  He only comes out at night when the staff at his home are gone and he can move around freely or actually fly around freely.  Estrigan is one of a kind…who has black wings.
When Estrigan finds out Claren is living with them, he is upset about it, afraid she will run away screaming…instead he becomes intrigued with the girl and will do anything to know her, especially when he sees her crying one evening.
"His Black Wings" was an enjoyable read, but it did not capture my interest until the story of what Frederick was up to and how Estrigan came to have the black wings.  I also liked finding out about the backstory of Frederick.  I really thought the book started out slow and I actually thought I would not finish it until Claren moved into Frederick's house and Estrigan was introduced.  He was ruthless to Claren at first and Calren just wanted to find out why.  The moment Estrigan saw Claren with other males who wanted to capture her interest, he started changing.
There was a lot going on with Frederick and what he was doing and then the guy, Kurten that Claren ended up hurting in the beginning and what his secret agenda was on trying to get Claren.  He was actually annoying and I definitely believed he got what was coming to him in the end.
Decker and Horace got my attention when they were fighting over Claren and they had a bigger role later on in the book.  They cared a lot about Claren and just wanted her safe even though they did not know her well.
All and all, this book got 3 stars.  It was much different from what I am used to.
It just did not capture my interest that I was hoping.  It took me awhile to get into.  I did enjoy certain characters over others.  I enjoyed a different take of what Astrid wrote.  It is not an Angel book.  It has a different storyline all together which made it fascinating.  It has a little steampunk to it, I believe which is one genre I definitely need to dive into more.
Claren was a strong character who definitely keep me interested in as well.  Estrigan will be my favorite though, even when he was mean to Claren.
I recommend the book to YA Fantasy readers out there.  You'll definitely enjoy this story that Astrid wrote.  Maybe if I was not into a contemporary or suspense kick I would have enjoyed this book more.  It definitely would be something I would have enjoyed as a kid or as a teen more.


I guess I should type a bio here. I'm FranJessca or Fran for short. I'm the owner of Book Lovin' Mamas and main Reviewer. I've been reviewing books since I got out of the Navy in 2011. Now 7 years later, I'm still reviewing, but this time with my oldest daughter aka Lil' Sidekick.
When I'm not reading and reviewing, you can find me at my day job during the week and on the weekend taking care of our little farm.

Latest posts by FranJessca (see all)