Review: 'Lord of Rage' by Jill Monroe
October 28, 2011
I received a complimentary copy of the book from Netgalley in exchange for an honest review. This does not affect my opinion of the book or the content of my review.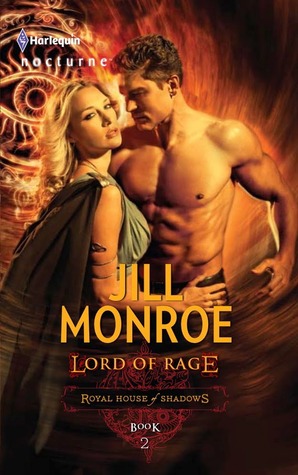 Lord of Rage
by
Jill Monroe
Series:
Royal House of Shadows #2
Published by
Harlequin
on September 20th 2011
Genres:
Paranormal Romance
Format:
eArc
Source:
Netgalley
Goodreads
Purchase at
Amazon
|
Apple

Once upon a time…the Blood Sorcerer vanquished the kingdom of Elden. To save their children, the queen scattered them to safety and the king filled them with vengeance. Only a magical timepiece connects the four royal heirs. Now they must return and save Elden…and time is running out…
Princess Breena had been dreaming of her warrior lover when she was ripped from her Elden castle and thrown into a strange, dangerous realm. Lost and alone, she prayed for survival and vengeance for her stolen kingdom. She found both in a woodland cottage…in a dark bear of a man.
The goldenhaired beauty had eaten his food and slept in his bed when Osborn found her. Though he wanted to awaken his virgin princess to carnal pleasures, Breena wanted more—including his warrior skills. Skills the oncelegendary mercenary had long buried. Now Osborn had a choice—risk his life or deny his princess her fairytale ending.
My Review
(Originally Reviewed on Mrs. Papillion aka "The Book Worm")
This was one of the first books I've read from Jill Monroe, so I was a little excited to see how Jill's writing style was compared to other authors I've read. Although, I gave this book 3.5 stars…I liked it a little more than the first book in the series. Sorry, Gena Showalter. I still love you though.
I loved the Goldilocks and the three bears storyline to this book. I didn't like though it lacked the sexual scenes. I will give Gena Showalter that on the first book "Lord of the Vampires." Jill Monroe did manage to win my heart over on some of the characters and how this book explained a little more on what is going on with the Kingdom of Elden and what has happened.
Breena is an heir to the Elden Kingdom, and she is forced to survive and avenge her family after the Blood Sorcerer has taken over her home and killed her parents. She has no idea what has happened to her siblings. I already know what happens to Nicolai thanks to the first book…so this book is to tell the story of Breena and her dream lover, Osborn who happens to be real and someone who will help her win back her kingdom. Of course here's the kicker to the story he's a berserker. If you've read other stories about Berserkers, they can be extreme. Osborn lives up to being a Berserker in this book. I already feel sympathy for him at the beginning of the book because I find out he has lost loved ones too.
Another thing that had me not liking this book is the lack of action until the very end of the book. This book was more about Breena and Osborn coming to terms with each other and trusting each other. When Osborn finds out where Breena is from also has me skeptical. How can someone get over something so quickly as he did?
I did love the brothers of Osborn and wish they could get their books. They helped on bringing Breena and Osborn together.
I do recommend this book to anyone who likes a story that brings a different side to a fairytale. I am going to read Jill Monroe's other books now after reading this one. I want to see her take on other romance stories.
I just felt like this book could have had more just like the first book should of too. On to the next book in the series to find out what happens next and hopefully, it will get me closer to finding out on how they defeat the Blood Sorcerer and find out more about the tale of what happened in Elden from a different perspective.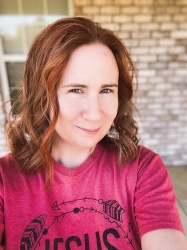 Latest posts by FranJessca
(see all)