Review: 'Lord of the Wolfyn' by Jessica Anderson
November 20, 2011
I received a complimentary copy of the book from Netgalley in exchange for an honest review. This does not affect my opinion of the book or the content of my review.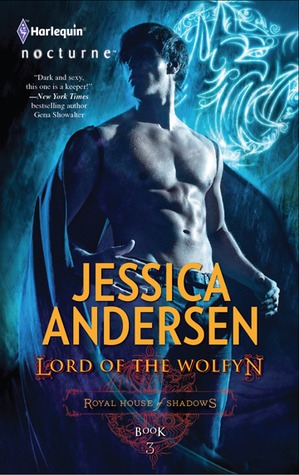 Lord of the Wolfyn
by
Jessica Andersen
Series:
Royal House of Shadows #3
Published by
Harlequin Nocturne
on October 18th 2011
Genres:
Paranormal Romance
Format:
eArc
Source:
Netgalley
Goodreads
Purchase at
Amazon
|
Apple

Once upon a time...the Blood Sorcerer vanquished the kingdom of Elden. To save their children, the queen scattered them to safety and the king filled them with vengeance. Only a magical timepiece connects the four royal heirs...and time is running out....
For practical Reda Weston, nothing could explain how reading a sexy version of Little Red Riding Hood catapulted her into another realm - face-to-fang with the legendary wolf-creature who seduced women. A wolf who transformed into a dark, virile man....
Dayn cursed the Sorcerer that turned him wolfyn and damned him to a lonely fate. As a beast, he mated with women to gain strength. Strength he needed to rescue his royal parents. But as a man, he craved Reda's heated, sizzling touch. With little time left, Dayn had to either embrace his wolf to save his kingdom...or fight it to save his woman.
My Review:
(Originally Reviewed on Mrs. Papillion aka "The Book Worm")
Review back in November 2011
It took me a while to finish this book due to other priorities that took place over reading books. Life throws you unexpected obstacles at times, but in my case, it was a very well expected blessed obstacle. I'm thankful to have my 2nd daughter who was born on November 9th. She has made reading challenging for me, but I'm always up for a challenge. "Lord of the Wolfyn" by Jessica Anderson was interesting at first because I love the comparison with Red Riding Hood and the Wolf…but it seemed this book lacked what I'm used to in a paranormal romance. I love Jessica Anderson's writing style, don't get me wrong, but I feel this book could've had more to it. It seemed to be rushed liked the other books in the series. I understand the authors were only allowed a certain amount to write in a short period…but I feel that maybe each book could've had more. That's my honest opinion though. I did love the character Dayn in this book, and it seems he has become my favorite so far in the series. A hunky vampire who also turns wolfyn…that definitely is my dream come true in paranormal romance. He has a lot of power and sexiness to him. As for Reda though, there were moments I didn't like her character. She always seemed scared, and I understand what she went through losing her partner, Benz…but she had a hard time getting over it and also learning that she was tough, she just had to let go of her past and look to her future. I don't like weak heroines, but at the end of the book, she finally decided that maybe it was time to step up and finally conquer her fear. I wish she would've found that out in the beginning. There wasn't much action in this book also, which the 1st book and 2nd book had. There weren't many obstacles for the characters. It seemed it was mostly a love obstacle for them both. Could they or would they be together or would Reda have to go back to her world and leave Dayn to focus on his world and conquer the Blood, Sorcerer? It was driving me crazy at times, and I had to put the book down for a while and come back to it later. I will give Jessica Anderson this when Dayn and Reda finally made up their minds to be together and bond, she had a great scene between them both. I also loved how she showed the bond between them both afterward and how Dayn was able to track down Reda after she was captured. I've actually read a short book from Jessica Anderson from one of the Anthologies I have on my bookshelves and I've meant to read more from her, but just hadn't had the time, but now I will put some of her books to my to-read list and definitely will keep up with her books now after reading this one. I may have given this book 3 full moons…but the Author I give 4.5 full moons. =)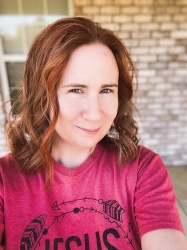 Latest posts by FranJessca
(see all)