Review: 'Resist Me' by A.O. Peart
September 14, 2014
I received a complimentary copy of the book from the blog tour host in exchange for an honest review. This does not affect my opinion of the book or the content of my review.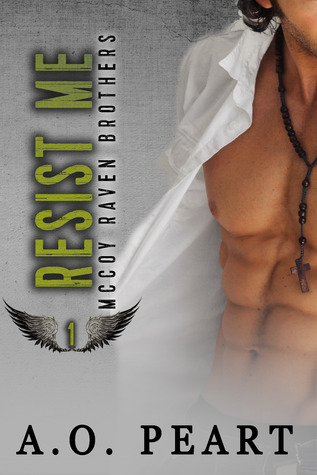 Resist Me
by
A.O. Peart
Series:
McCoy Raven Brothers #1
Published by
Three Graces Publishing
on August 31, 2014
Genres:
Romantic Suspense
Format:
eArc
Goodreads

One fateful morning changes everything.
Lisbeth Anderson, the lone eyewitness of a shocking murder, believes the FBI witness protection program may be the only way for her to survive. But when a powerful explosion reduces the safe house to ashes, killing all of the FBI agents on duty, will she turn to a perfect stranger for help?
Ethan McCoy, a former-Marine-turned-firefighter, has never really cared for any woman. He lives his life to the fullest, enjoying the bad boy stigma and cultivating a particular taste for dominant sex. Girls come and go, allowed to stay only long enough to satisfy Ethan's wild appetite.
One morning at dawn, Ethan's fire brigade is called to a fatal house explosion that levels the structure. When he pries open a trap door to the hidden panic room under the house, he finds a gorgeous, though disheveled brunette. Lisbeth instantly turns Ethan's world upside down, and he's overcome by the burning desire to protect her, no matter the consequences.
All books in the McCoy Raven Brothers series are standalone and can be read in any order. They interconnect through the characters

I love reading romantic suspense, so the moment I read the synopsis of Resist Me I knew I had to check it out. Resist Me is the first book in A.O. Peart's Change Me series and it was a great start to the series.
The story has Lisbeth Anderson in the Witness Protection Program after witnessing the gruesome murder of someone close. She believes she'll be safe with the FBI, but unfortunately the murderers know what she is up to and where she is. It's up to one ex-Marine turned firefighter to keep her safe. Ethan McCoy is called to a scene where there was an explosion. He ends up volunteering to help Lisbeth on keeping her safe. He has the experience and the moment he meets her, he starts having feelings for her.
The duo are going to end up fighting over their attraction for each there throughout the story, while trying to hide from Lisbeth's past and it's not going to be easy. I loved this story and how it started off. Ethan with his determination of trying to help Lisbeth, even when he doesn't know her. Lisbeth with her ways of trying to turn a situation from upside down to right side up. She's had a really rough life, so the poor woman deserves to have her life normal and happy. I also adored how a player changes after he meets the woman who will change him. The woman doesn't even know she's doing it. =)
The only problems I had with the story, while reading it was how quick the ending came. Don't get me wrong there was a lot of action, but it happened mostly at the end and it abruptly happened. The ending of the story was also abrupt with the HEA with Ethan and Lisbeth. I also wanted more romantic scenes between Ethan and Lisbeth. They deserved a lot of happiness after what they went through. There was also the issue of the bad guys. I love when stories have me guessing who the bad guy or bad guys are, but in this story you already know.
Overall though, this was a very enjoyable romantic suspense book. There are elements of action, suspense, and mystery in the story. I look forward to reading the next installment in the series.  Here's hoping it's Jack's book. He was an interesting character. =)
I give this book 3.5 moons and recommend it to romantic suspense readers out there. This was my first book I've read from A.O. Peart and I definitely look forward to reading more books from her soon.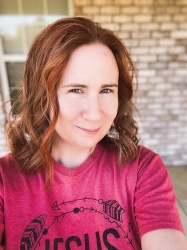 Latest posts by FranJessca
(see all)