Review: 'Ruin and Rising' by Leigh Bardugo
April 5, 2021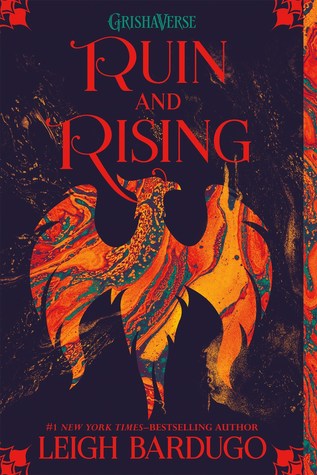 Ruin and Rising
by
Leigh Bardugo
Series:
Shadow and Bone #3
Published by
Square Fish
on June 17, 2017
Genres:
Young Adult Fantasy
Format:
Paperback
Source:
Purchased
Goodreads
Purchase at
Amazon
|
Barnes & Noble
|
Kobo

The Darkling rules Ravka from his shadow throne.
Now the nation's fate rests with a broken Sun Summoner, a disgraced tracker, and the shattered remnants of a once-great magical army.
Deep in an ancient network of tunnels and caverns, a weakened Alina must submit to the dubious protection of the Apparat and the zealots who worship her as a Saint. Yet her plans lie elsewhere, with the hunt for the elusive firebird and the hope that an outlaw prince still survives.
Alina will have to forge new alliances and put aside old rivalries as she and Mal race to find the last of Morozova's amplifiers. But as she begins to unravel the Darkling's secrets, she reveals a past that will forever alter her understanding of the bond they share and the power she wields. The firebird is the one thing that stands between Ravka and destruction—and claiming it could cost Alina the very future she's fighting for.
---
Ruin and Rising is the third book in the Shadow and Bone trilogy by Leigh Bardugo. This book put me through the wringer due to what happened in it. I was not expecting it to end the way it did, and I was kind of disappointed. Don't get me wrong, I did enjoy reading this book but was expecting something else to happen at the end. After reading Leigh Bardugo's interview at the end of this book, I know why she ended the way it did, but I still can be disappointed. I still love you, Leigh Bardugo, and look forward to reading the Six of Crows books next. 
Storyline/My Thoughts: First, if you have not read these books, then I would recommend not reading this review. I'm going to try not to write spoilers, but I may end up mentioning something from the previous books.
This book picks up where the last book left off. I could have dealt without the Apparat, who drove me crazy on how he treated Alina and her team at the beginning of this book. Apparat was someone who could double-cross you at any moment, and if he did it to the King and the Darkling, he could've done it to Alina.
I've stated it above, but I was disappointed with how this book ended. I was also disappointed that the Darkling only got a few moments in this book, just like the previous book. Yes, I'm one of those readers who loves a villain, and I was hoping he would get reformed somehow. He will always be one of my favorite villains. (I highly recommend reading his prequel when he was a kid and finding out what happened to him.)
I also was disappointed with what happened to Alina at the end of everything. I know she gets a HEA with the one she truly loves, though, and who is there for her along the way, but I still was hoping for a different HEA. I felt the person she ended up with was not the right character. There was also a twist in this story that I was not expecting when Alina and her team looked for the third amplifier. Be prepared if you do read this to be in shock. I was in shock and had to read a few times to understand what was happening. Leigh Bardugo knows how to keep the reader on the edge of her seat with anticipation and shock.
What did I like about this book? The constant knowing what Alina, Mal, Nikolai, Tamar, etc., were going to come in contact with next when it came to battle. They went through a lot in this book. Leigh Bardugo did not make it easy. There are going to be deaths in this book that will be hard to get through. I know a couple that bothered me. I loved the constant banter in this book, too, between Alina and Nikolai. These two were great friends.
I grew to love other characters in this book, and I can't wait to read more about them in King of Scars and Rules of Wolves. Yes, it's dealing with Prince Nikolai. He's one I fell hard for, too, in the book. I didn't like what happened to him either, but I know Leigh Bardugo will give a HEA (eventually). He deserves it.
Although I was disappointed with this book, I still can find myself wanting to re-read it again in the future. I'm looking forward more than ever to read other books in the Grishaverse. I know Leigh Bardugo will be one author; I will continue to buy her books, no matter what she writes, because her stories are addicting.
Standalone or Part of Series: It's part of the Shadow and Bone Trilogy and I highly recommend reading in order. It's also part of the Grishaverse series by Leigh Bardugo, too.
Cliffhanger: No.
HEA: Yes. Somewhat of a HEA for Alina. (Not the kind of HEA I was looking for though.)
Would I recommend this book? Yes. If you are a fan of Young Adult Fantasy, then I recommend this trilogy to you. I'm so glad I read these books before the Shadow and Bone series releases on April 23rd. Now, I can't wait for the show. (Although I need to read the Six of Crows Duology before then, too.)
Please, keep an open mind when reading this trilogy because if you fall for a particular character like I did, you'll be upset about what happens in the ending.

---
---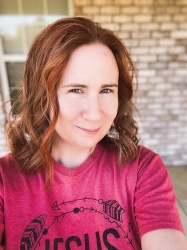 Latest posts by FranJessca
(see all)