Review: 'Savage Games' by Rachel Leigh
November 12, 2022
I received a complimentary copy of the book from the blog tour host in exchange for an honest review. This does not affect my opinion of the book or the content of my review.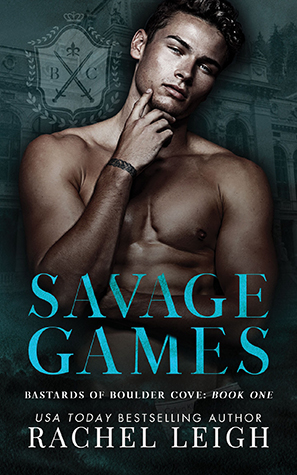 Savage Games
by
Rachel Leigh
Series:
Bastards of Boulder Cove #1
Published by
Self-Published
on July 28, 2022
Genres:
Dark Bully Romance
,
Mature High School/Young Adult Romance
Format:
eBook
Goodreads
Purchase at
Amazon
|
Barnes & Noble

I shouldn't be here. Let me rephrase that…I never wanted to be here.
I didn't ask for any of this. Not the society I was born into. Definitely not the academy I'm supposed to attend. And sure as hell not the group I'm forced to play nice with. Unfortunately, one too many school suspensions has catapulted me into the world I swore I'd never live in. Boulder Cove Academy: Where The Lawless reign and those beneath them are ash between their fingertips. The three leaders of this place—Crew, Jagger, and Neo—have always been an aching thorn in my side. When things get ugly, I have no choice but to turn to the boys I loathe. Acceptance means I become a slave to their darkest desires. Bones to rattle.A mind to shake. In the thick of it all, I begin to see the truth. They never intended to help me. They only want to destroy me.
One game at a time.
---
Savage Games is the first full-length novel in Rachel Leigh's Bastards of Boulder Cove series. If you read the prequel Dark Desires and start this book, you'll realize the characters are different. The two main characters from Dark Desires' have a daughter, and the series now follow her story. I'm glad I read the prequel because it introduced me to the Blue Bloods world and the elite attending Boulder Cove Academy. This book is a bully romance, so if you don't like MMCs that are bullies toward the FMC, this book/series will most likely not be up your alley. I'm obsessed with bully romances. I love when the FMC fights back against her bullies. 
Storyline/My Thoughts: Why did I only give the book 3.5-stars, though? It's not a bad rating; some things did gyrate on my nerves a bit. I'll go into that a little later in my review. First, I'm reviewing what I enjoyed about the first book in the series.
Scarlett Sunder is the FMC, and she went from the quiet, timid little girl growing up to the one who is mouthy and questions everything. She has every right to, especially when she's been forced to attend the academy that she tried to avoid attending. Unfortunately, the three guys that made her life difficult back when she was younger forced her to attend by setting her up at her public high school. Now, she's at BCA as a Senior. Typically, kids enroll during their Junior year. Scarlett will have to deal with the Lawless, who happen to be her biggest enemies and bullies: Neo Saint, Jagger Cole, and Crew Vance. All three come from the Elders who attended the academy before. They will not be messed with, and she must follow their rules. Unfortunately, Scarlett does not obey the rules well, and at first, she ends up in their crossfire. She has to participate in their week-long games. They make her their punching bag and have her decide if she wants to be a Rook for 30 days of doing nothing but dirty work or work up to be an Ace, which allows them to test her. She decides to go for Ace. They will humiliate her, make Juniors bully her, and even put her life on the line a few times. It's a big bullying fest on poor Scarlett. She handled certain things, even when stalked by someone she believed to be one of the Lawless.
I felt for the FMC the whole time I read what she was going through in the book. She has had enough of the boys who have terrorized her and knows they hate her. She has no idea why, especially when it comes to Neo's hatred. She does have her best friend in the hospital, who the boys were close to as well. She will learn some things about why the boys despise her in this book. She puts them in their places a few times, which is something I liked about her character. She did give in to some of the things they did to her. She did have something with Crew Vance when they were younger. I like how Rachel Leigh gave me Crew's POV and the turmoil he was going through with his feelings for Scarlett. He, unfortunately, can't show his feelings due to Neo and Jagger. Although, this book does have Crew showing his jealousy over someone else touching his girl. Oh, boy, he was not happy with a particular scene in the springs, and then he questions Scarlett on why she would allow it to happen. Yeah, there is drama between the guys when it comes to Scarlett. I feel each has feelings for Scarlett, even the a-hole Neo who drove me crazy with his hatred for Scarlett. Some mysteries need to be addressed in this book that I need to be answered. Yes, this book has suspense/mystery to it, so you're not just getting bullying. I liked how Rachel kept me questioning what happened to Scarlett's best friend and who the heck was stalking her. The boys will not like finding out someone else is giving Scarlett ahead of time.
There are some spicy moments in this book. There's one in the library that was really spicy. These boys love putting Scarlett in public and doing things with her where they have a risk of being caught. At least, that is what I noticed when reading this book. They want people to know she's theirs. I can't imagine what the boys will put Scarlett through in the next book. Group scenes, maybe. Here's hoping so. =) Although Crew doesn't seem to want to share.
Here was what bothered me in the book that drove me bonkers. Neo and his friggin' attitude toward Scarlett and how he even makes the other guys question his motives against Scarlett. He puts her life on the line, and I really don't like him. He can kick rocks. I don't care to see him end up with Scarlett and how he treated her. He has had issues with her since she was a kid, too, for stupid reasons. I don't feel any connection between him and Scarlett ever happening. That may change when I get his POV, but I don't like him. I shouldn't like the other two, but they redeemed themselves, especially with how Crew is very protective of Scarlett. He needs to learn to tell the other two to shut up, and he doesn't care about their opinions.
Overall, I did enjoy this book. I'm moving on to the next book to prepare for the third book that will be releasing the end of November 2022.
I'm glad I found Rachel Leigh's books. Bully Romances have always been my fave because they are full of angst and hate, where eventually, the FMC fights back, and in the end, the MMC opens up about why they have bullied the FMC for so long. You know the saying, someone that bullies you actually like you. Yeah, not sure I believe that. I had a bully that tried to drown me. Needless to say, I didn't like him and never would have dated him. He was a jerk, so no, I don't condone bullies in real life—only fictional ones.
Standalone or Part of Series: It's part of a series and I recommend reading in order.
Steam/Spice: 🌶 🌶 🌶
Cliffhanger: Yes.
Genre(s)/Trope(s)/Element(s): HS/NA Bully Romance. Secret Society. Mystery. Suspense. Enemies to Lovers. A-hole MMCs. High schooler characters. Bratty/Mouthy FMC. Dirty Talker MMC. OTT Jealous MMC. Tattooed MMCs. Voyeurism. Public Indecency (Risk of being caught).
Trigger(s)/Content Warning(s): Bullying. Violence. Language. Explicit Content.
Would I recommend this book? Yes. If you enjoy Bully Romances, I would recommend this book/series to you.

This post contains affiliate links you can use to purchase the book. If you buy the book using that link, I will receive a small commission from the sale. It will help sponsor future giveaways but costs you nothing extra. You can read the full disclosure underneath the Privacy Policy.
---
---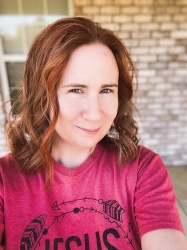 Latest posts by FranJessca
(see all)