Review: 'Siege and Storm' by Leigh Bardugo
March 31, 2021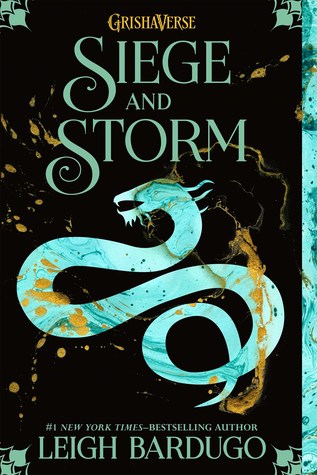 Siege and Storm
by
Leigh Bardugo
Series:
Shadow and Bone #2
,
Grishaverse #2
Published by
Square Fish
on June 17, 2017
Genres:
Young Adult Fantasy
Format:
Paperback
Source:
Purchased
Goodreads
Purchase at
Amazon
|
Barnes & Noble
|
Kobo

Hunted across the True Sea, haunted by the lives she took on the Fold, Alina must try to make a life with Mal in an unfamiliar land. She finds starting new is not easy while keeping her identity as the Sun Summoner a secret. She can't outrun her past or her destiny for long.
The Darkling has emerged from the Shadow Fold with a terrifying new power and a dangerous plan that will test the very boundaries of the natural world. With the help of a notorious privateer, Alina returns to the country she abandoned, determined to fight the forces gathering against Ravka. But as her power grows, Alina slips deeper into the Darkling's game of forbidden magic, and farther away from Mal. Somehow, she will have to choose between her country, her power, and the love she always thought would guide her--or risk losing everything to the oncoming storm.
---
Siege and Storm is the second book to Leigh Bardugo's Shadow and Bone Trilogy. This book is also apart of the Grishaverse series written by Leigh Bardugo. If you are thinking about reading the Grishaverse series, I would recommend reading the Shadow and Bone Trilogy first and then the Six of Crows Duology. I couldn't wait to dive into the trilogy's second book after I finished the first book. I needed to know what would happen to Alina and Mal after they escaped the Darkling in the Fold. 
Storyline/My Thoughts: Do not read this review unless you have read the book(s) in the Shadow and Bone Trilogy. I don't usually spoil, but just in case, I wanted to give a forewarning. Sometimes I get overzealous in my review, especially if I enjoyed the book. Although this book only received four stars, I still did like it. One aspect drove me crazy, though. I'll go over it in my review.
I love this trilogy by Leigh Bardugo due to the writing style, world-building, and characters. I love how she has the trilogy based on Tsarist Russia of the early 1800s. I don't think I've ever read books that involved Russian culture before and in a made-up world. I love when authors do something different.
This book picks up where the first book left off with Alina and Mal on the run and hiding from the Darkling and his Grisha. Unfortunately, he finds her, and he has a new scary power that ends up hurting her. The Darkling is not someone to mess with within this book; even his own Grisha are scared of him. It takes a privateer (pirate) to save Alina and Mal and get them out of the Darkling's radar. Alina finds out in this book too that the Darkling is after another amplifier, and it involves another mythical creature called the sea whip. It's real, though, and Alina is going to realize the only way to beat the Darkling is to beat him at his own game. Alina and Mal will find out the person that saved them is someone unexpected. I loved this new character and hope I get more of him in the next book. I also loved getting to know the new Grisha in this book. It's amazing how authors can keep up with all different characters and their backstories.
The ending of this book was full of action and, unfortunately, death. I feel that the Darkling is always two steps ahead of Alina and Mal, even if Alina feels she can defeat him. An unlikely ally will help Alina and Mal at the end of the book, which I still don't like from the first book.
The Darkling was different in this book from the first, not only with his new power but also his creepy ways. He is obsessed with Alina and power. He will do anything to get her, even torture her and everyone she loves. He didn't get many appearances in this book, but he made his point of being different when he did.
Alina drove me crazy in this book because the first book had a love triangle, but this one has others falling for her and wanting to use her for her power. She has people proposing to her and driving Mal to jealousy. Alina, of course, punches and kicks at the newcomers, but these new men in her life are still making their moves. Poor Mal! Mal was there for Alina, but he knew he could not offer her anything. Alina kept driving him away instead of telling him the truth, which led to miscommunication. This is what made me give this four stars. The two characters that love each other were driving each other apart.
I also feel Alina needs to get her priorities in check. There was a part in this book where she put herself in danger on purpose and almost ruined everything. She needed someone to put her in check, and it took the ending for her to wake up. I hope she starts waking up more in the next book, too. She needs to realize that the Darkling is not going away, and she needs to find a way to defeat him.
I'm so glad I'm reading these books, though. Leigh Bardugo has a new fan from now on, and I can't wait to dive into the other books to the Grishaverse universe.
Standalone or Part of Series: It's part of the Shadow and Bone Trilogy and Grishaverse series.
Cliffhanger: Yes.
Would I recommend this book? Yes. I would recommend this trilogy to Young Adult Fantasy readers. If you are a fan of Sarah J. Maas, Richelle Mead, Victoria Aveyard, etc., then you'll enjoy these books by Leigh Bardugo.
The best part of reading these books is that I'm reading them back-to-back without having to wait for them to release. I love binge reading a series, and I also reading fantasy books. It's my first look when it comes to reading.

This post contains affiliate links you can use to purchase the book. If you buy the book using that link, I will receive a small commission from the sale. It will help sponsor future giveaways but costs you nothing extra. You can read the full disclosure underneath the Privacy Policy.
---
---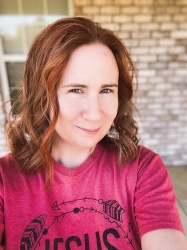 Latest posts by FranJessca
(see all)