Review: 'Six of Crows' by Leigh Bardugo
April 14, 2021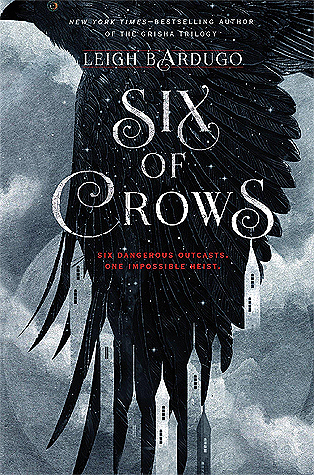 Six of Crows
by
Leigh Bardugo
Series:
Six of Crows #1
,
Grishaverse #4
Published by
Henry Holt & Company
on September 29, 2015
Genres:
Young Adult Fantasy
Format:
Hardcover
Source:
Purchased
Goodreads
Purchase at
Amazon
|
Barnes & Noble
|
Kobo

Ketterdam: a bustling hub of international trade where anything can be had for the right price—and no one knows that better than criminal prodigy Kaz Brekker. Kaz is offered a chance at a deadly heist that could make him rich beyond his wildest dreams. But he can't pull it off alone. . . .
A convict with a thirst for revenge
A sharpshooter who can't walk away from a wager
A runaway with a privileged past
A spy known as the Wraith
A Heartrender using her magic to survive the slums
A thief with a gift for unlikely escapes
Kaz's crew is the only thing that might stand between the world and destruction—if they don't kill each other first.
---
This is going to be a very long review. I'm sorry ahead of time, but I knew it wouldn't be a short review after I finished the book. Lots needed to be typed, but I promise no spoilers.
Six of Crows is set in Leigh Bardugo's Grishaverse, but this time readers will get to follow six different characters on a mission to pull off a very dangerous heist together. This book will pull you in different directions because all six characters get to tell the story from their point of view before, during, and after the heist. It's crazy how Leigh Bardugo managed to keep up with all six points of view while building the storyline to this new epic adventure in the Grishaverse.
Storyline/My Thoughts: First, if you read the Shadow and Bone Trilogy, then I will let you know now that Six of Crows doesn't take place simultaneously as the trilogy. It's set further in the years after the war has happened. Unfortunately, the Grisha are still treated horribly, and most are hidden or at Ravka helping the King rebuild, but this book is not focusing on that storyline. Instead, it's focusing on six different characters, which each have a different personality and background. They are all supposed to be in their teens but come off as maturer in age. If you lived the way they did, then you would be much wiser in years to deal with the issues they have had to succumb. Readers will get to read some of their backstories when they tell their points of view in Six of Crows. (It's amazing how authors can keep up with everything. I can't even remember yesterday sometimes due to memory issues.)
I'm going to try to break down what I liked about each character without going overboard. I loved how Leigh Bardugo wrote each character differently. This is one reason why I was interested in the book.
Kaz Brekker has a heartbreaking back story, but he has managed to fight through everything thrown at him. He has a disability that requires him to have a cane, but he's stronger than ever. He's one scary character, even to his team, because he plans things that will put himself and everyone at risk. I enjoyed his character, especially after finding out what happened to him. He's on a mission for revenge for what happened to him, and he will do anything to get that revenge. One thing that drove me crazy about him is his feelings for a particular character that he would rather deny than tell the truth. Just tell her!!!!
Inej Ghafa is by far my favorite character of the six. She's been through a lot too, and Kaz saved her from the life she had at the Menagerie. She became known as the Wraith since she's able to sneak up on people. She's a fighter. She puts Kaz in his place a couple of times, and only she can do it to him. I could go on and on about her character. I loved getting to read her point of view.
Jesper Fahey has a secret that he's unwilling to share with anyone on the team until he has to on the heist. He has a gambling issue, but he's an excellent sharpshooter. I loved how even he questioned Kaz, but he also became friendly with another person on the heist.
Nina Zenit is a Grisha Heartrender who uses her magic to survive the slums. Her abilities include controlling someone's breathing, heart, and cells in their bodies. She's one Grisha you don't want to mess with, and in this book, she ends up putting herself at risk for everyone else to survive.
Matthias Helva is a former druskelle and a Fjerdan witch hunter. Both Nina and he are dangerous together because he can't stand what she is, and Nina is trying to make it right by Matthias. They have a complicated past and relationship that could put the others at risk. Matthias is one person you either could trust or not, and there were times I didn't feel I could trust him with the group during the heist.
Wylan Van Eck is someone that Kaz brings to the crew for leverage since the person who requested Kaz's help happens to be Wylan's father. Wylan, though, has his own tricks up his sleeve, and I hope I get to know him more in the next book. He fit right into the crew during the heist.
All six are on a dangerous heist to break out a scientist from an impenetrable prison and put themselves at risk of being put in jail or, worst, being killed. (It's all Kaz's fault, but it was a deal that no one could turn down.) The heist reminded me of the movie Ocean's Eleven, but much more risk to it, and instead of stealing money and gold, they have to steal a person. This person is someone everyone wants for themselves since they have created something that will change the odds.
The thing that drove me bonkers about this book was how slow it started for me. It took me a while to gain my interest in the story. I'm used to reading multiple POVs, so that was not an issue. It was the issue of getting to the heist, going through everything, and then how it ended. It took a while to get through it all. I also was bothered by how Kaz did not get the revenge he wanted in this book. He had a chance but didn't take it. He deserves revenge for what happened to him. He also didn't share his feelings with a specific character that he should have in this book. I hope he starts sharing them in the next book. I know Kaz will be out for revenge even further in the next book, but for something else entirely. Overall, this book receives four stars from me. I think if the book would've grasped me from the beginning and not been slow to start, then I would have given it five stars. There was a lot to take in the beginning.
Leigh Bardugo is a master at storytelling, though, and I can't wait to see the Shadow and Bone and Six of Crows books be brought to life in the Netflix series. I already love the actors/actresses they chose to play the book characters.
Now I need to make time to read the Crooked Kingdom because this book left me with a cliffhanger.
Standalone or Part of Series: It's part of the Six of Crows Duology. It's also part of Leigh Bardugo's Grishaverse. (If you read the Shadow and Bone Trilogy, then you will read about certain characters in this book from the current characters. There will be a moment of clarity of who Nina is and where she came from, and why she ended up with the crew. I don't think you have to read the Shadow and Bone Trilogy to read this book, but I feel readers will miss out on some connections between the books.)
Cliffhanger: Yes.
Would I recommend this book? Yes. If you are a fan of YA Fantasy involving a dangerous heist with six different characters, you will enjoy this book. I also would recommend the audiobook if you enjoy listening to books. The narrators were fantastic at having the characters come to life when I listened to the book instead of reading it.

This post contains affiliate links you can use to purchase the book. If you buy the book using that link, I will receive a small commission from the sale. It will help sponsor future giveaways but costs you nothing extra. You can read the full disclosure underneath the Privacy Policy.
---
---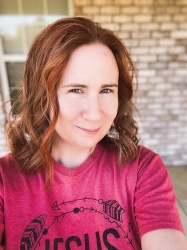 Latest posts by FranJessca
(see all)