Review: 'The Darkest Day' by Britt Bury
I received a complimentary copy of the book from the publisher in exchange for an honest review. This does not affect my opinion of the book or the content of my review.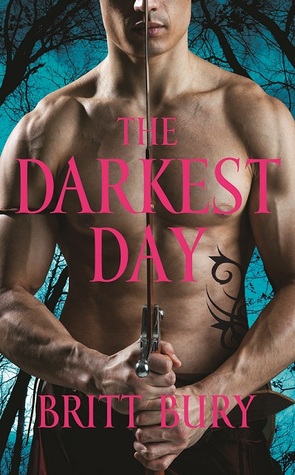 The Darkest Day
by
Britt Bury
Series:
Immortal Heat #1
Published by
Forever Yours
on July 3rd 2012
Genres:
Paranormal Romance
Pages:
300
Format:
eArc
Amazon Paperback
Goodreads

ALL-CONSUMING DESIRE . . .
Izel Campbell was raised to believe she is an immortal Fionn with the magical skills of persuasion. But when she travels to Scotland to visit her ancestral home, Izel discovers that she is actually the world's last living human. Forced to run for her life, Izel crosses paths with Kelvin Kerr, the Campbells' greatest foe-and the most magnificent warrior she has ever seen.
BURNS BRIGHTEST . . .
A thousand-year-old battle chief of the Kerr clan, Kelvin lives only to avenge his father, who died at the hands of the bloody Campbells. Honor demands he kill the Campbell heir, but when he learns that the lovely Izel is both Campbell and human, Kelvin is torn between duty and desire . . .
ON THE DARKEST DAY
Word Count: 86,000. This is Book 1 in The Immortal Heat series.
My Review
I received a complimentary copy of "The Darkest Day" from Netgalley, provided by the Publisher for my honest review. I'm so glad I was contacted by Britt Bury to read the debut novel of her series "The Immortal Heat." I fell in love the minute I started reading about these hunky Immortals. Kelvin Kerr is an immortal Razorback who has been out to avenge his father's death. He swore he would kill the male heir of the Campbells when he got the chance. He has hated the Campbells for years now. He never thought that the Campbell's next generation of rulers of the Fionn/Campbell Clans would be a woman. Not only that…but he would be attracted to her. Of course, how can he be attracted to someone he's supposed to hate…and he also finds out she's human after her disguise disappears. Izel Fionn just wanted to travel to Scotland to see her family, her grandfather Euan Campbell. She never thought she would be fighting with Kelvin Kerr. He's handsome and HUGE. She also never expected that her grandfather was keeping her safe by disguising her. She's the last human alive on Earth, and she's the most wanted creature out there. All the immortal creatures want her dead. It's up to Kelvin Kerr to keep her safe…but does he have a secret agenda to kill her too. My thoughts on "The Darkest Day"…I loved the world that Britt Bury has created. This is a great first book to the series. I was able to follow what was going on and I also got a glimpse of who the other immortal characters were that she would probably end up having books on in the series. I look forward to Ian's book. =) What did I think about the characters? I loved Kelvin, although he could be a jerk sometimes to Izel. She put him in his place though. He was one hunk of a Razorback, but of course like I stated he was a jerk at times. Although, in the ending, he won my trust again when he finally admitted to Izel how he felt about her. (took him long enough though). Izel was a sweetheart, and I was able to connect with her from the beginning. She got herself in dilemmas, but she was able to get out of them, except for one but I won't give that away. I loved the other characters in the book too. I want to find about the others in the Kerr Clan. I also want to find out more about the Fionn Clan. There's a certain Fionn that I fell in love with because he was there for Izel. The ending was spectacular. I loved how everything played out. "The Darkest Day" had me laughing and crying. Laughing because Izel and Kelvin kept bantering with each other and crying…because what happened at the end. Britt Bury and her series are very promising. I look forward to reading the next book in the series. I recommend this book to anyone who loves the paranormal romance genre, loves reading debut authors and their series. You'll fall in love with these immortals just like I did. Thanks again, Britt, for contacting me. You have a fan for life. =)


I guess I should type a bio here. I'm FranJessca or Fran for short. I'm the owner of Book Lovin' Mamas and main Reviewer. I've been reviewing books since I got out of the Navy in 2011. Now 8 years later, I'm still reviewing, but this time with my youngest sidekick.
When I'm not reading and reviewing, you can find me at my day job during the week and on the weekend taking care of our little farm.

Latest posts by FranJessca (see all)