Review: 'The Demoness of Waking Dreams' by Stephanie Chong
August 28, 2012
I received a complimentary copy of the book from the Netgalley, publisher in exchange for an honest review. This does not affect my opinion of the book or the content of my review.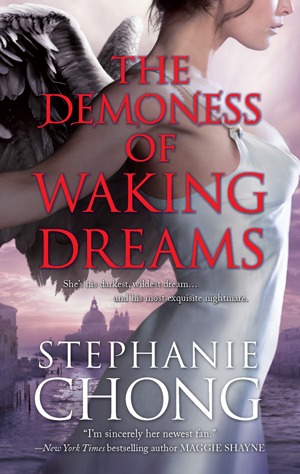 The Demoness of Waking Dreams
by
Stephanie Chong
Series:
The Company of Angels #2
Published by
Mira Books
on August 28th 2012
Genres:
Paranormal Romance
Format:
eArc
Source:
Netgalley, publisher
Goodreads
Purchase at
Amazon

Brendan Clarkson and Luciana Rossetti are perfectly matched. Yin and yang. Angel and demon. Man and woman. But only one of them can win the battle of wills, of strength and of desire.
My Review

I have been waiting forever for this book.  Well not forever, but it felt like that.  I love "The Company of Angels" books by Stephanie Chong.  I fell in love with the characters in the first book in "Where Demons Fear to Tread" last year. I just knew I would love this one too. I remember, the female character, Luciana in the first book and I was excited to read more about her in this book.  (I did not like her in the first book…but she grew on me in this book) Luciana has fled to Venice, Italy to do her duty of giving the devil his yearly duty.  Once in Venice, she tracks down her sacrifice but ends up running into one of the Company of Angels. She ends up not making the sacrifice in time thanks to the Angel. In the meantime, she has to find a way to make it up to her big boss but the Angel, of course, is not making it easy for her. She even has her past lover…threatening her…so it is not going to be easy for Luciana to make her boss happy again. Brandon, the angel that interferes with Luciana's plan is trying to capture Luciana for the Company of Angels.  She is his assignment…but of course, he finds Luciana to be misunderstood.  He feels she could change and he is finding her very irresistible. Of course…in "The Demoness of Waking Dreams", other characters are brought back from the first book…that I really was excited to read about.  Corbin (who was such a jerk in the first book), Julian (who I have a HUGE crush on..yes I know he is fictional…but he stole my heart), and several others that I do not what to name.  I'll give away too much. New characters are introduced as well…who I hope come back in the third book. My thoughts on The Demoness of Waking Dreams…I loved every minute of it and had a hard time putting down my Kindle.  I would read while doing other things.  (laundry, etc.)  I'm a multi-tasker…I can read as well as take care of things around me.  At least I tried to.  =) I loved the storyline for Luciana and Brandon.  Luciana has her own story and so does Brandon.  Both of their stories broke my heart.  I could not believe what actually happened to Brandon at the end.  I would be upset as well. Oh let me not forget that Julian ends up in the story…and of course I find out more about him and what happened between him and Luciana.  =) Luciana and Brandon were perfect for each other.  Luciana helped Brandon out with his problems and Brandon helped Luciana.  =) I could go on and on, how much I loved this book…but of course I do not want to spoil this book for anyone. The ending, I was definitely not expecting. I'm a little interested in what is going to happen in the third book now. I recommend this book to paranormal romance readers, angel and demon addicts (like myself) and fans of Stephanie Chong.  You definitely will be amazed on what happens in this book. If you read the first book, you will enjoy to read about the previous characters, like I did.  =)My dream is to do a character interview with Julian in the future.  *sigh*  He definitely is a FAVE of mine. Let me not to forget to mention that Stephanie Chong has a fan for life. Countdown to Book 3 is now on.  =)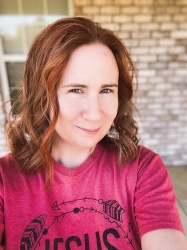 Latest posts by FranJessca
(see all)