Review: 'The Endgame' by Bianca Borell
November 23, 2022
I received a complimentary copy of the book from the blog tour host in exchange for an honest review. This does not affect my opinion of the book or the content of my review.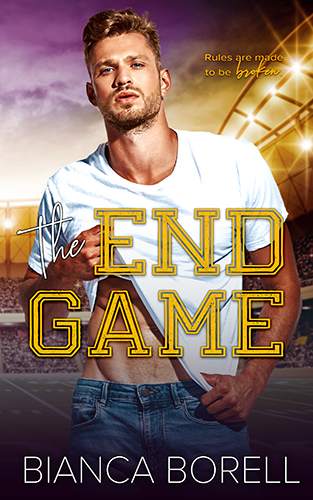 The Endgame
by
Bianca Borell
Published by
Self-Published
on November 17, 2022
Genres:
New Adult and College Romance
,
New Adult Romance
Format:
eArc
Goodreads
Purchase at
Amazon

Every girl with a brother grows up with one fundamental rule: his best friend is off limits. That's one rule she longs to break when he crashes into her life.
Amelie Weston has been taking the safe path for as long as she can remember. Not disappointing her parents by pursuing the career she wants. And not pursuing the guy she's been crushing on.
But she's tired of being the good girl.
Her brother's best friend is pushing her to stop being a people pleaser and open the bakery of her dreams. Little does he know he's also at the top of the list of her heart's greatest desires... and he's making himself impossible to resist.
Levi Kingston fully intends to become a legend on the field as one of the best players ever. He must stay focused and work relentlessly toward his goal. He doesn't have time for distractions... until he meets his best friend's sister, and his well-laid plan is challenged.
Bad timing, responsibilities, and loyalty to her brother keep them apart. But the connection between them only grows stronger. Their feelings become impossible to ignore, and the fight against them is pointless.
Will they take a chance on love? Or waste an opportunity for long-awaited happiness?
---
I've always been a fan of the Brother's Best Friend trope in romance books, and when I found out that trope was in The Endgame, I immediately added this book to my TBR. Thanks to InkSlinger PR for allowing me to read it before it was released because I enjoyed The Endgame. I now have another author, Bianca Borell, to add to my ever-growing list of authors, and I now instantly buy their books without question.
Storyline/My Thoughts: Here's the thing, I fell head over heels for the MMC in the book Levi Kingston. Unfortunately, since he's way too young for me, he can't be a book boyfriend, but he can go on my list of favorite MMCs I've read in a New Adult/Contemporary Romance book that I will constantly remember and think about often. (I'm turning forty next year, and Levi is too young for this Book Lovin' Mama.) He had his heart set on his best friend's little sister, Amelie Weston, immediately when they first met. He already aims to win her heart and make her his endgame. You know when it comes to the trope Brother's Best Friend that the brother is going to have an issue with his best friend hooking up with his little sister. That is the case when Levi falls for Ian's little sister, Amelie. Ian will lose his crap if Levi hooks up with his sister, and Levi has a risk of losing his friendship with Ian. Ian knows that Levi has one goal: to make it big in his football career, and he knows that a relationship with his sister will only hurt her in the long run, which is why he's against it. Levi can't have any distractions anyway, but when it comes to Amelie, he will do anything to prove he can be with her and play football simultaneously.
Amelie Weston is the sweet, innocent good girl in the story. When she meets Levi Kingston, her brother's best friend, she instantly has a connection with him, and he has her doing things out of the norm and making her a risk-taker. She's never done anything wrong, and her parents have a goal of her going to college and having a job that pays well without any risks. Amelie wants to take risks in her life but instead does what her family expects of her at first until an opportunity presents itself that she can't back down. Here's the dilemma when it comes to Levi, she knows she can't be his priority right now, so she focuses on her life, even though it's hard to forget about the guy that gave her firsts in everything. How she could resist Levi is beyond me because the guy was a sweetie, and another plus was how he was with Amelie in the bedroom and outside it. I loved Levi's character and struggled not to fall for him. The man was a talker in the bedroom. He knew how to sweep Amelie off her feet outside it too.
The only thing that bugged me when reading The Endgame was the constant break-up acts between the two characters. They would get together, be incredible, and something would happen that would have them walking away. It mostly was Amelie since she didn't believe Levi could handle football and being with her, especially since she was scared of her brother finding out about her and Levi. She also did something in the book where they couldn't be together because she decided to help her best friend, but it ended up also causing a big rift between her and Levi. Besides the constant back and forth between the two, I enjoyed everything else in the book. Levi won me over immediately with how smitten he was with Amelie. It broke my heart what happened to him in the long run, but he ended up doing something else that helped others. He also was there for Amelie, even when she didn't know he was there. He was her biggest fan and supporter when it came to her goals in life, which involved her baking. I loved how he was there for her. This is why I will never forget his character. He may be too young to be my book boyfriend, but he is unforgettable.
Their ending was perfect, and I loved how Bianca Borell had everything come together for Levi and Amelie at the end. It took some pain to get there, but they were meant for each other in the end.
After reading the ending, I was happy to read that the author may end up back in this world writing other characters' stories from this world. I need to know about certain characters' HEAs, especially Amelie's brother, and who he ends up with in the long run. I hope Amelie gives him a hard time as he did with her if Bianca does write his story.
Overall, I give this book four stars and look forward to reading more books from this fabulous author. Bianca Borell, you had my emotions going in this book, and when you have this Book Lovin' Mama crying in the middle of the night while reading, you instantly become a fave author.
Standalone or Part of Series: Standalone.
Steam/Spice: 🌶 🌶 🌶
Genre(s)/Trope(s)/Element(s): Brother's Best friend. Sports/Football Romance. Dirty Talker MMC. Virgin Heroine. Sweet/Innocent Heroine. Football Player MMC. Baker/Business Owner FMC.
HEA: Yes.
Would I recommend this book? Yes. This book is for you if you are a fan of the trope Brother's Best friend and Sports Romance stories. Warning: In this book, you may need tissues since the author puts the characters through pain to find their HEA. Don't worry; they do get one, but it takes some time to get there. Levi, the MMC, never gives up. =)
Favorite Quote(s): "All I've been thinking about since I first saw you is kissing you. I want to know if you taste as sweet as your cupcakes."
"Is this pretty pussy sore?" "A bit." I lift her leg over my shoulder and inhale her scent and place a kiss there. "I will pamper her before I shove cock in and fill it again."
"You took all night long. I'm going to pamper you today." I moan and write under him when he licks up my slit. "Talking to my pussy again, huh?" "Don't interrupt, we're having a moment here," he says gravely. I giggle. "You're crazy."
"You're in my veins, Amelie, rooted in every bone, embedded in every cell. How could I forget the woman I love? Because I love you so damn much, with all of me. My only constant. Everything else pales in comparison."

---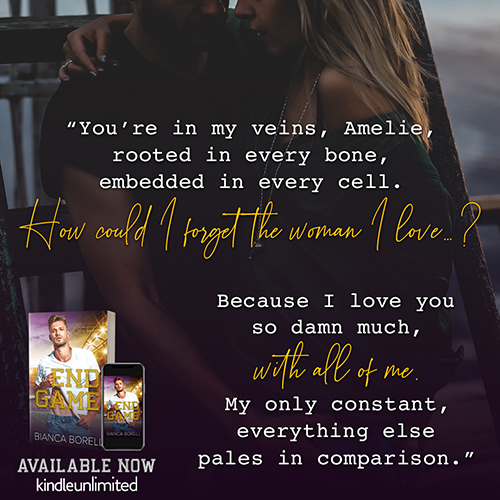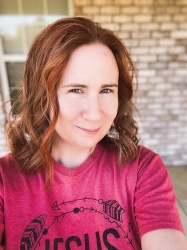 Latest posts by FranJessca
(see all)