Review: 'The Gargoyle Gets His Girl' by Kristen Painter
August 10, 2015
I received a complimentary copy of the book from the author in exchange for an honest review. This does not affect my opinion of the book or the content of my review.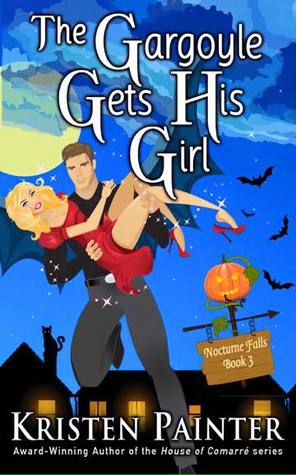 The Gargoyle Gets His Girl
by
Kristen Painter
Series:
Nocturne Falls #3
Published by
Sugar Skull Books
on July 30, 2015
Genres:
Paranormal Romance
Goodreads
Purchase at
Amazon
|
Apple

Welcome to Nocturne Falls, the town that celebrates Halloween 365 days a year. The tourists think it's all a show: the vampires, the werewolves, the witches, the occasional gargoyle flying through the sky. But the supernaturals populating the town know better.
Living in Nocturne Falls means being yourself. Fangs, fur, and all.
Willa Iscove, fae jeweler, has her first stalker. Really, he's just one of her lovesick customers. The ring she crafted to help him find new love has backfired, making Willa the object of his affections. In a bid to rid herself of her amorous client, Willa makes a wish in the Nocturne Falls fountain using the piece of opal in her pocket and in doing so, unknowingly conscripts as her guardian the sexy gargoyle on duty.
Former Army Ranger and gargoyle Nick Hardwin has some serious suspicions about the pretty fae who just invoked the ancient pact for protection. Her kind have been at odds with his kind for ages. Now she wants his help? He's determined to figure out what she's up to. Which won't be a hardship considering how much fun she is to be around. And kiss.
But then her stalker turns out to be the tip of the iceberg and things go really wrong, really fast. When they're both kidnapped, Willa is forced to make a hard decision. The life of her family or the freedom of the man she's fallen for?
My Review:
 Kristen Painter brings yet another amazing PNR read full of romance, humor, and adventure in the third book in her Nocturne Falls series. If you enjoy PNR books that have other paranormal creatures featured, you will definitely enjoy this book. Hello, Gargoyles!  How many books out there have a sexy Gargoyle in it?!  Yup…Nick is VERY sexy!
You will also enjoy how Kristen brings together all these PNR creatures in the town Nocturne Falls. (It's the definitely the reason why I can't get enough of this series and why I'm always anxiously waiting for the next one) In the third book, we learn a bit more about Nick who is a gargoyle and how he ventured into the town. He's a former Army Ranger trying to learn his new job in Nocturne Falls, when he comes across a beautiful Fae, while on duty one night. This Fae, Willa (I LOVE her name), has a stalker and she's trying everything to get rid of him. Unfortunately, she's just making things worse, when she ends up having Nick as her protector one night after making a wish.
There's going to be a whirlwind of trouble for Nick and Willa due to the fact, they are two different creatures and Nick should have an issue with Willa's kind. Unfortunately, he can't seem to let Willa go.
Kristen did an amazing job on building up what happens at the end with Nick and Willa. I also enjoyed how Willa handled the end. I thought I was going to have to go through the book and knock some sense in her. Nick has a tough exterior, but in the inside he's sweet and lovable. Although, at times Willa drove me crazy, especially with some of the beginning things she did in the book, she made up for it at the end.
I loved Willa's cat in the book by the way. Her cat even won over Nick in the book.
I look forward to reading the next book in the series because there are so many more characters I want to get happily ever afters in Nocturne Falls. Definitely wish Nocturne Falls was real because it would be the ultimate vacation spot for me.
I give this book 4 stars and recommend it to paranormal romance readers out there.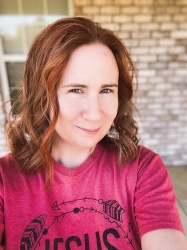 Latest posts by FranJessca
(see all)