Review: 'The Liar's Crown' by Abigail Owen
August 31, 2022
I received a complimentary copy of the book from the publisher in exchange for an honest review. This does not affect my opinion of the book or the content of my review.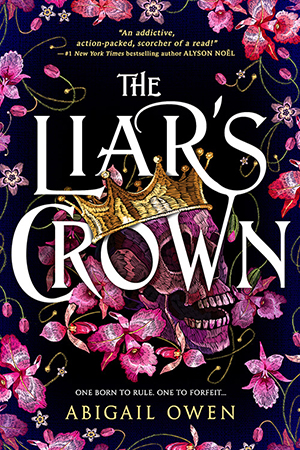 The Liar's Crown
by
Abigail Owen
Series:
Dominion #1
Published by
Entangled: Teen
on August 30, 2022
Genres:
New Adult Fantasy
,
Young Adult Fantasy
Format:
Hardcover
Goodreads
Purchase at
Amazon
|
Barnes & Noble
|
Kobo

Some shadows protect you…others will kill you in this dazzling new fantasy series from award-winning author Abigail Owen.
Everything about my life is a lie. As a hidden twin princess, born second, I have only one purpose—to sacrifice my life for my sister if death comes for her. I've been living under the guise of a poor, obscure girl of no standing, slipping into the palace and into the role of the true princess when danger is present.
Now the queen is dead and the ageless King Eidolon has sent my sister a gift—an eerily familiar gift—and a proposal to wed. I don't trust him, so I do what I was born to do and secretly take her place on the eve of the coronation. Which is why, when a figure made of shadow kidnaps the new queen, he gets me by mistake.
As I try to escape, all the lies start to unravel. And not just my lies. The Shadowraith who took me has secrets of his own. He struggles to contain the shadows he wields—other faces, identities that threaten my very life.
Winter is at the walls. Darkness is looming. And the only way to save my sister and our dominion is to kill Eidolon…and the Shadowraith who has stolen my heart.
---
The Liar's Crown is an Upper YA/NA Fantasy with a sassy, beautiful, kick-butt heroine with a swoon-worthy, grumpy, broody hero; sign me up! It also has my favorite Enemies to Lovers trope. Excuse me, but this sounds like a book I will enjoy, and I did every page of it. I had a hard time putting it down.
Storyline/My Thoughts: My thoughts on the first book in Abigail Owen's latest release, The Liar's Crown, is that I cannot wait until the second book releases because I need to know what happens next to Meren and Reven with that cliffhanger of an ending. A little bit of the story without giving anything away. The royal line of Aryd has been threatened and sometimes unalived by their long-time enemy, King Eidolon, throughout the years. They have outsmarted him, though, in keeping the royal line alive. There are twins born each time, and one twin is born to rule, while the other is forced to forfeit their life for their sister. In the case of Meren and Tabra, Meren is the twin that is born to forfeit her life for her sister, Tabra, because she was born second.
Meren knows her place in the world but doesn't want to die for her sister. She wants to live, but that's not what she was born to do. She feels alone in the world and the dark, especially since she can't tell her best friend, Cain, the truth about who she is because no one is supposed to know. When the twins' grandmother passes away, it's time for Tabra to take her place on the throne. Their long-time enemy, King Eidolon, has plans for Tabra. He wants to marry her, which he has never done with the other Queens. Meren steps up in Tabra's place for her coronation due to the threat of the King. Before the coronation, she's kidnapped by a grumpy, broody male with his own plans. The issue is that he kidnapped the wrong girl. He meant to kidnap Tabra. Meren can't tell him the truth, so she has to lie and pretend to be her sister.
I felt for Meren in The Liar's Crown. She should have never been subjected to sacrifice her life for her twin sister, especially a sister who is clueless about the enemy. When Meren is kidnapped, does her sister even attempt to look for her? No, she does the one thing Meren warned her not to do. Poor Meren.
Meren finds her place with the person who kidnapped her, even though he is annoying and won't tell her why he took her in the first place. Reven, the guy who kidnapped her, has his own secrets, which are dark and twisted. I loved his character. He can manipulate and control shadows, but he is grumpy and broody. He comes off as a villain in the story until the truth of what he has done for others comes to light.
Meren and Reven's relationship is rocky at first, but that happens when you've been kidnapped and don't know each other, so be prepared for a lot of banter and angst between the two. It's later in the book that these two characters start coming together. I liked how Reven kept calling Meren trouble because she was trouble for him, but he knew she was worth it in the end.
The ending. Yes, I'm warning readers there is a cliffhanger, and it's a big one.
The only thing I needed more of was the issue with King Eidolon. He's mentioned a lot but only debuts at the end. What's his end game now? I need to know, and I know Abigail Owen will touch more on it in the next book.
Overall, I give the book 4.5 stars and cannot wait for the next book. I need to know what happens next. Will Meren have to give up her life for her twin sister? I hope not. I really didn't care for Tabra, but you'll understand why I didn't like her when you read the book. I hope Meren gets a HEA because she deserves one more than ever.
Standalone or Part of Series: It's part of the Dominions series, and I highly recommend reading in order.
Trope(s)/Element(s): Enemies to Lovers; Mistaken Identity; Grumpy/Broody Hero; Sassy/Twin Heroine
Cliffhanger: Yes
Would I recommend this book? Yes. I recommend this to readers who enjoy an Upper YA/NA Fantasy that includes the FMC getting kidnapped due to mistaken identity by a swoon-worthy, angsty MMC who has shadows that he can manipulate and control.

This post contains affiliate links you can use to purchase the book. If you buy the book using that link, I will receive a small commission from the sale. It will help sponsor future giveaways but costs you nothing extra. You can read the full disclosure underneath the Privacy Policy.
---
---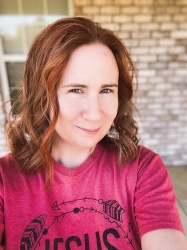 Latest posts by FranJessca
(see all)