Review: 'The Monster Within' by Lola Rayne
October 6, 2012
I received a complimentary copy of the book from the author in exchange for an honest review. This does not affect my opinion of the book or the content of my review.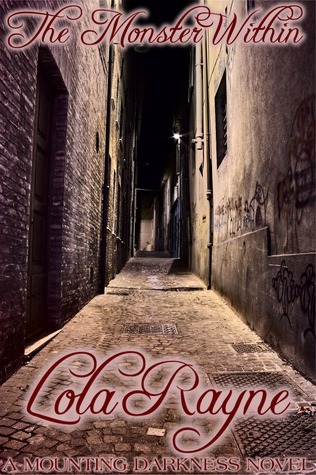 The Monster Within
by
Lola Rayne
Series:
Mounting Darkness #1
Published by
Lola Rayne
on October 2nd 2012
Genres:
Paranormal Romance
Format:
eArc
Source:
the author
Goodreads
Purchase at
Amazon

Sometimes the monster that haunted you as a child truly is real...
All it took was one phone call to bring Nicole Jones's life crumbling down around her. Now a nightmare she thought she'd left in her past is back, and he's not exactly bringing her candy and flowers. While fleeing, in a non-terrified fashion, she meets a menacing man in a dark alley. Then promptly passes out at his feet.
Gideon Evans hasn't exactly been having the best run of luck, but all that changes when a buxom little blonde collapses right in front of him. Or at least he thinks it has. It doesn't take him long to realize that bombshell is an appropriate description for more than just her looks. Now he's facing several problems, including a surprising enemy, his own dark past, and a rather inconvenient case of lust.
Can they work together to battle the nightmare that's chasing them? Or will they succumb to the monster within?
 My Review
"The Monster Within" is the first book from Lola Rayne, and after reading it, I'm ready for the second book already. Nicole Jone's for years has been having a great life, trying to forget about her past, until one day, she gets a call from her worst nightmare.  Someone she thought was dead is now out to get here. She's all upset about it, and when she tries to go home the same day, she ends up passing out in front of a stranger, she thought could be the person who wants her.  Instead, it is just someone she bumped into by accident, and he was following her to make she was not in danger and to keep an eye on her. Gideon never thought he would run into his beautiful woman and follow her.  When she passes out in front of him, she knows something is wrong with her, so he takes her home to keep her safe. Gideon is not your normal person though because inside of him, is a monster that wants to claim Nicole as his and keep her safe with him.  He knows that Nicole is his mate and his other self recognized her from the beginning when he followed her.  He is determined to find out what made Nicole all upset that day she passed out in front him, and he will do anything to protect her. What Gideon does not realize though is, he will have to protect himself as well, when it comes to Nicole's past coming back to haunt her. My thoughts on "Monster Within" was it was a great start to Lola Rayne's Mounting Darkness Series.  The characters she created had great chemistry, and I was able to click with them very well. Nicole kicked butt and Gideon scared the crap out of me when I found out what he was and what he was made to do. There were some very steamy, erotic moments between Nicole and Gideon in the book, so be prepared to take a cold shower maybe afterward.  (Yes Lola wrote some sexy, steamy scenes) It was a short novella and only had touched a little bit, and I felt it could have been more…but in the end, I was pleased with what happened. Lola did leave me hanging at the end.  I want to know what will happen next, especially since Nicole and Gideon found out something else that I'm curious about in the story. I recommend this book to paranormal romance readers out there and for readers who love reading short novellas. "The Monster Within" definitely was a great start to one amazing, sexy, paranormal romance series.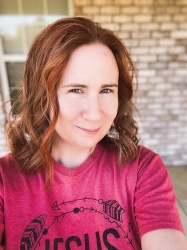 Latest posts by FranJessca
(see all)