Review: 'Toxic' by Kim Karr
September 3, 2019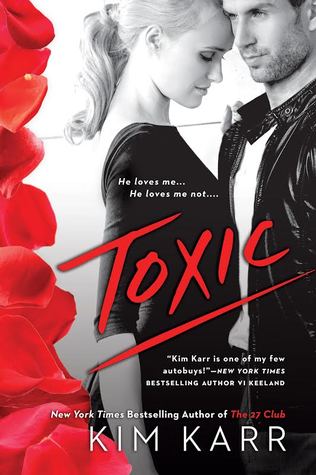 Toxic
by
Kim Karr
Published by
NAL Trade
on July 7, 2015
Genres:
Contemporary Romance
Format:
eArc
Goodreads
Purchase at
Amazon
|
Apple
|
Google Play
|
Kobo

He Loves Me, He Loves Me Not...
New York Times bestselling author Kim Karr turns up the heat in a smoking hot, emotionally compelling new novel that takes you into the world of Manhattan's elite.
In Toxic, Jeremy McQueen, a sexy, intense, sometimes brooding entrepreneur goes after what he wants—the woman he left behind years ago. Phoebe St. Claire, a put together, in control socialite-turned-CEO has been drifting through life searching for something she thought she'd never find again—the right man to share her future.
Our passion was boundless. Our lust untamed. And our desire endless. He was the only man who ever made me feel alive. Then, I betrayed him.
When he reappeared, I didn't question it. Trust rarely survives the wrecking ball, so when he let me in back in—I didn't hesitate.
Maybe I should have.
What began as a bid to save my family business, turned into a second chance at love. It felt so romantic. Working together, side by side, with the man I loved. My dream come true.
Nothing is as good as it seems.
We had our issues, but then again, every couple does. It wasn't jealousy, or our too-hot sex life that I should have been worried about.
It was his darkside.
I never saw the end coming, until it slammed me in the face. The question is—did he?
Was revenge his plan all along?
****
Sometimes you have to wonder if your life is too good to be true.Is it real or just an illusion?Does the man lying beside you really love you like he says he does?If the answer is yes, you're meant to live happily ever after.If the answer is no, you're living my life, and nothing will ever be the same.
What you do about it—that's up to you.
Me, I'm in too deep and there's no getting out.
I'll take whatever I can get for as long as I can because I know when it's over…
I'll never find another man like him.
Ever!
I've had Toxic by Kim Karr in my library for a while now. I finally made time to read it and also listen to it thanks to Audible Escape. I enjoyed reading/listening to the book, even though some of the characters drove me bonkers.
The title alone should tell you this book is going to involve characters that have a toxic relationship. Jeremy McQueen left Phoebe St. Claire several years ago and never let her know whey he left. Phoebe believed it was due to her not telling him the truth on who she was, and she has never gotten over him. Jeremy is one of those characters who is against anyone with money, but he has his reasons due to what happened to his family. Phoebe ends up getting over Jeremy when she meets her fiancé Dawson that helps pick her up where Jeremy left her. Unfortunately, her life is about to be turned upside down when her dark and sexy brooding Jeremy McQueen comes back to her life and helps her from a difficult situation. He's not the same person either because now he's made something of himself with his company called Jet Set. Phoebe's relationship with Dawson is over with by the time Jeremy is back in her life, but she knows she can't trust Jeremy. He has another woman always hanging on him, and he has a secret agenda that she's not sure about since she hasn't seen him in such a long time. There's also the issue of her trying to save her family's company TSC when her father is serving time in jail. She should trust Jeremy, but unfortunately, with everything happening and secrets coming to light, she's not one to trust anyone.
Toxic is all about a Second Chance at a relationship with Jeremy and Phoebe. These two are bad for each other, though because of the secrets and lies between the two characters. They can't get over the past, and they can't trust each other in the present, especially with everyone and everything against them. There were so much going on between the two characters that I had a hard time believing their relationship at first. Jeremy has his reasons though that reader will find out when they get back together. Phoebe is one that I had a hard time liking in the book because she should've trusted someone. She had her friends and family telling her not to believe what was being displayed on Page 6. There's also the issue with a particular character that wouldn't give up, and I was in shock with what finally got revealed at the ending.
This was the first book that I read from author Kim Karr and will not be my last. Even though I only gave the book four stars doesn't mean I didn't enjoy the storyline. I also loved listening to this book, thanks to the narrator, Lucy Rivers. It made the book even better because she brought the characters to life. I also loved the secondary characters, which happen to be Phoebe's friends. Jaime and his player ways that end up changing in this book. There's also the dilemma on what is happening between Lily and her boyfriend. I literally could go on and on about this book, but I will say this if you haven't read this then I highly recommend you do. This is standalone, so there is no cliffhanger.
---
Story Rating: 4 stars
Steaminess Rating: 4 stars
Standalone or part of series: Standalone
Do I recommend this book? Yes.
Will I read other books from the author? Yes
Tropes/Elements: Second Chance at Love
Hero: Entrepreneur; Sexy; Brooding; Intense; Revengeful
Heroine: Social-lite turned CEO of her Family Owned Business (She's trying to save it.); Hurt and Lost by Hero leaving her several years ago.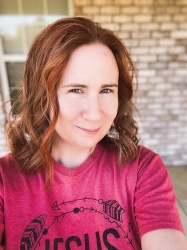 Latest posts by FranJessca
(see all)