Happy Release Day + Review: 'Twisted Secrets' by Rachel Leigh
November 30, 2022
I received a complimentary copy of the book from the blog tour host in exchange for an honest review. This does not affect my opinion of the book or the content of my review.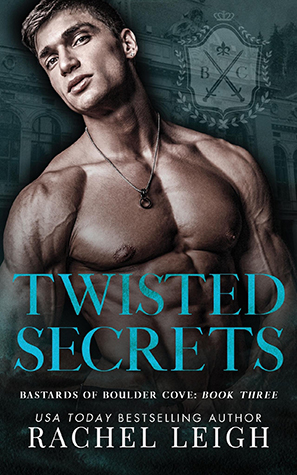 Twisted Secrets
by
Rachel Leigh
Series:
Bastards of Boulder Cove #3
Published by
Self-Published
on November 30, 2022
Genres:
Dark Bully Romance
,
New Adult and College Romance
,
Reverse Harem
Format:
eArc
Goodreads
Purchase at
Amazon

The Lawless have been many things:
My friends,My enemies,And now my lovers.
All but one…Neo Saint—my villain dressed in leather with the body of a god and a heart made of stone.
He blames me for his misfortunes. Wants me to feel his pain.
It's time he learns I'm not who he thinks I am. Someone is out there,opening old wounds and creating new scars.
It won't be easy bringing these twisted secrets to light, but it's the only chance we have of freedom before the darkness consumes us all.
The games might not be over, but I'm no longer playing alone
---
Are you a fan of Bully Romances? Do you like Why Choose/Reverse Harems? Look no further than the Bastards of Boulder Cove series by Rachel Leigh. An FMC has three guys that want her, and she doesn't have to choose. Yes, this was my type of book/series, for sure. Here's the kicker though these boys made the FMC life difficult. This is a bully romance, and if you don't like boys that are ruthless to sweet, eventually to the FMC, you may be bothered by the bullying. Don't worry; the FMC is not a pushover. She knows how to handle these boys, especially the biggest a-hole of three, Neo Saint. We finally get his POV and why he is a jerk to the FMC, Scarlett Sunder, in Twisted Secrets.
Storyline/My Thoughts: Now, if you read the first two books, you would know the FMC is dealing with a stalker, and she's still dealing with a stalker in this book, but the boys may have found out who it is now. They will do anything possible to confront and deal with the stalker who is bothering their girl. Although, other things are brewing between the four characters that may cause even more drama. Scarlett has two out of three guys she is seeing now, but the third one, Neo, is a jerk and will do anything to get his best friends away from Scarlett. He'll even do something to put Scarlett on the spot where she's confused with Neo's intentions. He'll force her into something that will cause heartbreak. Neo is all about causing drama, and I have not really liked his character since the beginning.
I may have wanted Scarlett not to end up with him. After reading why he did the things he did, I could understand why he was mean, but not all. I will say this, and this is big for me to say; he is definitely a different lover than the other boys. Scarlett is even different from him. Yes, there is spice between the two, and handcuffs are involved, and it gets heated. Jagger is still my favorite out of the three guys. There is something about the boy that has been in love with her for a while. Yes, Jagger was my favorite. Crew comes in second, and then Neo. I can't forgive and forget what Neo did to Scarlett, even after he revealed how he felt.
I loved how Rachel Leigh concluded Scarlett's story with the three guys, Crew, Jagger, and Neo. She did have my heart beating fast with all the twists and turns she pulled into the book. The stalker, for one, and who was behind it all with the secrets that came out that involved a specific character. I may have figured out who was behind it all when I got to a specific part of the book.
Since this is a Why Choose/Reverse Harem and the FMC doesn't need to choose, is there a scene with them all? Yes, there it is, and it was hot, so readers may need a cold shower to cool off. I had been waiting patiently for this to happen. No confusion either with placements and such, if you get my drift.
I'm sad; this is the end, possibly of Scarlett and the boys' story. I enjoyed this series and am glad everything worked out for Scarlett and her boys. I want more, though.
I give this book four stars and look forward to Rachel Leigh's backlist of books I now need to read and her newest releases that she writes soon. I'm glad I found this author and her books. =)
Standalone or Part of Series: It's part of the Bastards of Boulder Cove series, and I highly recommend reading in order.
Steam/Spice: 🌶 🌶 🌶
Genre(s)/Trope(s)/Element(s): Bully Romance. High School Aged Characters (17/18). Secret Society. OTT Jealous/Possessive MMCs. Tattooed MMCs. Bratty FMC. Steamy AF. Bondage/Handcuffs.
HEA: Yes.
Would I recommend this book? Yes. I recommend this book/series to readers who enjoy Bully Romances with Reverse Harem/Why Choose trope. This means the FMC doesn't have to choose, she can keep them all, and those boys bully her at first and then learn from their ways to finally spoil and love her forever. =) This book is set in High School (Boarding School for the elite), a part of a Secret Society. The characters are ages 17/18, and this book has mature and explicit content.
Favorite quote(s): "I want to be better, and it starts with you."

---
---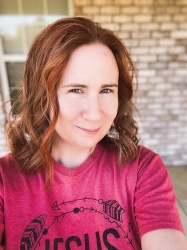 Latest posts by FranJessca
(see all)