Review: 'Vanilla on Top' by C.J. Ellisson
I received a complimentary copy of the book from the Author in exchange for an honest review. This does not affect my opinion of the book or the content of my review.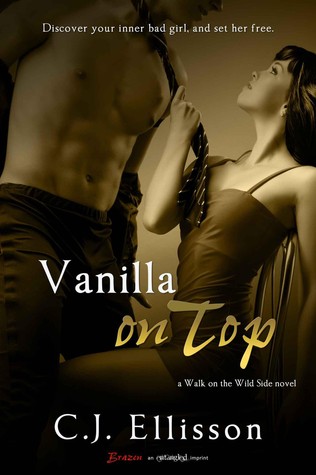 Vanilla on Top
by
C.J. Ellisson
Published by
Entangled Publishing (Brazen)
on January 11, 2013
Genres:
Erotic Romance
Pages:
279
Format:
eArc
Amazon Kindle
|
Amazon Paperback
Goodreads

A sexy category romance from Entangled's Brazen imprint...
Discover your inner bad girl, and set her free…
Heather Pierce is done being a wallflower, both personally and professionally. Desperate to live a different life for one night, she attends a speed dating event. Maybe here, anonymous unless she chooses otherwise, she can become someone new. When a man way out of her league sits across from her, Heather gathers her courage and takes charge of what she wants, secretly fearing he won't desire the real person she's desperate to hide.
Top acquisitions officer and international playboy Tony Carmine is about to close the biggest deal of his career. But then he meets Heather at a speed dating event…and discovers losing control may be exactly what he needs. Her blossoming sensuality occupies his every thought, consuming him with the need to possess the most intriguing lover he's ever encountered—until he walks into the boardroom and sees Heather on the other side of the negotiating table.
My Review
I have been waiting patiently to read C.J.'s latest release, Vanilla on Top.  This is definitely a FAVE for 2013 and I cannot wait to read the next installment.
Discover your inner bad girl, and set her free….hello…is that not catchy?  I know after reading this book, I need to set my inner bad girl free more often.  =)
"Vanilla on Top" should not be compared to Fifty Shades or even Crossfire.  This book is in a league of its own.  I had a hard time putting it down and of course my husband kept giving me the weird eyes whenever he would see me reading this from my iPad.  He was always asking what I was smiling about…he has no idea.  =)
Be prepared to be blown away from the first chapter in the book with a very heated, steamy scene between Heather and Tony.
This book is about Heather Pierce taking control of her life. She is tired of being the good girl and decides to set the bad girl inside of herself finally out.  She is new to it, but when she finally gets the courage to set her free, she is about to have some of the wildest times with the one man who she met at a speed dating event, Tony, and he will have a hard time resisting her.
The only thing is Tony is about to change Heather's world once Heather finds out the truth on where he works and what he is up to.  He never knew Heather and that his job would end up almost ruining her career.
C.J. Ellisson does an amazing job with writing a book that actually has a female character taking over the dominant role in the bedroom, and without using the tools you would find in a sex shop, but instead every day things that make it romantic.
She even writes a male lead who is able to let the female take over in the bedroom, or whenever, or wherever.  Tony definitely needed Heather though since he was used to being in control.  She managed to tame the man from his own ways.
She reminds us how women could play the vanilla Dom in a relationship.
Heather had her insecurities at first, but in my own opinion she overcame those insecurities.  The best part of Heather is that she used fantasies that she was comfortable doing and she happened to be a romance reader. (And she even referenced she never read Fifty Shades…which she may be a fictional character, but I definitely am one of those readers who has not read it…I'm really trying to now…but it may be my first DNF ever)
C.J.'s writing style is unique compared to other contemporary romance or erotic writers out there, which makes me adore her even more.  She does not follow in others footsteps.  She takes a different route into the genre.
There is no comparison with Vanilla on Top to other erotic books.
If you are a fan of contemporary romance or erotic genres and want to read a book where the roles are switched, you definitely need to read "Vanilla on Top".
Warning….sex scenes are throughout this book.  Who knows maybe you as a woman, will find out you have a inner bad self yourself after reading this book.
I know I must unleash my inner bad girl more often.  (It does drive the hubby crazy)  =)


I guess I should type a bio here. I'm FranJessca or Fran for short. I'm the owner of Book Lovin' Mamas and main Reviewer. I've been reviewing books since I got out of the Navy in 2011. Now 8 years later, I'm still reviewing, but this time with my youngest sidekick.
When I'm not reading and reviewing, you can find me at my day job during the week and on the weekend taking care of our little farm.

Latest posts by FranJessca (see all)