Review: 'Veiled Virtues' by Jan Fischer Wade
I received a complimentary copy of the book from the Author in exchange for an honest review. This does not affect my opinion of the book or the content of my review.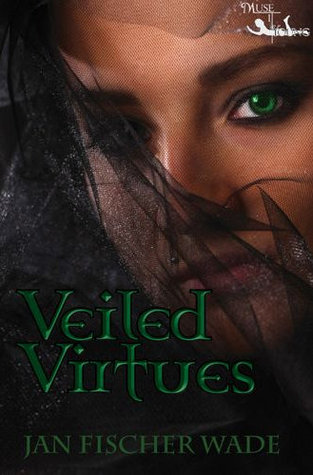 Veiled Virtues
by
Jan Fischer Wade
Published by
MuseItUp Publishing
on February 11, 2012
Pages:
225
Format:
eArc
Amazon Kindle
Goodreads

When Paige Stewart left America to house-sit in England, her only thoughts were to get away from her controlling mother and to have fun. Little did she know that her working holiday would turn into a battle between good and evil, or that she would be the epicenter of that battle. She certainly didn't expect to be swept off her feet by a modern-day English knight. But when blood appeared on her keyboard and she discovered her childhood scars bleeding, her holiday took a turn for the eerie and dangerous, and when she ventured into the metaphysical shop run by Nathaniel Brightmore, she found much more than tarot cards and crystals.
My Review
After, I read the description of "Veiled Virtues," I knew I had to read it. It's a young adult romantic fantasy book about modern-day English knights, and it's based in England (one of the countries I would love to visit one day). Paige is off to house-sit in England after graduating from school. (I'm jealous of her because that has to be the perfect job ever) Once she gets to England though, strange things are happening to her. She's having nightmares, a ghost or something haunting her in the house she's house sitting, her forehead and hands are bleeding, and she is also compelled to touch this sword in the shop she goes to in town. She also has strong feelings for the guy that owns the store, Nathaniel. Back home though, she has a boyfriend, but she's not sure if it's meant to be. She's lost in a country she doesn't know much about, and she doesn't have any friends there to help her until she starts making friends at the local shops and next door to her. She also has Nathaniel who comes to her rescue several times. The ghosts she supposedly thinks are haunting her something else entirely. Nathaniel has expected what Paige since the moment he met her. He has to tell her the truth on what's going on and how to keep her safe from the enemy that wants her.
I won't go any further into what the book is about because I'll give away what it is mainly about in the story. Here are my thoughts on the book. It's a great read for YA lovers out there. I enjoyed it because it was different from what I'm used to reading. I love reading different genres and breaking away from paranormal every once in a while. I liked the background of the story and how it came together. It was kind of slow, and the love between Nathaniel and Paige was kind of unbelievable, towards the end especially. Their love went by quickly. Reminds me sort of puppy love and if it will work out in the end. It was smart of Paige at the end of the book what she did though. You'll have to find out what big decision she made by reading the book if you are into this kind of genre. I plan on reading the second book to find out what Jan makes Paige go through next. I feel like I learned about English history a little bit in this book. I loved reading about English Knights though and how they fight with no guns in this book. I recommend this book to YA lovers out there who like this kind of genre. I will tell you this when I was reading Nathaniel's part and a few other characters, I was reading their parts in a British accent in my head. It's a just a habit I guess to feel the actual effect of the book being based in English. I found it more addicting that way, I guess. I have a huge thing for men and British accents. You have to admit; it is a sexy accent. =)


I guess I should type a bio here. I'm FranJessca or Fran for short. I'm the owner of Book Lovin' Mamas and main Reviewer. I've been reviewing books since I got out of the Navy in 2011. Now 8 years later, I'm still reviewing, but this time with my youngest sidekick.
When I'm not reading and reviewing, you can find me at my day job during the week and on the weekend taking care of our little farm.

Latest posts by FranJessca (see all)